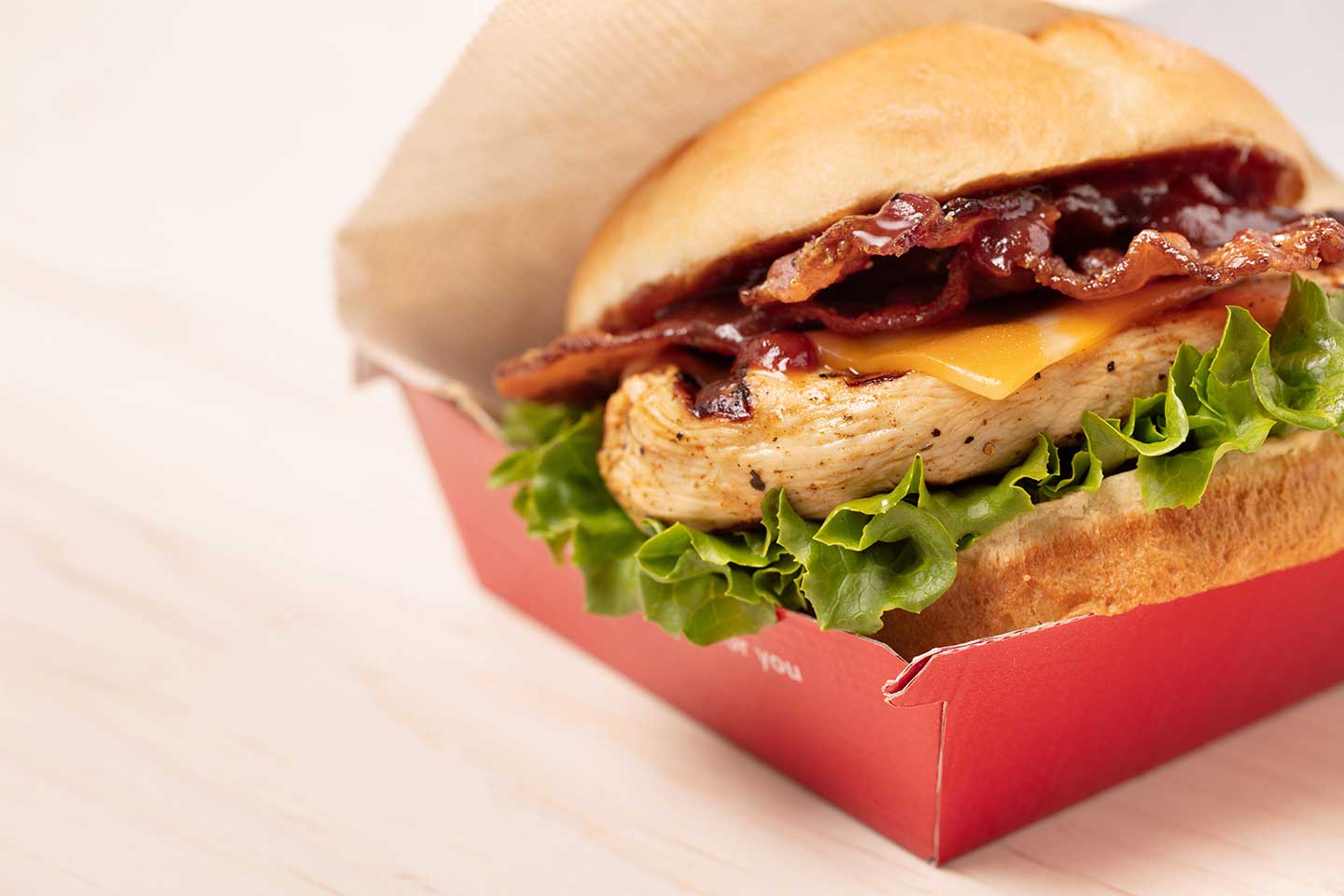 From coast to coast, these 10 cities order the Smokehouse BBQ Bacon Sandwich the most.
Chick-fil-A knows that nothing says summertime quite like the smoky, sweet flavor of backyard-grilled barbeque. That's why we've added the Smokehouse BBQ Bacon Sandwich to our menu for a taste of summer (through August)!
There are many reasons this seasonal sandwich became a fast favorite among our customers—from the specially seasoned grilled chicken and brown sugar pepper bacon, to the zesty Smokehouse BBQ Sauce and Hawaiian-style sweet yeast bun. But these 10 cities take their undeniable love of this sandwich to the next level and ordered the sandwich the most when the sandwich first hit the menu in 2017.
Did your city make the list?
10. Ellijay, Georgia
This charming mountain town is known for its hiking trails, lakes and campsites—and now for its love of the Smokehouse BBQ Bacon Sandwich, which is perfect after a long day outdoors.
9. Blaine, Minnesota
Blaine is the home of the National Sports Center, which has hosted numerous National and World Championship events over the years. If eating Smokehouse BBQ Bacon Sandwiches were a sport, we bet Blaine would outshine its competition.
8. Mechanicsburg, Pennsylvania
As the home to an annual bacon fest, a bacon-themed restaurant and an actor by the name of Bacon, it's safe to say that Pennsylvanians love their bacon—especially when it's of the brown sugar pepper variety and atop the Smokehouse BBQ Bacon Sandwich.
7. Santa Rosa, California
Hood Mountain is one of Santa Rosa's most popular landmarks, and we like to think that residents can be heard shouting their love for Chick-fil-A from the mountaintop.
6. Clayton, Georgia
Clayton holds the Georgia state record for the most snowfall with 30 inches in 1936, and those who live there eat Smokehouse BBQ Bacon Sandwiches like it's snow-body's business.
5. Clemmons, North Carolina
Since North Carolina is known as one of the barbeque capitals of America, we're flattered that the barbeque buffs in Clemmons have given our Smokehouse BBQ Bacon Sandwich their stamp of approval.
4. Stockbridge, Georgia
Fun fact: Stockbridge was home to the Ladies Professional Golf Association for 15 years. Judging from the city's No. 4 spot on our list, one might say the locals think our chicken sandwiches are "up to par."
3. Port Jefferson Station, New York
Port Jefferson is a waterfront town in Long Island where steamboats take hundreds of passengers to and from Connecticut each day. Around lunchtime, locals can be seen devouring boatloads of Smokehouse BBQ Bacon Sandwiches.
2. Newnan, Georgia
Located 35 miles south of Atlanta, Newnan is home to the first Truett's Chick-fil-A restaurant. It is also home to some of the most avid Smokehouse BBQ Bacon Sandwich fans in the country.
1. Reno, Nevada
Topping our list, customers in Reno order more Smokehouse BBQ Bacon Sandwiches than any other city in the nation. Known as "The Biggest Little City in the World," it also happens to be the city with the biggest appetite for our seasonal sandwich.
Want to find out what all the hype is about? Try the Smokehouse BBQ Bacon Sandwich while it's still on the menu, until August 24, 2019.