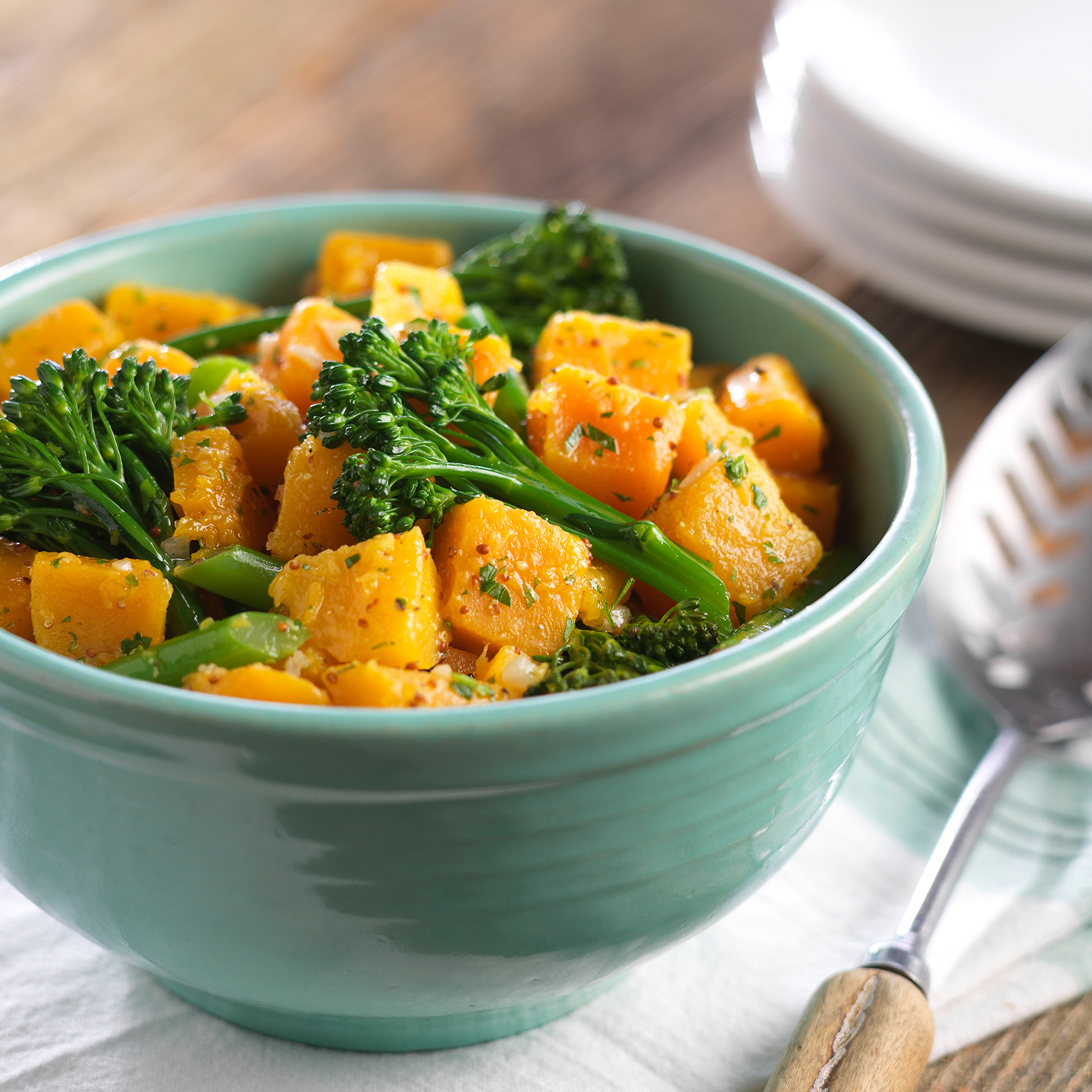 Try this nutritious, easy-to-make side dish!
This year, 2016, just might be the Year of Broccolini®. The veggie is one of the fastest-growing vegetables on restaurant menus – up nearly 19 percent in the past year. And you can cook it home too. Try this healthful side dish from Broccolini® grower, Mann's Packing.
Ingredients

6 ounces Mann's Broccolini® stalks trimmed in half
20 ounces Mann's Butternut Squash, cubes
2 tablespoons Vermouth
2 tablespoons White wine vinegar
1 Shallots, chopped
2 teaspoons Coarse-grained Dijon mustard
1/2 cup Extra-virgin olive oil
2 tablespoons Parsley, chopped
Directions

Directions

Blanche Broccolini® in large saucepan of boiling salted water until crisp-tender, 2 minutes and drain. Transfer to bowl of ice water to cool. Drain, pat dry with paper towels.
Cook butternut squash in large pot of boiling water until just tender, about 6 minutes. Drain; Rinse with cold water and transfer to large bowl. Sprinkle Vermouth over warm butternut squash; toss gently and let stand 5 minutes.
Whisk vinegar, shallots and mustard in small bowl. Gradually whisk in oil. Pour over butternut squash and toss to coat. Cool completely.
Mix in Broccolini® and parsley. Season to taste with salt and pepper. (Can be made 1 day ahead. Cover and refrigerate.) Serve cold or at room temperature.

Nutrition Facts: Serving Size (156g) Amount per Serving: Calories 230 | Calories from Fat 170 | Total Fat 19g (sat 2.5g Trans 0g) | Cholesterol 0mg | Sodium 55mg | Total Carbohydrate 14g | Dietary Fiber 2g | Sugars 3g | Protein 2g | Vitamin A 210% | Vitamin C 80% | Iron 6% | Calcium 6% *Percent Daily Values are based on a 2,000 calorie diet. Your daily values may be higher or lower depending on your calorie needs.