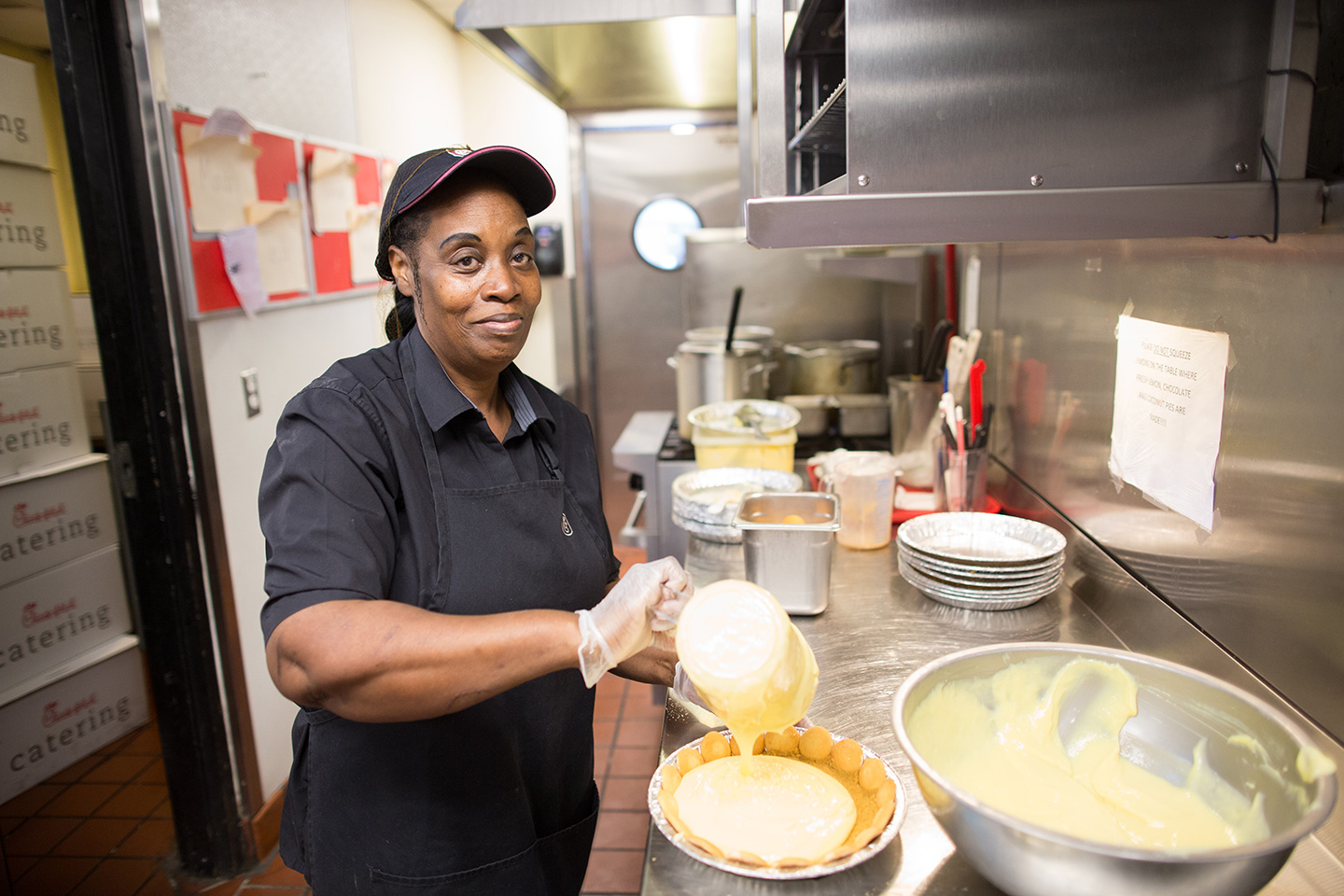 Why she still loves coming to work after 25 years
To become the best, you must learn from the best, or so the saying goes. And lucky for Jackie Banks, she did just that. Banks is the woman affectionately known as "Ms. Jackie" for the past quarter century at a small diner located eight miles outside of downtown Atlanta.
"Ever since he taught me, I can do it with my eyes closed," she says. "He" is Truett Cathy, founder of Chick-fil-A, who took Banks under his wing decades ago to share what would become her longtime craft: pie-making.
It's her special blend of art and science that has satisfied the sweet tooth of countless customers at the Dwarf House, the first restaurant Cathy founded in 1946, years before the Chick-fil-A chicken sandwich put his tiny diner in Hapeville, Ga., on the map. "The first time we met, he gave me a big hug," she says while remembering Cathy, who passed away in 2014 at the age of 93.
Around the country, Chick-fil-A is known for its chicken sandwich, but in Atlanta, the Dwarf House may be equally as known for Banks' desserts. There are three pies on the menu — lemon meringue, coconut and chocolate — and each one is prepared fresh daily from scratch by Ms. Jackie.
It's a sweet tradition that has stood the test of time — 25 years to be exact.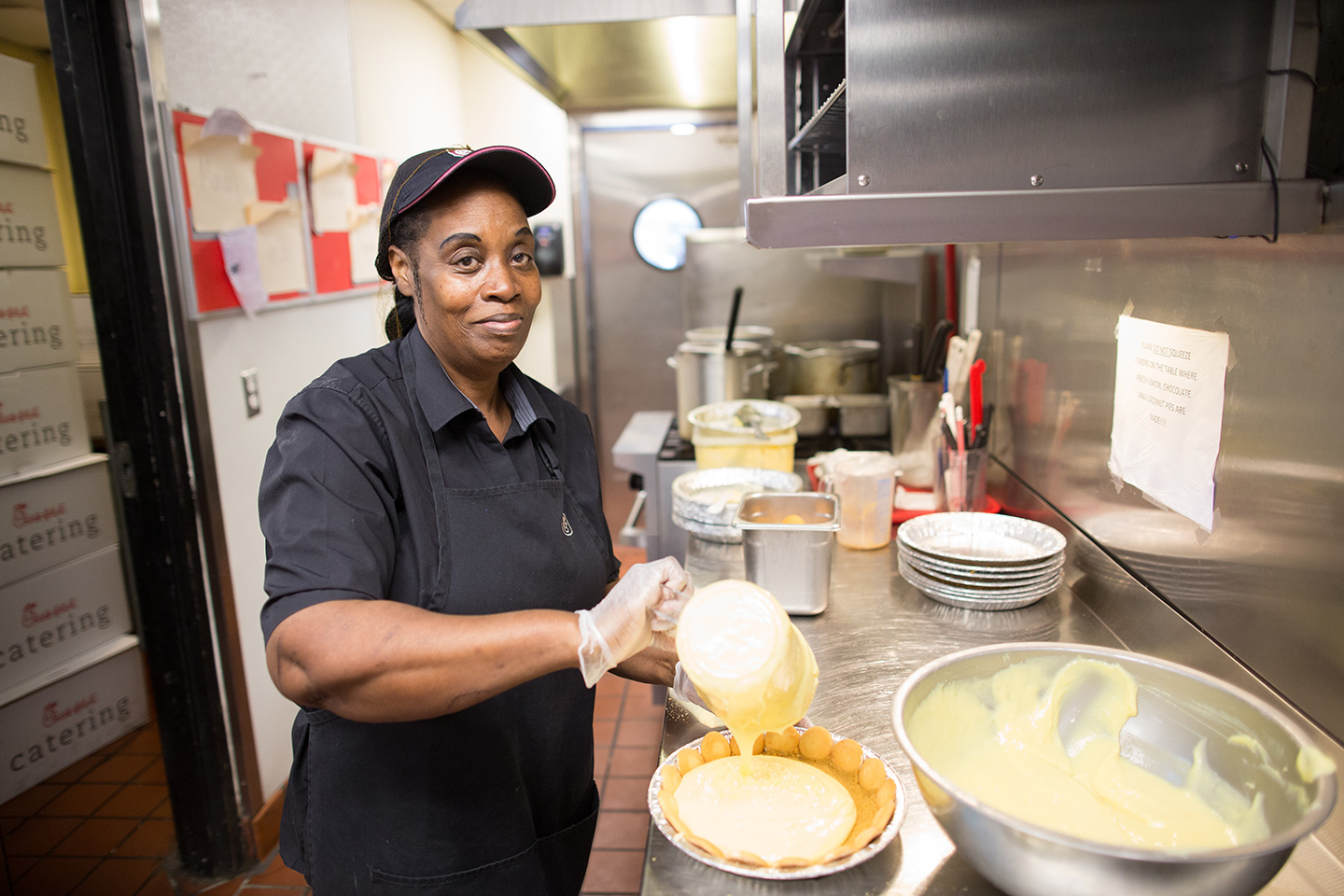 "Ms. Jackie" Banks making a Lemon Meringue Pie
A Master of her Craft
The science in her craft is forecasting how many pies will be enjoyed each day by Dwarf House customers — a mix of regulars who have dined there for decades, pilots and crew from Atlanta's nearby Hartsfield-Jackson International Airport and executives from the new neighboring Porsche headquarters.
On this day, Banks prepares 25 pies: seven coconut, seven chocolate and 11 lemon meringue. "Lemon is the best seller. Every last one of them sells," she says proudly.
The art in Banks' equation is even more incredible. She doesn't follow a recipe but instead relies on her many years of practice. Instead of measuring cups, tablespoons and ounces, Banks eyeballs measurements in tin cans, handfuls and pinches.
It's a lesson learned from Cathy himself. He was the first of only three pie makers in the 70-year history of the Dwarf House who have graced the baking surface Banks proudly commands. For Cathy, no job was too small; pie-making was just one of many until he hired a woman who would hold the position for 45 years. Her name is Zelma Calhoun, known to Banks as a mentor and to Dwarf House patrons as simply "the pie lady." She would leave a legacy in the tiny diner that, after retiring, would live on through "Ms. Jackie" Banks.
An Epiphany over Lunch
Before Banks became a master pie maker, she was first a customer of the Dwarf House, taking her granddaughter to lunch nearly daily while visiting her sister, who worked as a cashier.
"I sat in the booth and said to myself, 'that's a place I want to work. Everyone has smiles on their faces every day.'" So, when a position opened up, she applied and was hired on the spot. "I've been here ever since."
But it took Banks a few weeks to discover her niche preparing pies, after starting in what she calls the "chicken corner."
"I would forget to set the timer and burn the chicken," she recalls while laughing, remembering crying the first time it happened. "Nobody got upset. They just said, 'okay, let's do it again.'"
That's when Cathy started training her directly, first on the diner staples like the "hot brown" – a dish made of chicken, bacon, gravy and toast -- and eventually the pies that, more than two decades later, are still served 24-hours-a-day. "Truett made me feel so special and always lifted my spirits," she says.
It's Not Business: It's Personal
Twenty-five years, five days a week. It's no wonder Banks needs no recipe to prepare her pies. But some might wonder, "Why is she still doing it?"
"To see the smile on their face, it's what makes my day. It's what motivates me — a stranger I don't even know smiling about my pies."
"It's personal for her," says Kevin Moss, who has served as general manager of the Dwarf House for the past 20 years. "She wants the pies to come out perfectly."
"I love my job. I love it," she says. "I just love doing it." The best part for Banks? When a customer asks to meet her and watches her in action; it's happened more times than she can count.
"They get so excited; it's like being in a candy store I guess, seeing all the pies being made. To see the smile on their face, it's what makes my day. It's what motivates me — a stranger I don't even know smiling about my pies."
And while we'll never have the "Ms. Jackie" Banks touch, she still revealed the recipe behind her famous lemon meringue pie.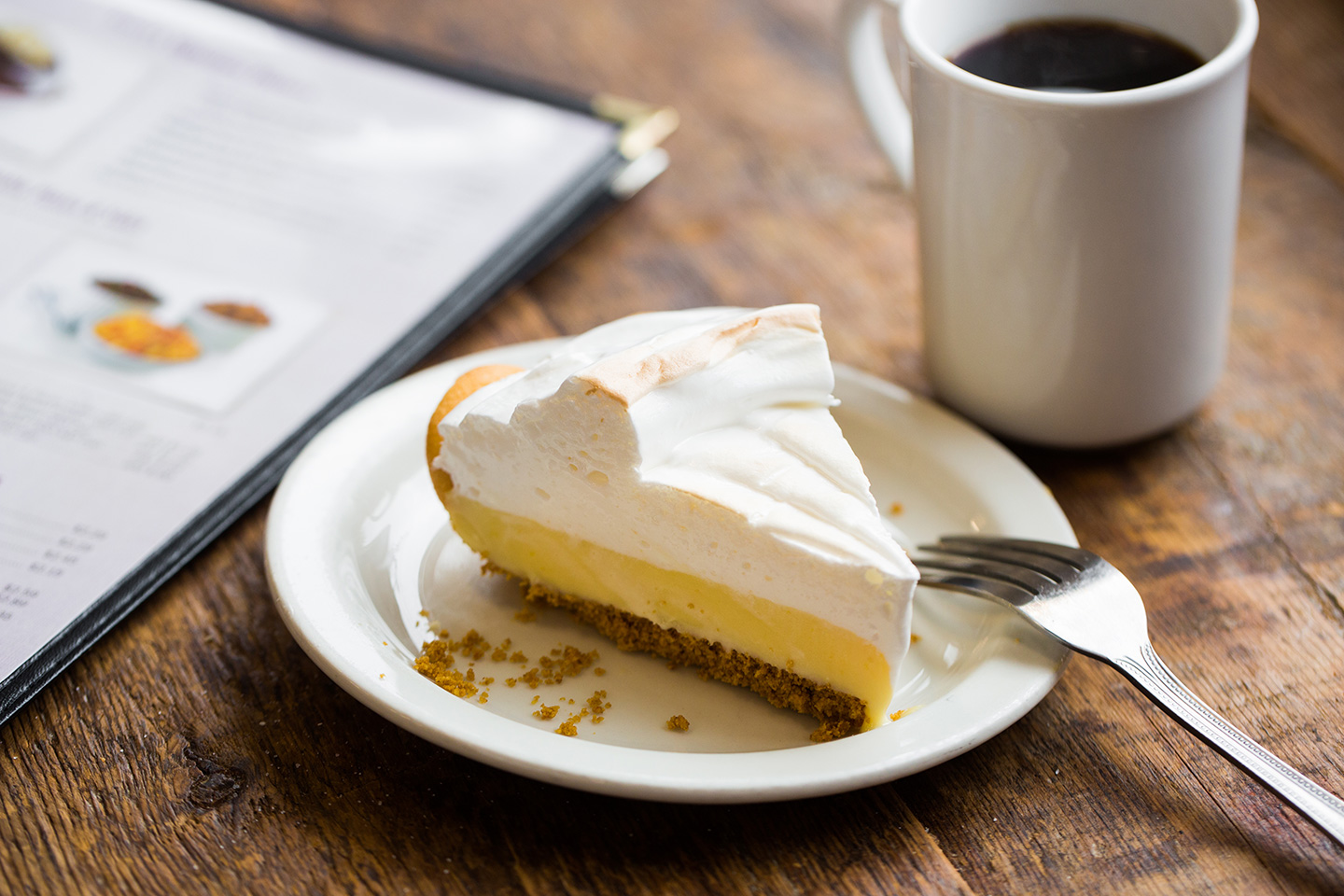 Click here to make your own signature Dwarf House pie.