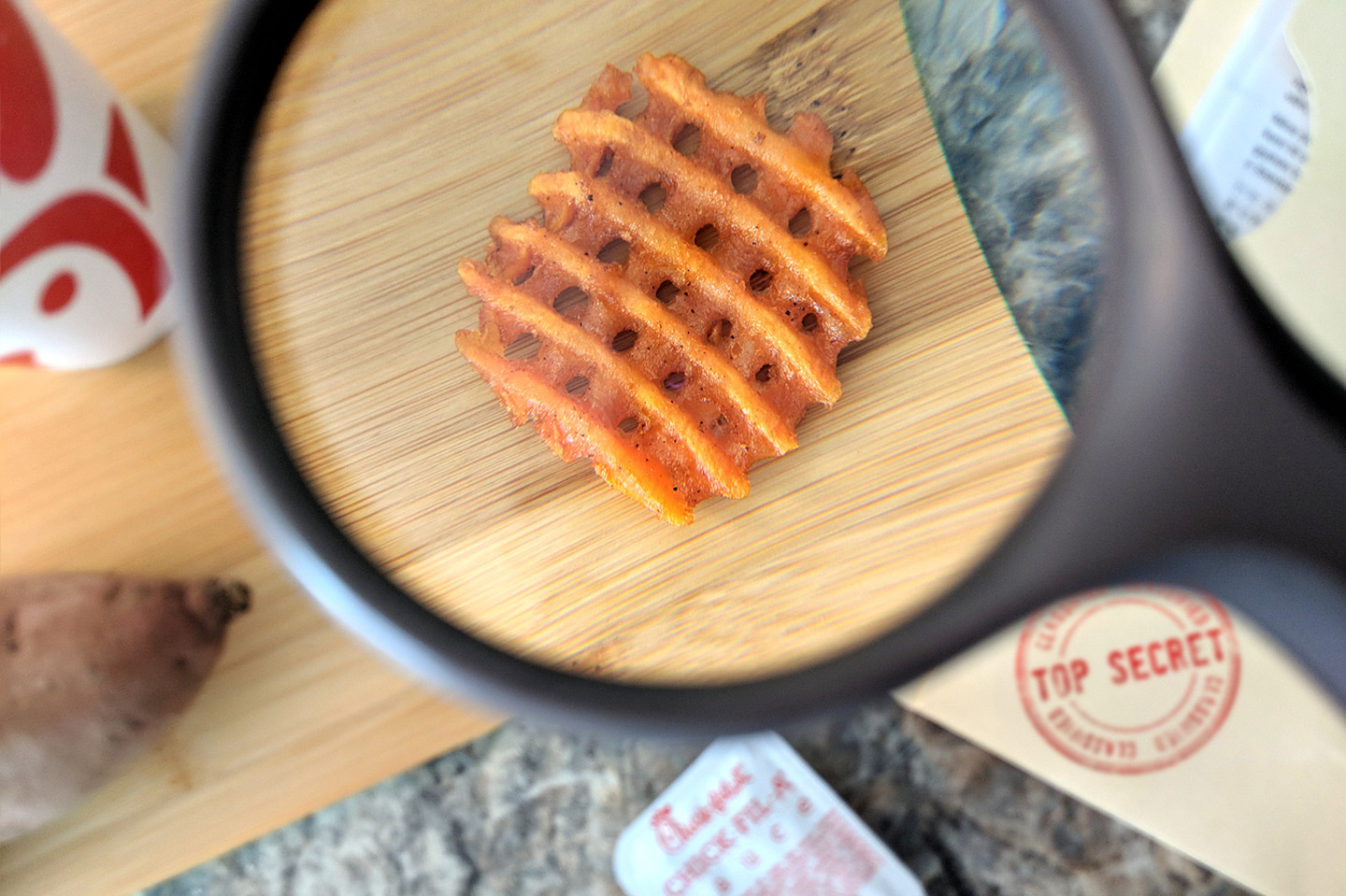 Yes Virginia, there was a sweet potato fry at Chick-fil-A
You hear rumors.
"I think they serve them in California."
You hear whispers.
"They couldn't find enough sweet potatoes to meet demand."
You catch a mention here and there.
"I swear I saw them on a road trip back in 2011."
The legend and legacy of the elusive Sweet Potato Waffle Fries is something Chick-fil-A fans have debated and traded stories about for years. To put the rumors to rest, we set out to set the record straight by going straight to the source.
That source: Shona Jonson, Senior Manager, Culinary, Product Strategy and Development at Chick-fil-A. The truth we uncovered may surprise you.
Are the rumors true?! Did Chick-fil-A ever serve Sweet Potato Waffle Fries?
Shona: Yes, we did! But, we originally tested the concept of sweet potato fries as a straight fry with a cinnamon marshmallow dipping sauce at one Restaurant in Athens, Ga.
Wait, they weren't Waffle Fries at the beginning?
Shona: We actually looked at many fry styles, including a sweet potato tot for breakfast. The waffle fry cut was strongly preferred by the guests as it tied into our classic waffle fry and had a better look and taste.
When did this all take place?
Shona: From May to August in 2011.
What sparked the test in the first place?
Shona: We're always watching food trends and one we noticed was an interest in unique fry options; something different, exciting and new. Consumers viewed sweet potatoes as a delicious and healthier option than most vegetables. Sweet potatoes offered the health benefits of a power food – high in vitamin A, along with fiber and other vitamins. We wanted to be the first quick-service restaurant to offer sweet potatoes chain wide.
It sounds like they're just a regular Waffle Fry made with a different potato. Was there anything special about how they were made?
Shona: Sweet potato fries come from specific varieties that are grown especially for frying. All sweet potatoes are naturally "cured" after harvesting to allow the natural sugar to develop before processing. This enhances the flavor and the color. Our Sweet Potato Waffle Fry was a slightly thicker cut from our Waffle Fry to give more flavor. It was coated with a light topping to make it crisp and keep it from getting soggy.
So the test was only in Athens, Ga.?
Shona: Eventually it grew to a bigger test, including Athens, Ga.; Philadelphia, Pa.; Oklahoma City, Okla. and Memphis, Tenn.
How did guests react to the fries?
Shona: Guest were initially excited to try the Sweet Potato Waffle Fry, even though the cost was higher. [Did you know a sweet potato costs three times more than a regular white potato?] Customers indicated they liked the overall taste, were likely to purchase it in the future and felt the quality was consistent with Chick-fil-A. However, over time we saw customers did not feel the fry was worth the additional cost, and they slowly began not ordering it.
Did you like them?
Shona: Internally, we all LOVED the fries, especially when paired with the Spicy Sandwich. Also, our Menu Research and Development team loved a special Dipping Sauce they made with our Yogurt and Peach Milkshake base.
Would Chick-fil-A ever consider testing Sweet Potato Waffle Fries again, or has that ship sailed?
Shona: We are always working toward a relevant, timely, craveable menu. So, nothing's out of the question.
Thank you so much for adding some closure to the mystery of the Sweet Potato Waffle Fry.
Shona: My pleasure.