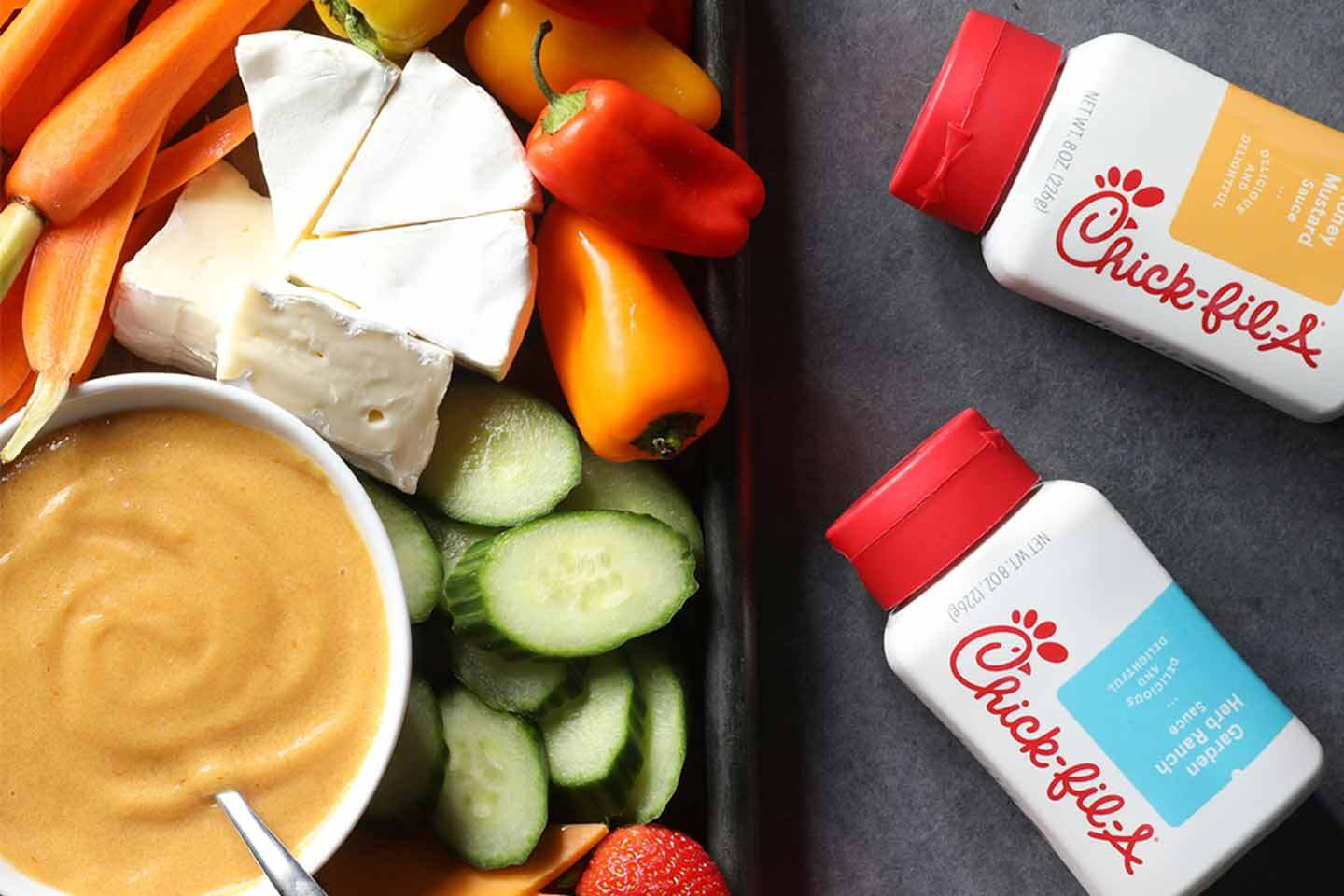 To celebrate the two newest Bottled Sauce additions, Barbecue Sauce and Sweet & Spicy Sriracha – try these tips for enjoying your favorite sauces
We believe sauce is personal – It's what makes your order your own! Whether team tangy and sweet or zesty and savory, we know that sauce is more than just a condiment. It's an experience!

And now you can dip, dunk and drizzle more of your favorite sauces in the comfort of your own home as Chick-fil-A® rolls out two additional Bottled Sauces in select retailers across the country. Starting this April, sauce connoisseurs will begin seeing bottles of Barbeque and Sweet & Spicy Sriracha on store shelves.

We know that you have already discovered your tried-and-true flavor combination but, have you discovered the endless creations you can make in your own kitchen? To celebrate the two newest Bottled Sauce additions, Barbecue Sauce and Sweet & Spicy Sriracha – try these tips for enjoying your favorite sauces, inspired by Chick-fil-A Senior Culinary Lead, Christy Cook, to learn how you can spice up your meal or snack with your favorite Chick-fil-A sauces.

Elevating the classics

Chick-fil-A's signature sauces have a long and unique history. While fans now have a variety of delicious sauces to enjoy with their meals, Chick-fil-A originally only offered three sauces: Polynesian Sauce, Honey Mustard and Barbeque. And while we love each of our sauces, there's nothing like the classics.

Let's start with one of the newest additions to shelves – our signature Barbeque Sauce. With summer around the corner, this tangy classic is the perfect complement to any warm-weather event. Drizzle the bold sauce over smoked chicken nachos for an elevated appetizer, mix it with ground chicken or turkey for at-home meatballs or even combine it with sour cream or ranch dressing for a creamy barbeque veggie dip. No matter the occasion, this smoky sauce is sure to take your event from ordinary to extraordinary.

Finally, to add a sweet and sour kick to your dishes, try drizzling our Polynesian Sauce over stir fry, roasted brussels sprouts or any other veggie for a delicious glaze. If you are looking to get extra creative, mix the sauce with vinegar, soy sauce and fresh garlic for a sweet & tangy marinade.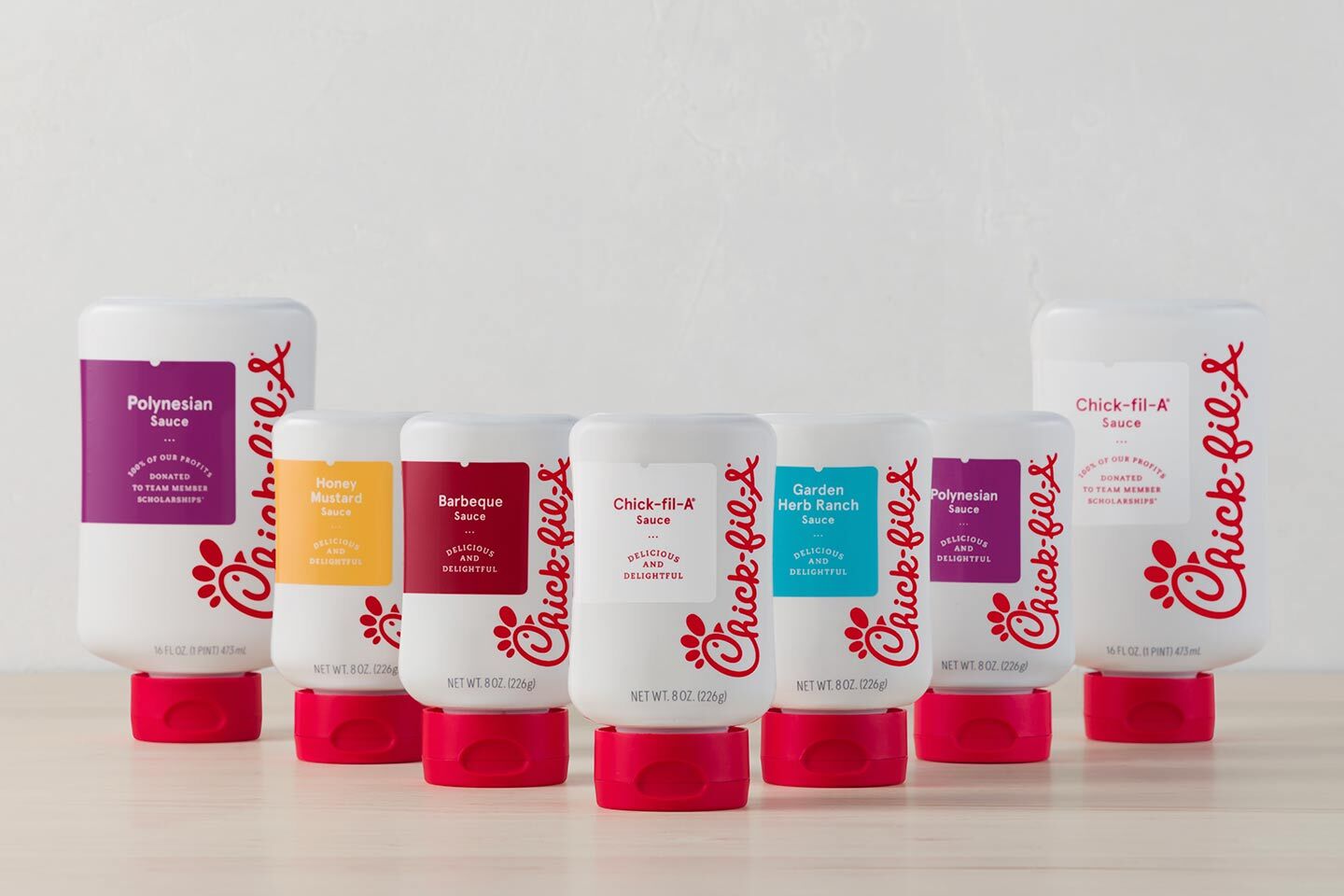 Beyond the originals

Moving beyond the originals, our Sweet & Spicy Sriracha will now be sold in retail stores nationwide for the first time. This delicious sauce combines sweet and tangy flavors with a subtle chili-pepper kick to level up any meal. Use this sauce to spice up a tofu stir fry, toss over beef and broccoli or even drizzle over your go-to pizza order for an easy at-home treat!

Lastly, we can't talk about sauces without bringing up our signature taste: Chick-fil-A® Sauce. This sweet and savory combination is the perfect pair for the seasonings of the Chick-fil-A® Chicken Sandwich or Chick-fil-A® Nuggets. When cooking at home, try using the sauce as a replacement to mustard or mayonnaise to liven up your entrees or as a dip for crudités, meat & cheese boards, or shrimp cocktail when hosting guests. And now you can enjoy it in a larger size with a 24-fluid ounce Bottled Sauce version hitting shelves this April!

From marinades to a meal's finishing-touch drizzle, Chick-fil-A's signature sauces can be used in countless ways to take your meal to the next level. With flavors too good not to take home, these bottled sauces can be found at your local grocery store or mass retailer. Check with your local retailer for availability and pricing information.