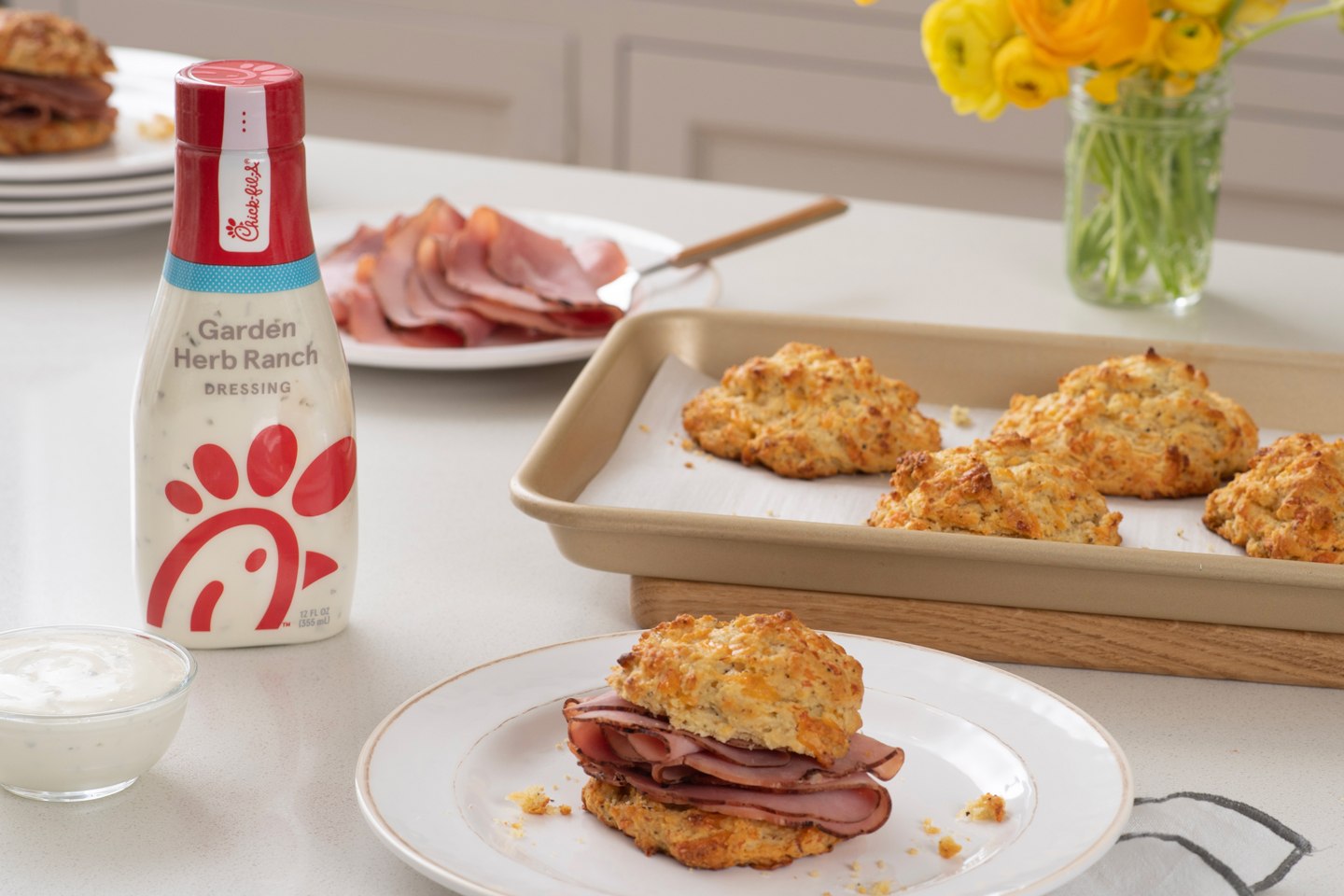 We all know breakfast is the most important meal of the day and that homemade biscuits are a delicious way to start yours. Chick-fil-A culinary expert Jack Bothwell takes your meal to the next level by combining the buttermilk flavor of Chick-fil-A's Garden Herb Ranch Dressing, available in bottles at select retail locations nationwide, with cheddar cheese and ham to create a flavorful breakfast sandwich. This recipe makes six biscuits, so invite your friends over to savor them with you or store the leftovers for an easy bite on busy mornings.
Ingredients

1 cup all-purpose flour
1 cup shredded cheddar cheese
2 teaspoons baking powder
1 teaspoon onion powder
½ teaspoon black pepper
¼ teaspoon salt
1/3 cup Chick-fil-A Garden Herb Ranch Dressing
¼ cup milk
1 tablespoon honey
6 slices of ham
Directions

Pre-heat a conventional oven at 375°F.
In a mixing bowl add flour, cheese, baking powder, onion powder, black pepper and salt.
Using a rubber spatula, stir until all ingredients are evenly distributed.
Into the same mixing bowl, add Chick-fil-A Garden Herb Ranch Dressing, milk and honey.
Stir until all ingredients are fully mixed.
Using a scoop or spoon, portion 6 evenly sized domes of biscuit dough onto a sheet pan.
Place in the oven and bake for 18 minutes.
Let the biscuits cool completely.
While cooling, cut or fold ham slices into biscuit sized pieces.
Once biscuits have cooled, slice the biscuit in half using a serrated knife and insert ham.
Serve and enjoy.