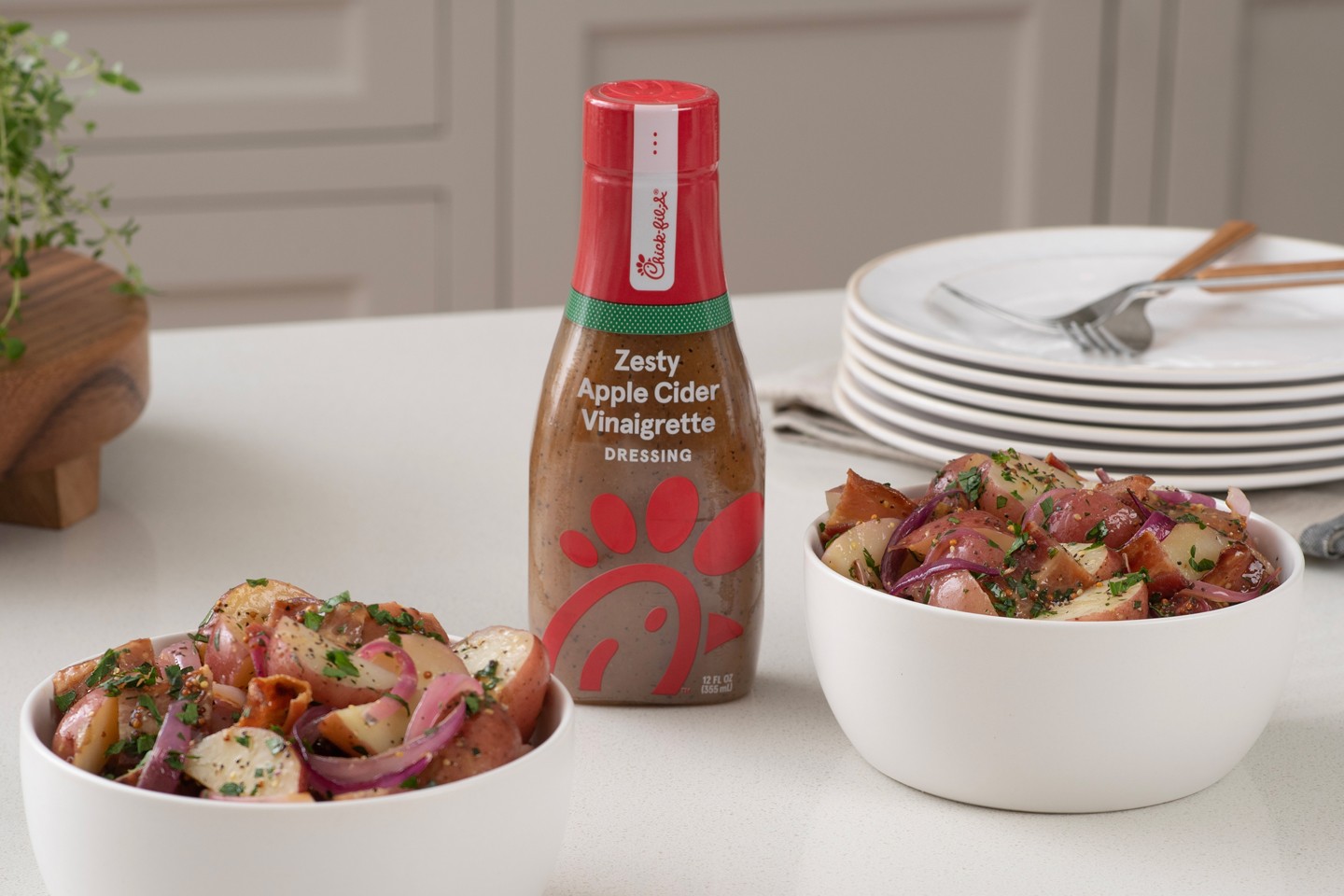 Elevating a classic summertime side dish
Did you know potato salad has been around for over one hundred years? While you can make this summertime staple many ways, our favorite way is with the Chick-fil-A® Zesty Apple Cider Vinaigrette Dressing, now available in bottles at select retailers nationwide. This recipe, created by one of Chick-fil-A's culinary experts, Jack Bothwell, elevates this classic side dish with robust flavors balancing acidity and a hint of sweetness.
Ingredients

2 1/2 pounds sliced red skin potatoes, cooked
1 white onion, sliced
5 slices thick cut, raw bacon
¾ cup Chick-fil-A Zesty Apple Cider Vinaigrette Dressing
1 tablespoon whole grain mustard
2 tablespoons fresh parsley, chopped
1 teaspoon salt
½ teaspoon black pepper
Directions

In a medium pan, cook bacon over medium-high heat.
Remove bacon from pan, leaving bacon fat in pan.
Add sliced onions to the pan, return to stove and reduce heat to medium-low.
Cook onions slowly, stirring regularly until just browned.
Slice bacon strips into smaller ½" wide pieces.
To a large mixing bowl, add Zesty Apple Cider Vinaigrette Dressing, sliced bacon, onions with all bacon fat, salt, pepper and whole grain mustard.
Stir until all ingredients are evenly mixed.
Add cooked, sliced red skin potatoes to the bowl and stir until fully mixed.
Plate potato salad on serving dish, garnish with parsley and serve warm.