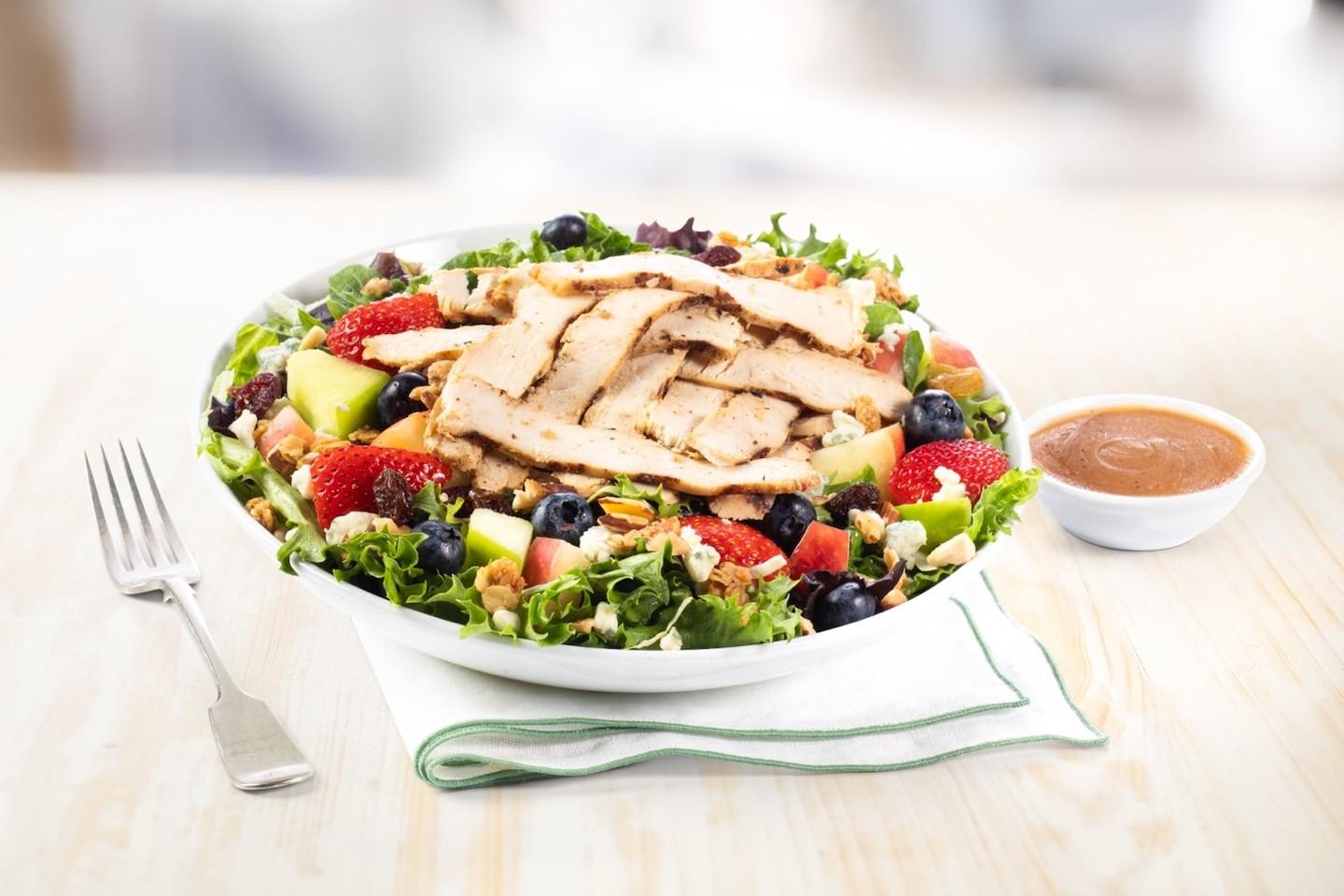 Choices for a variety of nutrition goals
When hunger calls with a busy schedule, a meal on-the-go is a must. The team of chefs in the Chick-fil-A kitchen have been busy cooking up menu items to give health-seekers choices around the clock for breakfast, lunch and dinner. To make it easier than ever to grab a quick, convenient meal that still meets your nutrition goals, we've created a list of choices available on the menu every day and added some insider tips to help maintain a balanced lifestyle, even when ordering more indulgent items.

Breakfast:

1. Egg White Grill: The summer of 2016 was a historic time – not only did Chick-fil-A introduce its first sandwich on an English Muffin, it also added grilled chicken to the breakfast menu. Served with egg whites and American cheese, the sandwich has 27 grams of protein and 290 calories.

Bonus tip:
It's easy to customize the Egg White Grill (and many other menu items, for that matter) on the Chick-fil-A® App. Add bacon or swap in Colby Jack cheese, or select a regular egg instead of egg whites, because only you know how you create your favorite Chick-fil-A entrée!
2. Chick-n-Minis®: Still craving a classic chicken meal? At 360 calories, the 4-count Chick-fil-A Chick-n-Minis makes a satisfying, wholesome alternative to the Chick-fil-A® Chicken Biscuit. Served at breakfast, the bite-sized breaded Chick-fil-A® Nuggets are served on soft yeast rolls lightly coated with honey butter spread and has less fat than the Chicken Biscuit.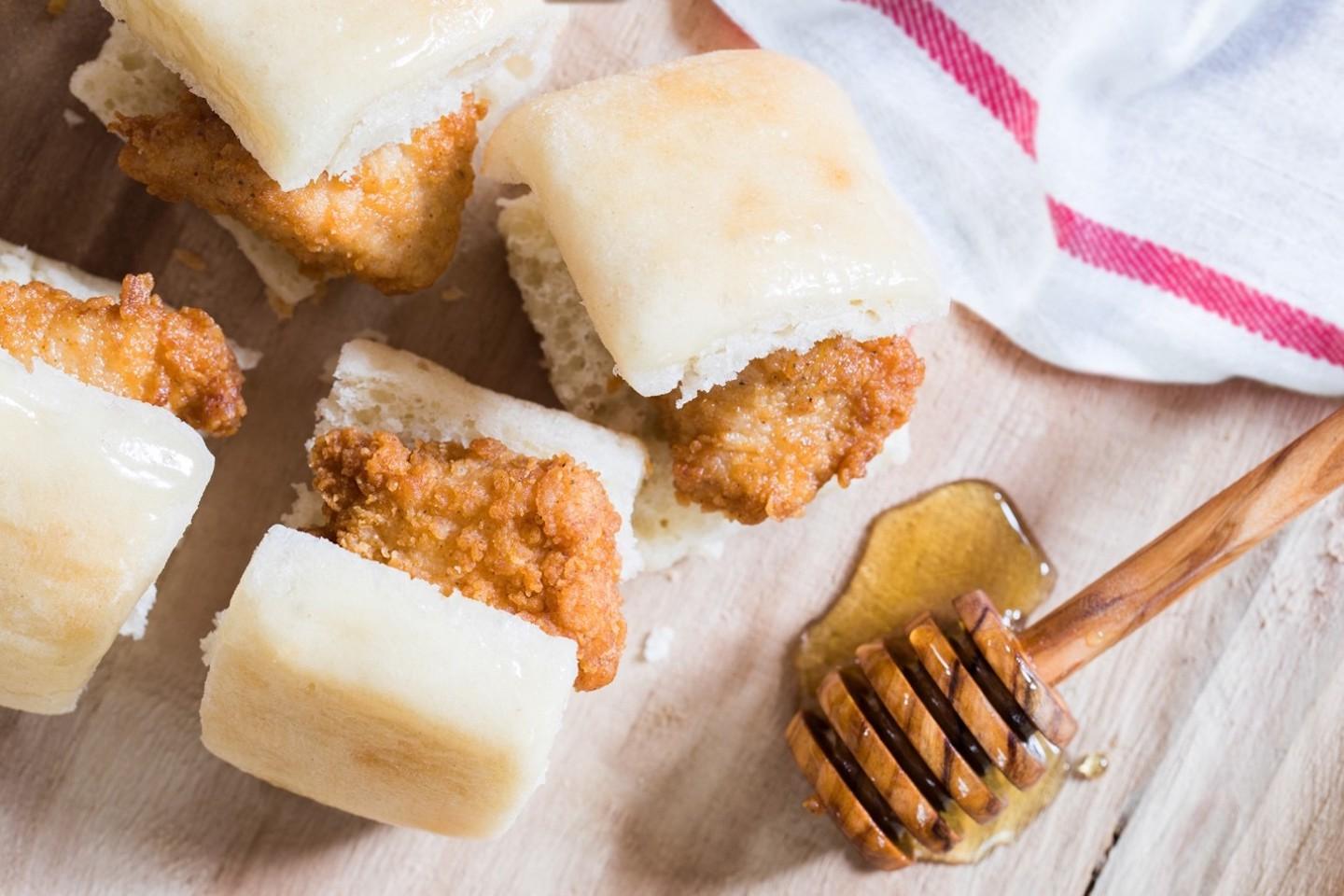 Bonus Tip:

Add a THRIVE Farmers Coffee for 0 calories if ordered black. This specialty-grade coffee served at Chick-fil-A restaurants is brewed in-restaurant to pair with the Chick-fil-A breakfast menu.
Lunch and dinner:

3. Chick-fil-A Market Salad: This colorful salad, packed with quality ingredients and produce that is delivered fresh to restaurants up to six times per week, tastes even better than it looks.

The salad entrée is prepared fresh daily, served on a bed of mixed greens. Its tasty toppings include sliced grilled chicken (a lean protein), berries, leafy greens and other superfoods. The salad with toppings contains 310 calories (dressing is not included in this calorie count).
Bonus Tip:
Order the Zesty Apple Cider Vinaigrette for a robust, yet sweet flavor or drizzle the Light Balsamic dressing for a lower-calorie option.
4. Grilled Nuggets: These bite-sized pieces of marinated boneless breast of chicken are grilled for a tender and juicy backyard-smoky taste.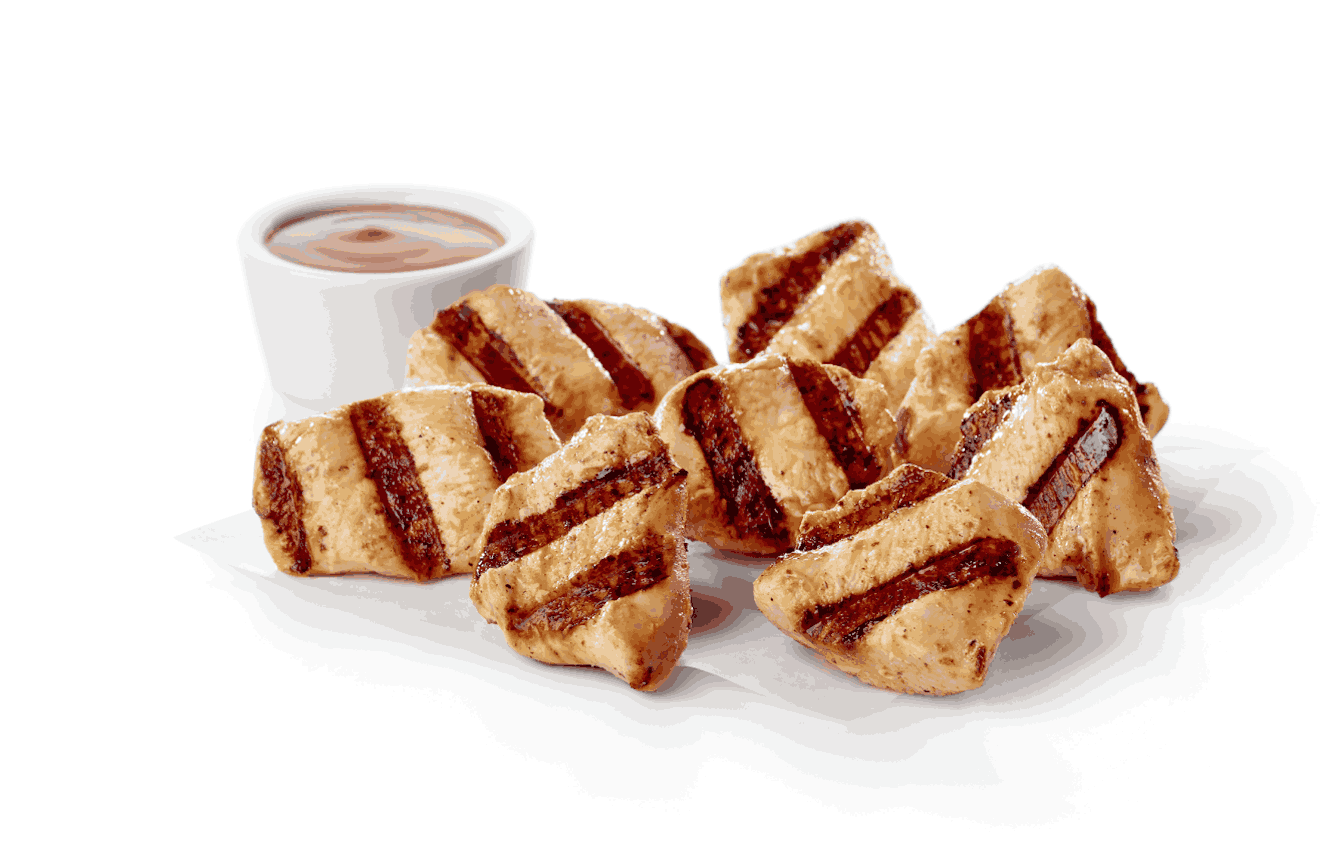 Bonus Tips:
Order the Kale Crunch Side with the 8-count Grilled Nuggets for a filling meal at 300 calories. On its own, the Kale Crunch Side has 170 calories, including almonds.
5. Grilled Chicken Sandwich: At 330 calories and seven grams of fat when ordered without sauce, this savory sandwich is a big hit. A toasted multigrain bun holds a grilled boneless breast of chicken, green leaf lettuce and tomato. For an extra hint of flavor, try it with Honey Roasted BBQ sauce.

Bonus Tips:
For a nutritious boost, the Fruit Cup pairs well with the Grilled Chicken Sandwich. On its own, the Medium Fruit Cup has 60 calories.
6. Cobb Salad: Craving one of Chick-fil-A's most iconic salads? Created in the 1930s, this salad is a perfect opportunity to swap Chick-fil-A Nuggets with Grilled Nuggets. The salad entrée contains a bed of mixed greens, topped with roasted corn kernels, a blend of shredded Monterey Jack and Cheddar cheeses, crumbled bacon, sliced hard-boiled egg and grape tomatoes. It is prepared fresh daily and served with Charred Tomato Crispy Red Bell Peppers. The salad with grilled nuggets and toppings contains a whopping 41 grams of protein.
Bonus Tips:
The bold flavors of the Light Italian Dressing adds only 25 calories to the savory salad.
Like all of our salads, you can request no cheese, which cuts 50 calories.
7. Grilled Chicken Cool Wrap®: Each bite of this entrée offers the flavors of grilled chicken, green leaf lettuce, a blend of shredded Monterey Jack and Cheddar cheeses and the flaxseed flour flatbread wrap. This satisfying entrée contains 14 grams of fiber.

Bonus Tip:
For a refreshing sip, request our Sunjoy® beverage with a combination of Unsweetened Iced Tea and Diet Lemonade for only 20 calories.
Snacks & Sweets

5. Greek Yogurt Parfait: Chick-fil-A's yogurt parfait features organic vanilla bean Greek yogurt with 270 calories and 13 grams of protein in each serving. It is made from ingredients with, no artificial colors or flavors, and is served with fresh strawberries, blueberries and Harvest Nut Granola.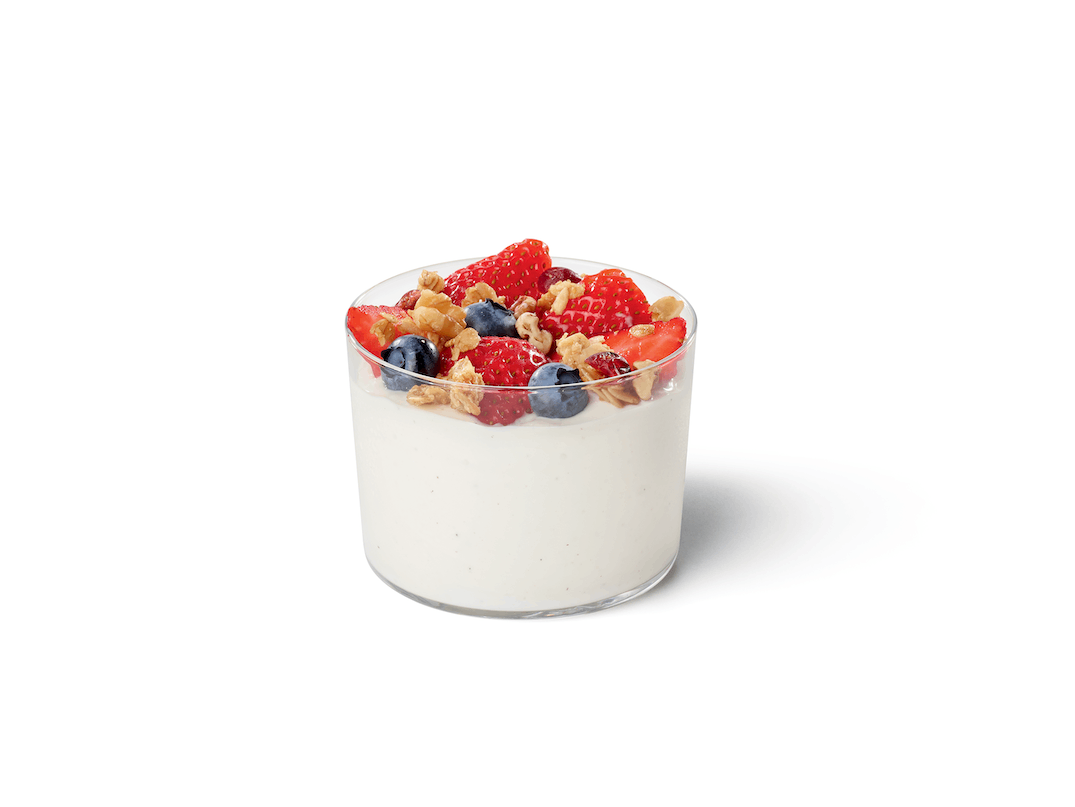 Bonus Tip:
Swap granola as a topping for cookie crumbs to add a taste of your favorite dessert.
9. Frosted Lemonade: Sweets lovers don't have to skip dessert. When made with Diet Lemonade, the Chick-fil-A Frosted Lemonade can also fit into your goals. Diet Lemonade is hand-spun with signature Icedream® dessert to create a refreshing and original treat that's 250 calories.

Head to your nearest Chick-fil-A restaurant to grab a nutritious meal or snack!