> 1 HOUR
Advanced
Feeds 4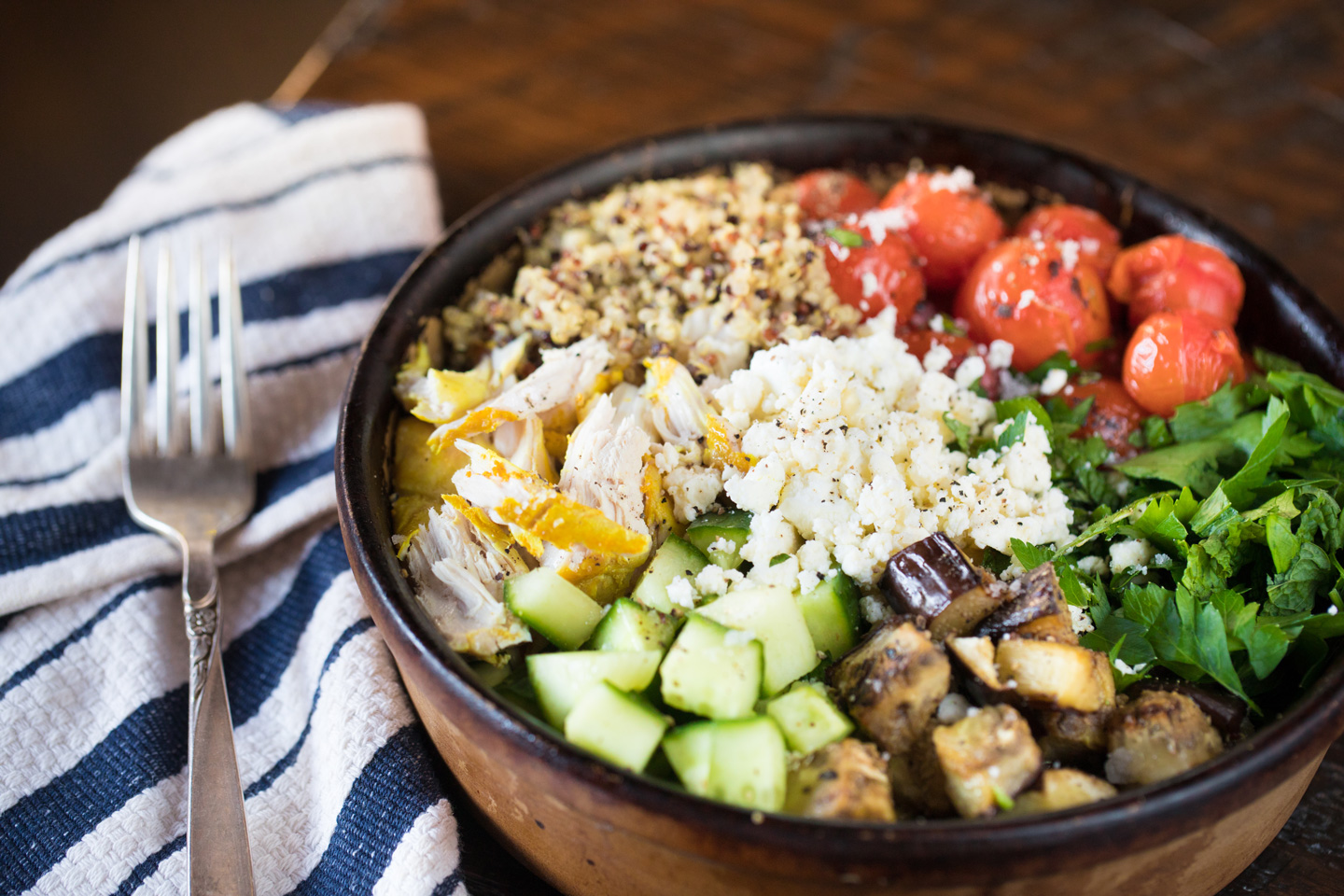 Spice up dinner with this flavor-packed chicken dish
Despite its tricky name, quinoa has become one of the world's most popular foods. The star in dishes from high-end restaurants to family kitchen tables, the best part about this good grain may not lie in the vitamin count. Says famed
chef and restaurateur, Ford Fry
, "It's simple and doesn't overpower other flavors."
Fry says while it's super easy to cook (just boil in water until it's tender!), "the slightly nutty flavor is subtle enough to add volume to any meal in a healthy way."
And he likes pairing it with our favorite protein, chicken.
Chicken is "one of those things a lot of chefs don't gravitate towards or give much thought to," says Fry, but it's one of his favorites.
"I'm a huge fan of chicken. It's a great protein to enhance with different flavors."
The secret, Fry says, is quality chicken, brined and then cooked over hardwood or charcoal. Fry serves chicken any number of ways, and shares this chicken bowl recipe with a Mediterranean/Middle Eastern bent.
Ingredients

4 each bone-in chicken breasts (soak in brine for 24 hours)


Spiced Brine
½ gallon cold water
½ cup kosher salt
¼ cup sugar
1 whole orange cut in half
4 cinnamon sticks
6 each cardamom pods
¼ cup ground turmeric
¼ cup whole cloves
Method: mix all brine ingredients and bring to a boil. Turn off heat and chill to cold.
Bowl ingredients
½ English cucumber (medium diced, unpeeled is fine)
2 cups quinoa (cooked till tender and dried)
2 large eggplants (peeled and large diced)
20+ grape or cherry tomatoes
1 cup Italian parsley sprigs (very rough chopped, like one cut)
1 cup picked mint sprigs (very rough chopped, like one cut)
1 cup lemon dressing
28 oz. sheep's milk feta
Extra virgin olive oil
Lemon Dressing
1 large juicy lemon (zests and juice)
½ cup EVOO
¼ cup champagne vinegar
1 clove minced fresh garlic (and not the jar stuff! Or the pre peeled stuff!!)
Kosher salt and freshly cracked black pepper to taste
Directions

Directions:
Quinoa
Rinse quinoa, cover with 2x water, bring to a boil, cover, reduce heat to low, cook for 15 minutes or till just tender. Fluff, drain if necessary and dry with paper towels. Season to taste with kosher salt and a touch of olive oil.

Eggplant
Pre-heat oven to 450 degrees. Toss diced eggplant in Extra virgin olive oil (EVOO) just to coat. Pending size of eggplant, it could be a ½ cup per eggplant as it absorbs like a sponge. Season to taste with kosher salt and fresh cracked pepper. Place on a baking sheet, loosely and not over-crowded and roast till you see crispy edges and a soft interior. Let sit until warm to room temperature.

Tomatoes
Lightly toss with EVOO and season to taste with kosher salt. Roast tomatoes under high heat (500 degrees) until hopefully charred a little and soft but not deflated.

Chicken
Remove chicken from the brine and towel dry. Lightly coat with a little EVOO. Roast chicken on wood or charcoal grill (or in oven on roasting tray) until 155 degrees. Let rest for 10 minutes. Pull the meat into bite size portions.

Build the Supper Bowl:
Build the bowl in compartment format like a pie chart: Pulled Chicken, quinoa, roasted eggplant, herbs and tomatoes.
Spoon dressing over the top. Add feta (or goat cheese if you prefer).