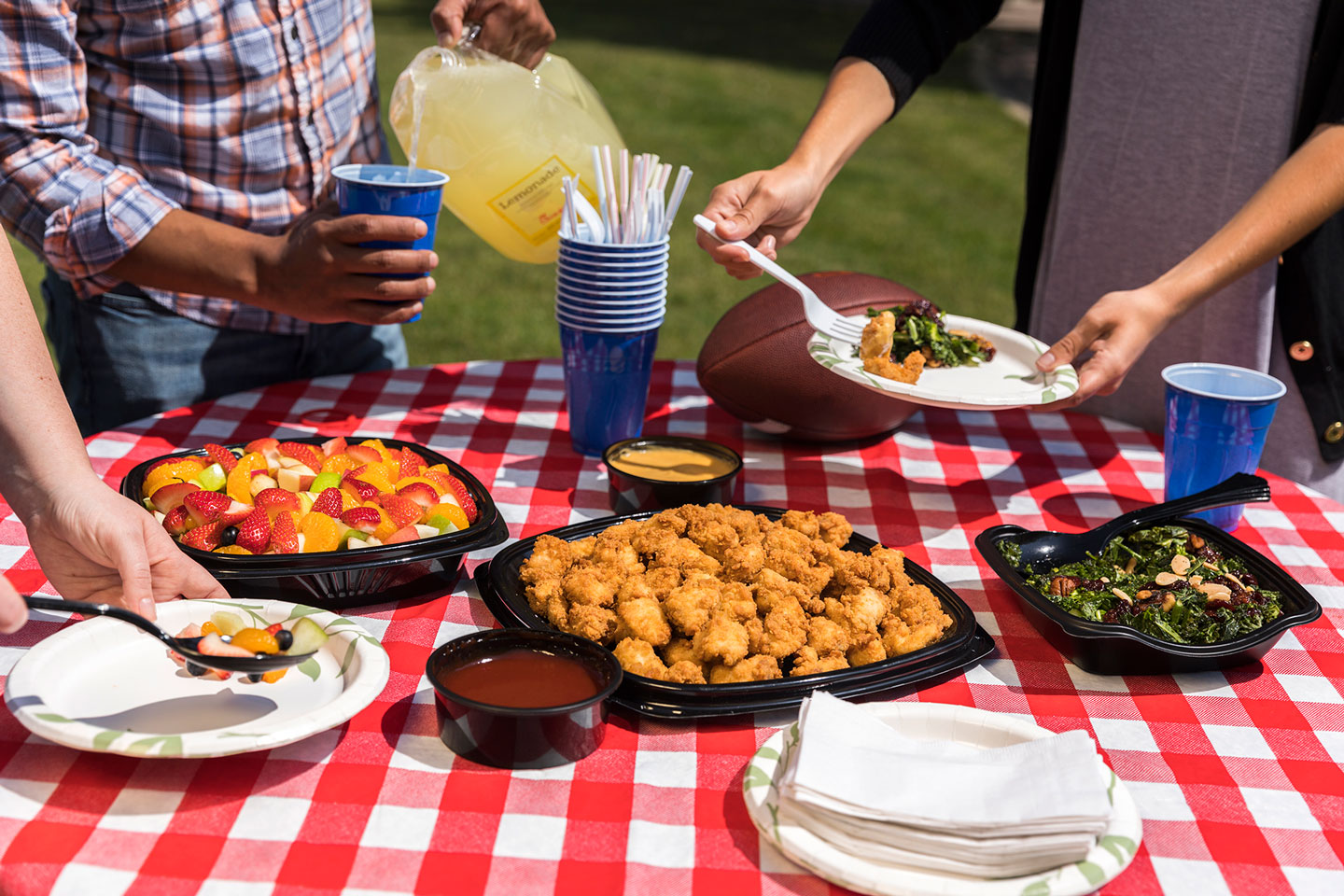 No matter what size crowd you're serving, Chick-fil-A catering has you covered
We've all been there. You're hosting a party, a meeting or after-school study session. Among the lengthy to-do list: plan the menu! Because you're the hostess with the mostess, you let Chick-fil-A handle the food. But how much food do you need for the group, and how do you decide exactly what to order from the Chick-fil-A Catering menu? Use the list below as your cheat sheet to order just what you need for any get-together!

1. Chick-n-Minis® Tray
Small: 20 Chick-n-Minis®
Large: 40 Chick-n-Minis®
To start the day off right, these bite-sized Chick-fil-A® Nuggets nestled in warm, honey-butter coated mini rolls are the stuff of dreams. A few of these for breakfast makes anyone happier and fueled up to tackle the challenges of the day.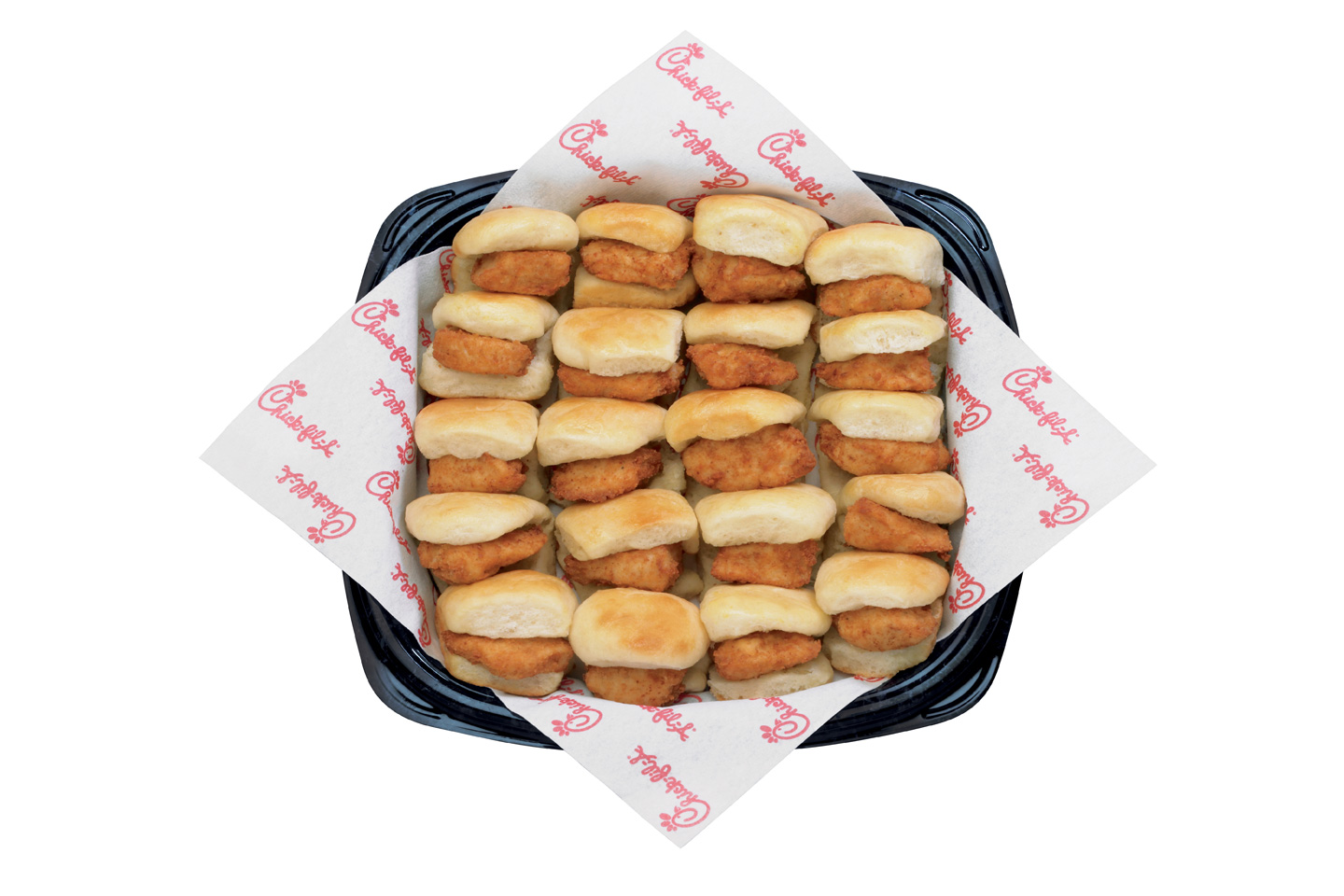 How many does it serve?
Order one small tray to serve ten 8-year-olds at a sleepover.
Order two large trays to serve 30 coworkers during a morning breakfast at the office.

2. Coffee
Regular and Decaf 96 oz.

Coffee (a.k.a. survival juice for many of us) can be purchased as decaf or regular. Chick-fil-A's specialty-grade coffee is THRIVE™ Farmer's Coffee, which pairs well with a Chick-fil-A® Chicken Biscuit for breakfast. Be the hit of any morning meeting and kick start the day with coffee at your event.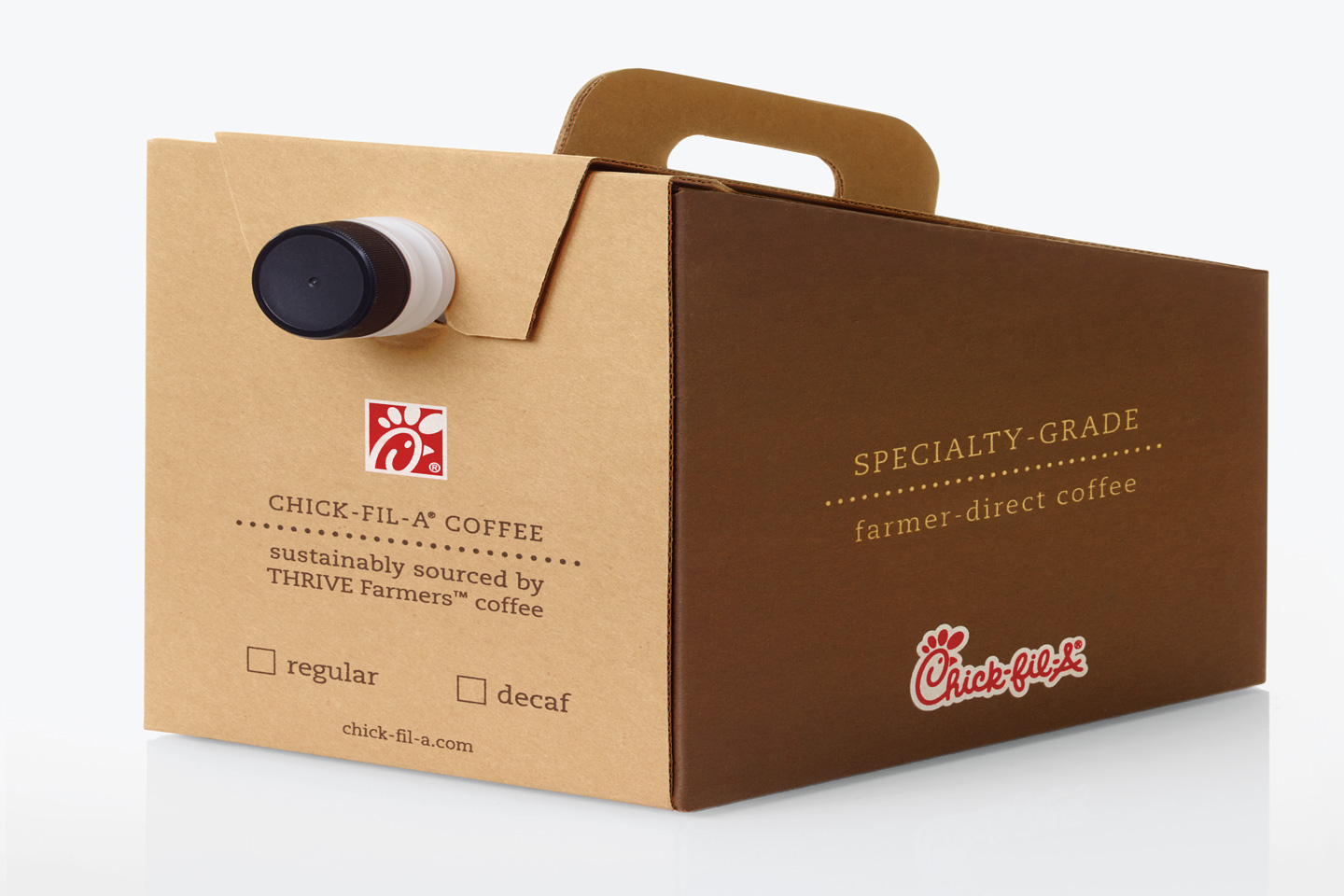 How many does it serve?
Four very tired parents (three 8-oz cups per parent)
Eight middle school teachers who need a boost during an afternoon planning session (one 12-oz cup per teacher).

3. Chick-fil-A® Nugget Tray
Small: 64 nuggets
Medium: 120 nuggets
Large: 200 nuggets

This classic party starter comes in small, medium or large. Popular with children (and adults) of any age, Chick-fil-A Nuggets® are a must at any party. These bite-sized pieces of breaded chicken breast go fast at any gathering!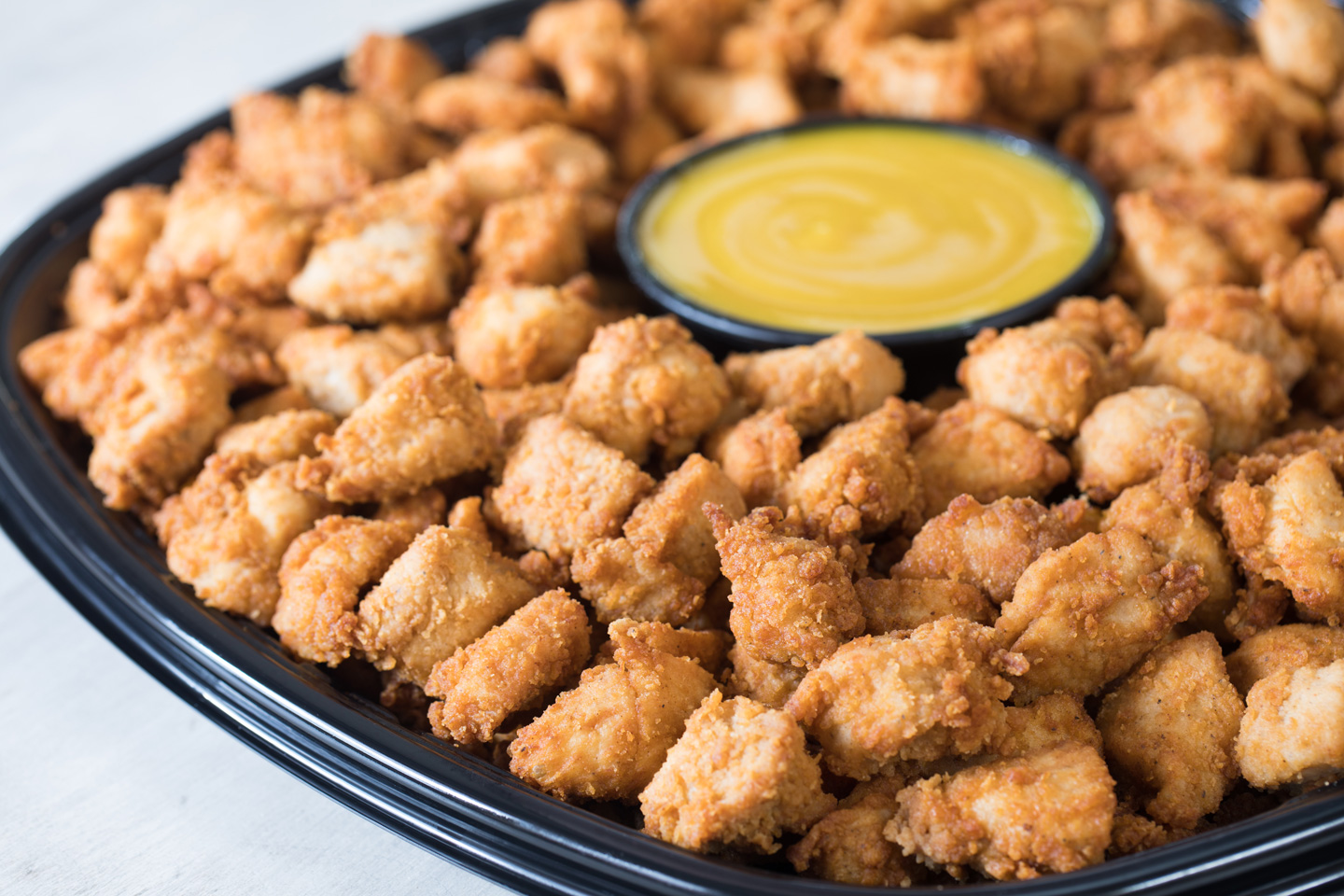 How many does it serve?
Order one medium tray to serve 15 people at a book club
Order two large trays to serve a high school football team with 40 players

4. Chilled Grilled Chicken Sub Sandwich Tray
Small: 6 sandwich halves
Medium: 12 sandwich halves
Large: 16 sandwich halves

For your hungriest guests, the Chilled Grilled Sub will be a popular choice. Available only on our Catering menu, the combination of marinated and thinly sliced chicken breast on a multigrain baguette with Colby Jack cheese, baby greens and a sliced tomato will satisfy any craving.


Order one large tray for a family reunion with 30 people
Order one small tray for six college students at a late-night study session

5. Kale Crunch Side Tray
Small tray
Large tray

If your guests need something fresh to complement their meals, look no further than the Kale Crunch Side. This light option for salad lovers features curly kale and green cabbage tossed with an apple cider and Dijon vinaigrette and then topped with crunchy, roasted almonds.

Order one small tray to serve six moms at a picnic by the pool
Order one large tray to serve a 12-member swim team celebrating after a victorious swim meet

6. Grilled Cool Wraps®
Small: 6 wrap halves
Medium: 10 wrap halves
Large: 14 wrap halves

This menu item makes for the perfect snack at a wide variety of gatherings. With grilled chicken, vegetables and cheese rolled in a delectable flat bread, you'll be the coolest host around!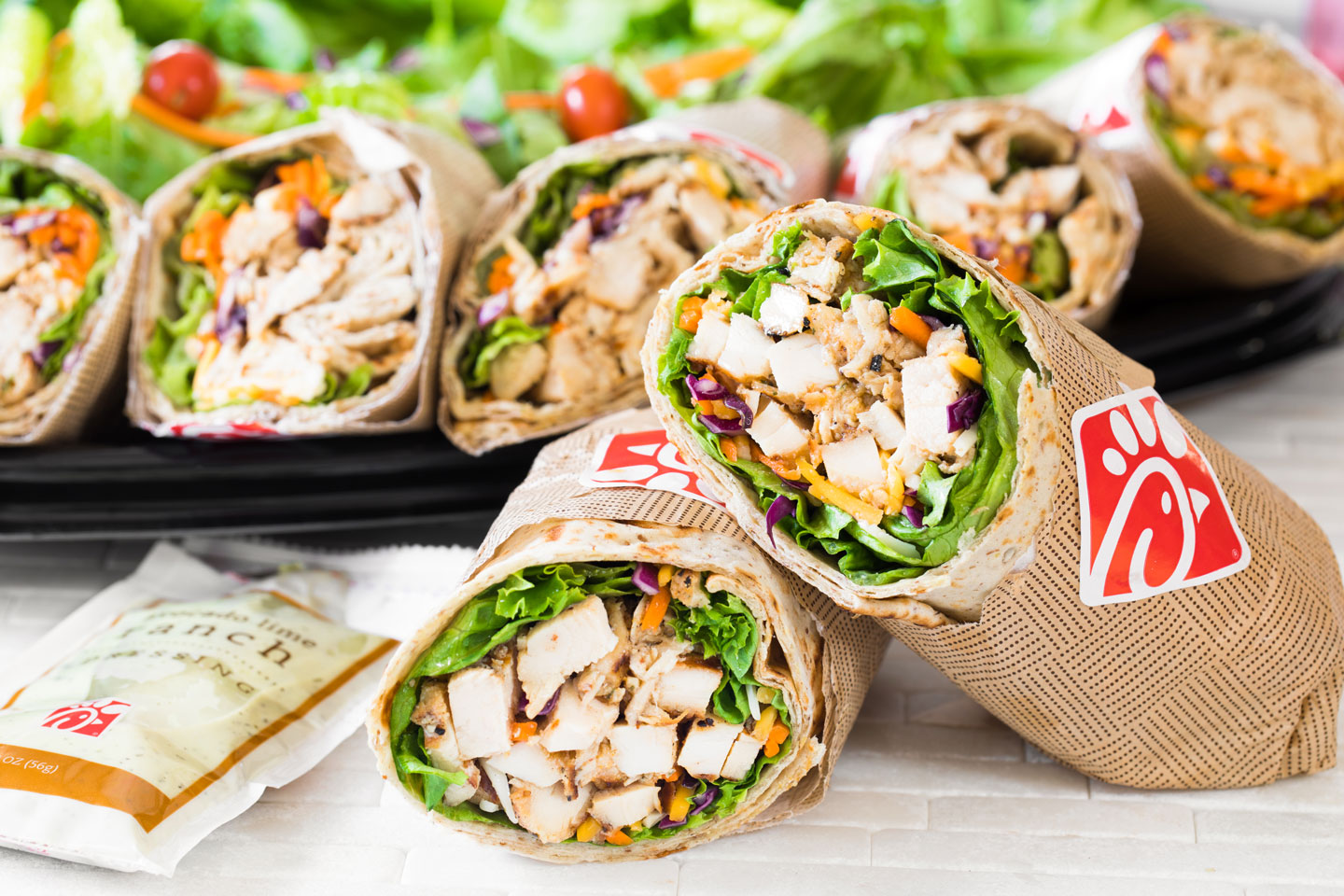 Order one medium tray to serve 10 people at a baby shower
Order one large tray to serve 20 moms at a Parent-Teacher Association meeting

Chick-fil-A Catering also offers packaged meals, beverages, one-serving sides and treats, salads, wraps and individual entrees. Learn more about Chick-fil-A Catering here, and place a Catering order for your next event today!