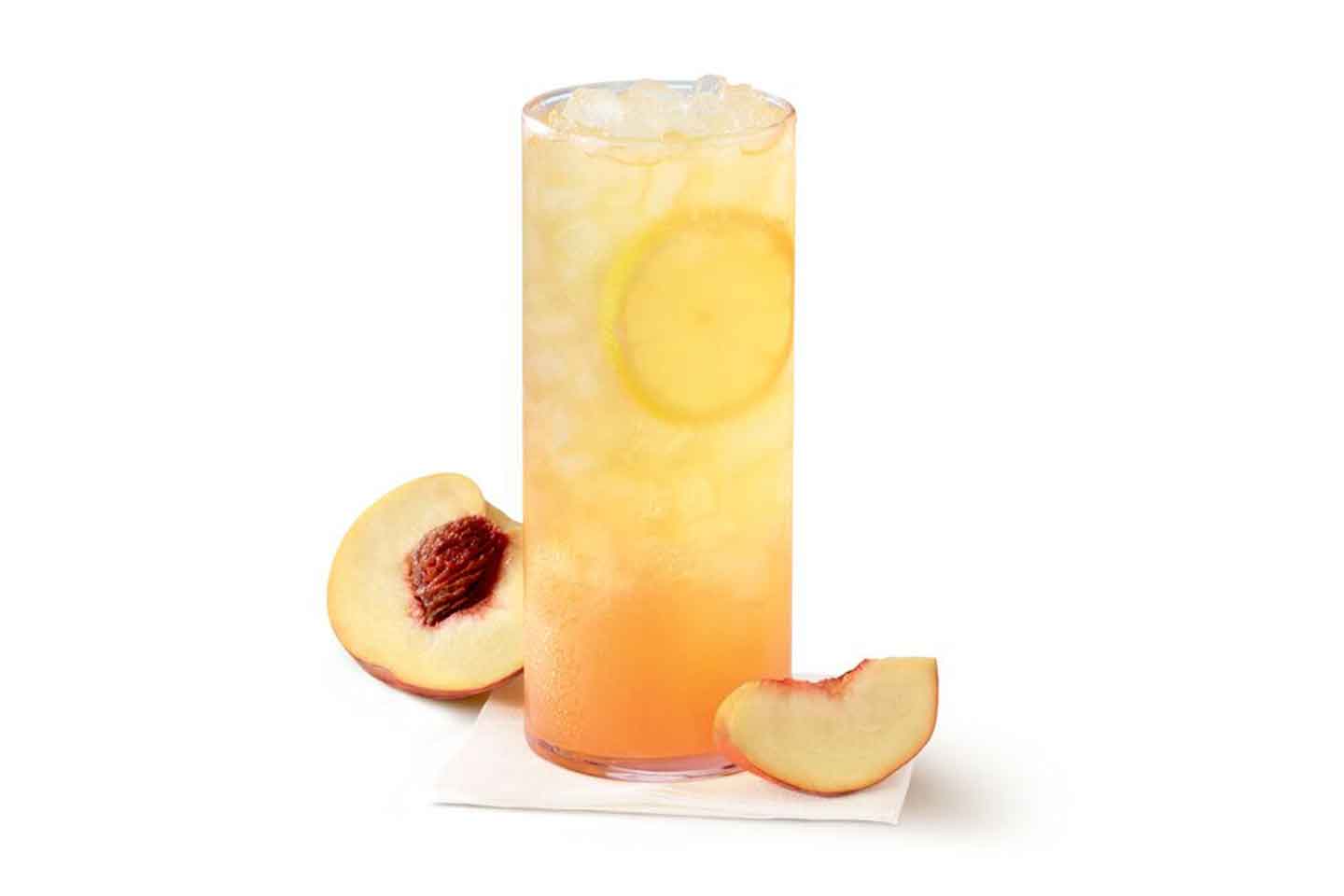 Customers in test markets liked it so much, we're serving it nationwide!
Maybe it's because we started in the Peach State. Or because it's a sweet sign of the summer. But whatever the reason, we're bananas about peaches. So much so, that we're willing to name a football game after our favorite fuzzy fruit. And we're always looking for ways to add it to our menu, too.
Luckily for peach lovers, we found it, and a new peach-flavored drink sweetens up the Chick-fil-A menu this summer. Customers coast-to-coast, from the Peach State to the Golden State (which grows more peaches than anywhere else!) can order a new beverage that's a peachy take on a favorite order. It's called White Tea Peach Lemonade.
The new drink is a combination of two menu staples: Chick-fil-A Lemonade (or Diet Lemonade) and freshly brewed Unsweetened Iced Tea, blended with natural white peach flavor.
"Customers often order half-tea and half-lemonade at our restaurants, so this summer, we officially added the refreshing combination to our menu nationwide," said Amanda Norris, senior director of menu development for Chick-fil-A.
With the beverage addition, we're tapping into a growing trend: flavored tea and flavored lemonade are both increasing in popularity. The added flavor of white peaches offers all the natural sweetness without the tartness sometimes found in yellow peaches.
Chick-fil-A guests in South Carolina (which produces more peaches than any other southern state) liked the drink so much during a taste test last spring, we decided to roll out White Peach Tea Lemonade nationwide.
The new drink will help 2018 be remembered as "The Summer of Peach" at Chick-fil-A. Another summertime favorite, the Peach Milkshake, returned to the menu for the summer season. Hand-spun and filled with real peaches, get it while it's hot (the summer weather, not the milkshake, of course!)