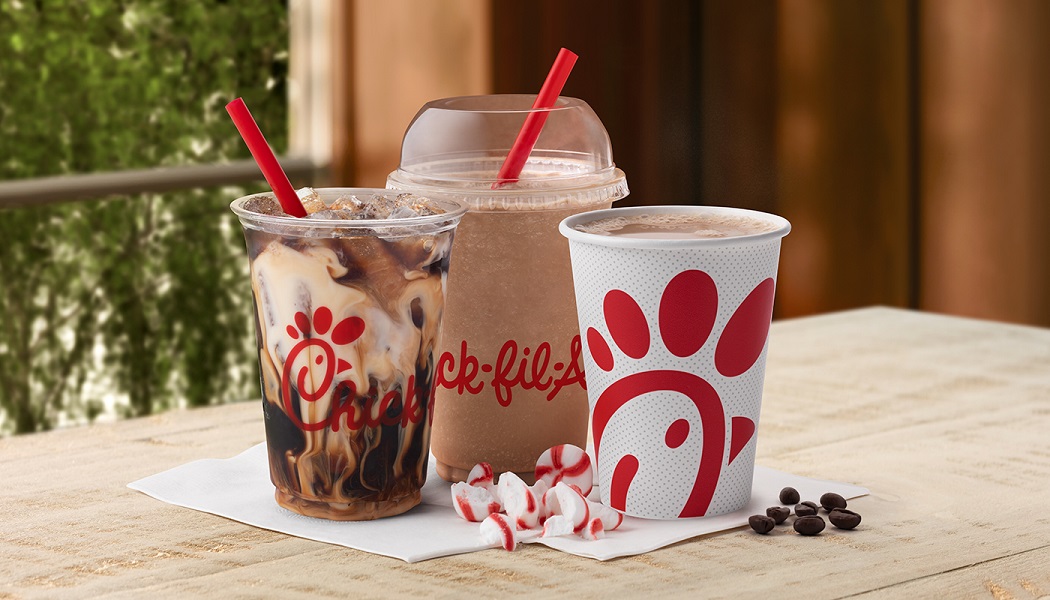 Chick-fil-A tests three seasonal beverages in Jacksonville, Fla.
As we kick off a new year, Chick-fil-A is bringing a sweet, seasonal coffee test to restaurants in Jacksonville, Fla. – all featuring a longstanding, fan-favorite flavor: peppermint.
Beginning January 25, participating restaurants in the area will offer three new ways to get a caffeine kick: Peppermint Cream Coffee, Peppermint Cream Cold Brew and Frosted Peppermint Cream Coffee.
The perfect way to start your morning or recharge mid-day, our new Peppermint Cream Coffee is our specialty grade, hot coffee blended with sweetened vanilla flavored cream and peppermint flavored syrup. Consider it the perfect complement to your favorite breakfast entrée, or pair it with a decadent Chocolate Fudge Brownie to satisfy your sweet tooth.
If you can't go a day without a cold coffee drink, the Peppermint Cream Cold Brew is for you. Served over ice, the drink is a luxurious swirl of cold-brewed coffee, sweetened vanilla flavored cream and peppermint flavored syrup.
And last but certainly not least, our Frosted Peppermint Cream Coffee takes the new iced coffee flavor to the next level. The beverage is a hand-spun treat that combines a custom blend of cold-brewed coffee, our signature Icedream® dessert and peppermint flavored syrup.
Our proprietary coffee blend is made with coffee beans sourced by THRIVE Farmers, a farmer-direct company that helps enrich the lives and communities of those who grow its coffee beans — so you can feel good about what you're drinking, too. The custom blend includes coffee beans grown in Central and South America, offering a flavor profile that features tasting notes of smooth caramel and a nutty finish.
The specialty coffees will only be available at select locations in the Jacksonville market through February 27 or while supplies last, so be sure to try them before it's too late! As we plan, customer feedback will help us determine if these new drinks will be offered at more restaurants in the future.
All three new drinks will be prepared under the Chick-fil-A® Safe Service guidelines, which remain a top priority at all Chick-fil-A restaurants.
Be sure to check the Chick-fil-A® App or contact your nearest restaurant in Jacksonville, Fla. to find out if they are offering the new beverages. Order ahead through chick-fil-a.com or the App for drive-thru, carry-out or curbside pick-up, depending on the service options available at your local Restaurant.