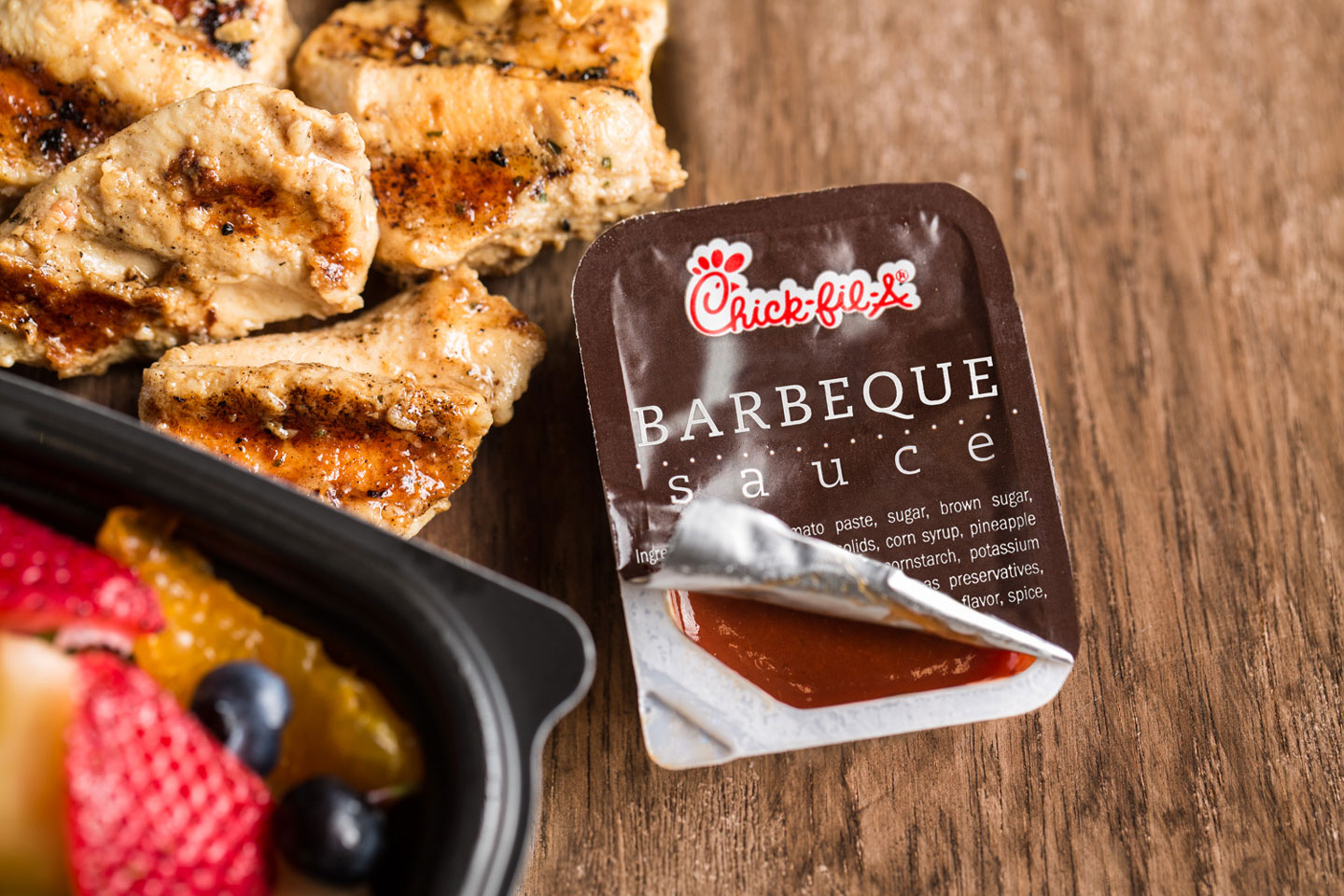 Ideas to help make great choices for the whole family while enjoying the convenience of the drive-thru
We've all been there: It's the end of a long day and you realize you don't have anything for dinner. The kids are in the car and everyone is starving. You need a solution, and you need it fast.
For many of us, hitting a drive-thru is an easy answer: It's simple, fast and no one needs to be unbuckled from a car seat.
Don't let the time-crunch – and those sweet voices from the backseat – distract you from making good decisions for a balanced diet. Here are four tips for driving through dinnertime with great options for the whole family.
#1: Plan your order before you get to the drive-thru
Placing your order can be challenging. Your best intentions of making healthy choices may go out the window if you are trying to make those decisions on the spot. One way to take the stress off the ordering process is to review the menu in advance before you get to the restaurant. Chick-fil-A's menu is available on the Chick-fil-A One app, so you can check out your options and make a plan in advance.
Whenever possible, I recommend you aim to create meals for your kids that are roughly 60 percent complex carbohydrates (fruits, vegetables, and whole grains), 30 percent lean proteins (chicken is great), and 10 percent healthy fats (olive oil and avocadoes are good examples).
#2: Keep the big picture of the day (or even week!) in mind
As you think about what to order, gauge what you and your family have already eaten that day or what's to come. Have your kids already had a sweet breakfast or do you know you'll be indulging in cake and ice cream at a birthday party later? Try to limit choices that are higher in sugar. Did you already have potato chips at lunch? Choose a fruit cup or side salad to pair with your entree.
In general, the goal is to have less than 40 grams of sugar and less than 1500 mg of salt per day. If you look at the menu before you arrive, you may have time to review this information. Remember, you're not going for perfection here! You're shooting for your meals to balance out over the course of several days, and a quick "check-in" while you're in that speedy line will help you achieve it!
#3: Include your family in the process and teach the 'why'
In my practice, a lot of parents and caregivers tell me that they are worried about how to raise healthy kids. My advice is this: Include your children on the journey to eating well. Explain the "why" behind what is considered healthy. Model for them healthy choices and check in with them about how their young bodies feel after eating certain foods.
As you navigate the Chick-fil-A menu, you'll see a multitude of options—and happily, many of these are healthy ones! Use this as an opportunity to engage your kids and teach them what is considered healthy and why.
Even if they are too young to understand the science behind nutrition, help kids understand simple rules like the magic number of getting at least 5 servings of fruits and vegetables a day. Engaging them to help you count up how many servings they've had for the day so far may motivate them to make a good choice to help meet that goal.
#4: Balance it out and indulge within reason
As you teach your kids the "why" behind making healthy choices and engage them in the ordering process, you can help them learn how to make balanced choices and indulge within reason. If they are eating grilled nuggets and fruit, you may want to allow them a choice of Icedream or Frosted Lemonade for dessert. If they want chicken nuggets, help them choose between a fruit cup or side salad with it. Or if they insist on Waffle Fries (my favorite treat!), encourage them to choose grilled nuggets to balance it out.
As an added bonus, because they will be engaged in the decision-making process, your children may be likely to eat more and remove some of the power struggle over you asking them to finish their meal.
On the Chick-fil-A menu, you can always find a balance of health and taste. Enjoy the convenience of the drive-thru without the guilt, and continue to bring your family along the journey to making better choices together!
Dr. Taz Bhatia, MD, is a board-certified physician, specializing in integrative and emergency medicine, pediatrics and prevention, with expertise in women's health, weight-loss, hormone balance and nutrition. She is the author of the best-selling books "Super Woman RX" and "The 21-Day Belly Fix" and is a member of Chick-fil-A, Inc.'s Nutrition Council.