Fuzzy used to play football. In fact, that's how he got his descriptive nickname. Billy Koehler showed up for his first practice at the University of Georgia with an unshaven face and a floppy mop of curly hair on his head. The defensive coordinator took one look at Billy and gave him the handle that would stick through his playing days, beyond graduation in 2006, and all the way to his popular cooking website and YouTube Channel.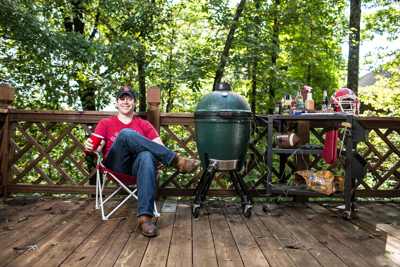 Billy Koehler, aka Fuzzy, chef behind Fuzzy's Kitchen and Chick-fil-A IT Specialist
It may sound furry, but it certainly isn't fluff. Billy's website, Fuzzy's Kitchen, features recipes for everything from steak to pizza, with his YouTube channel hosting 23 cooking videos. The most popular clip is for a pork tenderloin recipe: it's at 70,000 views and counting.
So how does a former offensive lineman turned Chick-fil-A customer technology specialist get into creating recipes and sharing them with the masses? It all goes back to his days on the gridiron.
Transitioning from Field to Fan
"The year I was done with football, I put on a lot of weight," Billy says. "You get used to eating all those calories because you are working out non-stop. Nobody tells you to adjust your eating when you stop exercising as much. So I started really looking at what I was eating and began cooking."
Billy initially worked with frozen food and simple dishes, but says he became bored and it all started tasting the same. "That's when I went online to look for new recipes and bought myself a Big Green Egg," he says.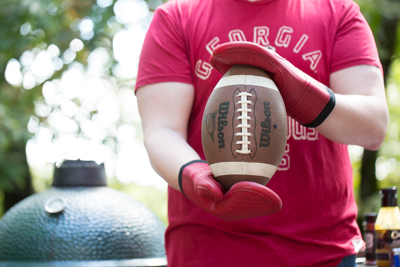 Fuzzy beside his favorite cooking gadget - The Big Green Egg
"What started as a few videos for a simple hobby has become much more. In fact, it's taken over the space in his life that football once held."
It was his wife, Blyth, who nudged him to share his cooking with the world. Billy recalls, "She said 'you should record some of these recipes and put them on YouTube.'" Now Blyth helps produce the videos. In the credits, she's listed as B-Sizzle, the camera (wo)man.
What started as a few videos for a simple hobby has become much more. In fact, it's taken over the space in his life that football once held.
"Cooking is my passion," Billy says. "Football was therapeutic from the standpoint of no matter what test I had or what was going on in my personal life, once I put that football helmet on and hit the field, all that noise from my life kind of went silent. I get that same therapy from cooking."
Saturday Still Counts
On fall Saturdays, his former and current passions collide in the hills of Georgia's northland when he goes to see his beloved Georgia Bulldogs play. Now instead of putting on a helmet and pads, he puts a Boston butt on the smoker.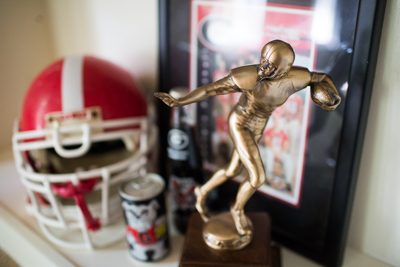 Fuzzy's UGA donned Mantle
Billy vividly remembers his playing days, back when he was Fuzzy full-time and not just on the internet. Game days were chock full with team meetings, a pre-game meal, and the Dawg Walk—a tradition where players walk through a tunnel of fans to enter the stadium.
"It really pumps up the team," Billy says. "As you're getting ready to enter the tunnel, the band is playing and you go from all that commotion to a completely empty Sanford Stadium and it really gets you focused."
That's a common theme as Billy talks about those days: focus. "You show up, you're ready for business," he recalls. "It's a really serious mood in the locker room. Then when you run out on the field, it's the opposite experience. You go from quiet to absolute chaos."
These days, Billy's trips to his alma mater are more about reminiscing on college years and spending time with friends and family. "Every Saturday is like a reunion," Billy says. "You know the same groups of people are going to be there. Sometimes you bump into people you maybe haven't seen in years and hang out at a tailgate."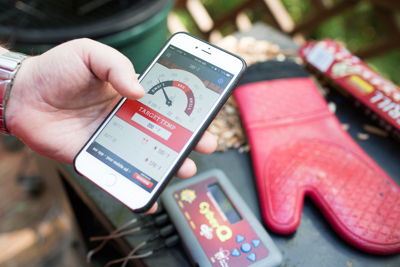 BBQ Guru CyberQ App
Of course, those tailgates include Fuzzy's Kitchen recipes like pulled pork, his favorite for feeding large crowds. And this is where his tech side (not to be confused with the Georgia Institute of Technology) comes out. Gone are the days when Billy would arrive at tailgates short on sleep from checking his roast overnight. He now has a BBQ Guru Cyber Q device that through wifi allows him to not only control the temperature of his pulled pork from his smart phone, but alerts him if the temperature changes—removing the need to set his alarm every few hours to go out and check the grill.
Technology aside, some things don't change, like the fervor he feels at kickoff: "I still wake up with almost the same level of excitement because I'm a pretty die-hard fan," Billy says. "And game days are really the same level of chaos as when I was a player, it's just louder on the field."
FUZZY'S RECIPE RECOMMENDATIONS
If you want to tailgate like Fuzzy, he suggests his "Slap Yo Mamma Good" pulled pork because it feeds several people and is the biggest bang for your buck.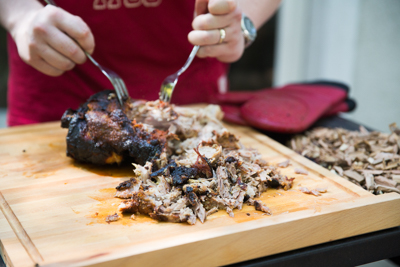 Fuzzy's Pulled Pork
His current favorite, though, is a bacon-wrapped filet topped with blue cheese crumbles Bacon Wrapped Filets that he and his wife created.
Find all of his recipes at www.fuzzyskitchen.com
Chick-fil-A is the proud title sponsor of the Chick-fil-A Kickoff Game, the Chick-fil-A Peach Bowl, and The College Football Hall of Fame and Chick-fil-A Fan Experience.