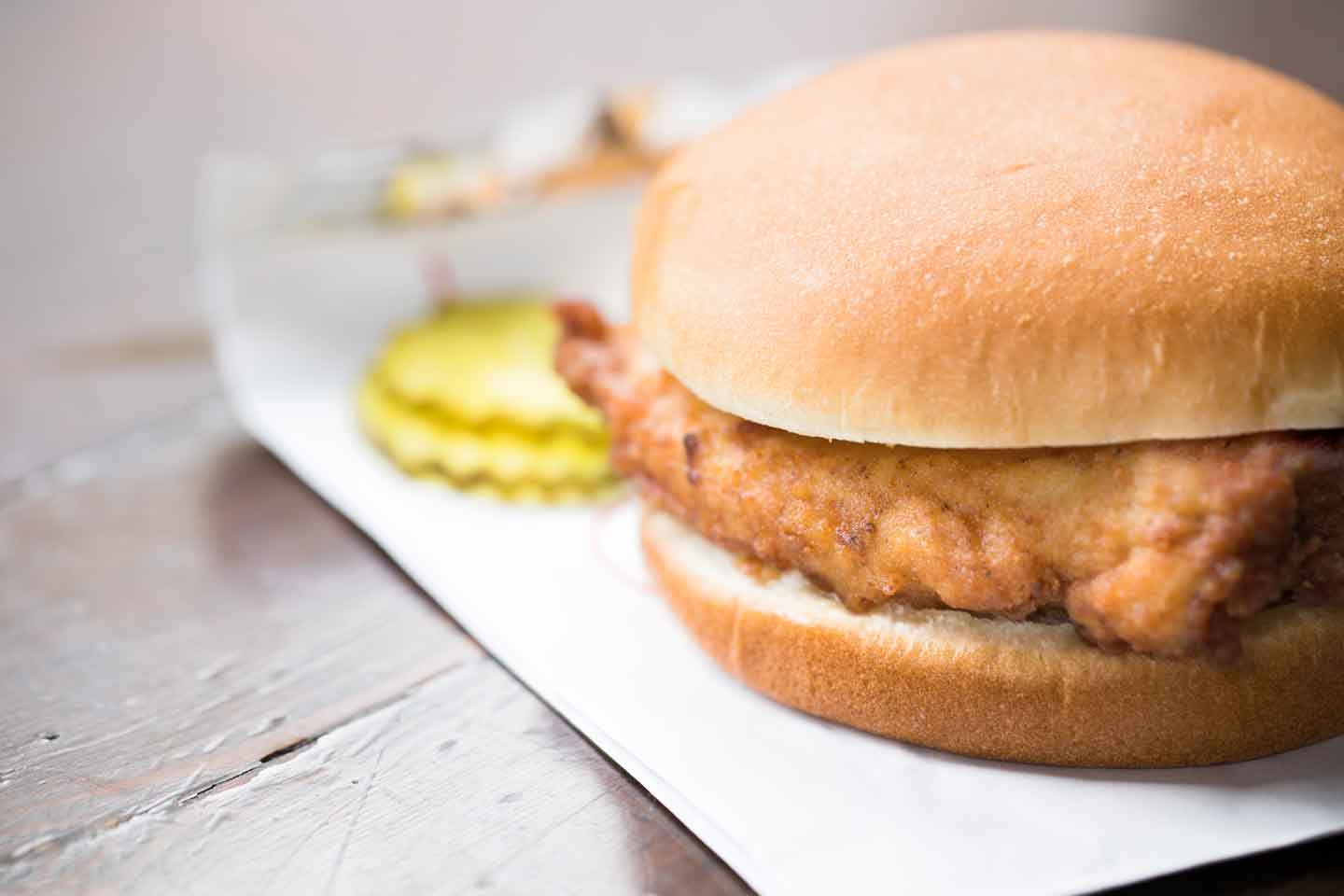 A historical look at the original Chicken Sandwich
Editor's Note: Chick-fil-A recently invited a team from Atlantic 57, the consulting and creative division of The Atlantic, to spend a few days at our Atlanta headquarters to explore what makes our Chicken Sandwich so special. This article is the result of that visit, interviews with company founders and Operators and additional reporting on the rich history and distinct culture of Chick-fil-A.
An unexpected arrival
It was 1964 when Truett Cathy came home with his restaurant's latest menu offering: a piece of fried chicken breast tucked between two buttered buns. His son, Dan Cathy, remembers the moment well as a 12-year-old boy. Though he didn't realize it at the time, his father's new sandwich would change not only Dan's life but the trajectory of his family's business and the fast-food industry as a whole.
"I'd eaten hamburgers all my life," Dan recalled in a recent interview at Chick-fil-A's test kitchen in Atlanta, Georgia. "But Dad had put a whole piece of chicken between that bun. I just remember how odd it was."
It's true that Truett's new sandwich was odd, especially considering the nation's changing appetite. When Dan tasted his father's sandwich, Americans were enamored with beef, not chicken, eating an average 50 pounds of beef per person annually, according to the USDA. Even for a culinary visionary, chicken was a long bet.
But the Original Chicken Sandwich, for all its countertrend quirkiness, wouldn't take long to become a mainstay: oddity turned into novelty, which matured into a comfortable familiarity, then, with success, a sense of the sandwich having been there all along.
At least that's how Dan thinks of it. As Chick-fil-A's CEO, he serves his dad's creation with unyielding purpose. The food is how he delivers delight and satisfaction six days a week. "We're not in the chicken business serving people," Dan's father often said, "we're in the people business serving chicken."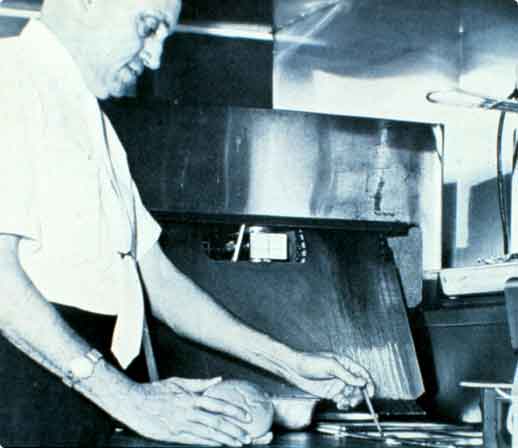 One part inspiration, two parts savvy
Beyond this sense of fast-food destiny, Truett's chicken sandwich is rooted in hard-knocks pragmatism and some good, old-fashioned luck. Just a few miles from his Dwarf House Grill in Hapeville, Georgia, the 24-hour diner precursor to today's Chick-fil-A restaurants, a national airline hired Jim and Hall Goode, of Goode Brothers Poultry, to create a lunch item for its square, in-flight serving trays. Back in 1961, even short flights came with a hot lunch, Dan recalls, that needed to be reliable and quick to prepare. While the Goode brothers managed to meet the airline's stringent size requirements, the brothers were left with many extra pounds of quality chicken breast.
Truett, not one to miss a business opportunity, bought the extra chicken from the Goode brothers and figured if its quality was good enough for Delta's jet-setting clientele, it would be good enough to please his customers. The excess chicken breast became Truett's canvas, and with a craftsman's diligence, he tenderized it one way, seasoned it another way, cooked it in different oils, and served it in various configurations before finally landing on the recipe his mother used in her boarding house decades earlier: a well-seasoned chicken breast, pressure cooked in less than five minutes to retain its juicy tenderness.
He didn't know it yet, but Truett had landed on a fast-food lottery ticket. By garnishing the cooked breast with two pickles and sliding it between a toasted, buttered bun, Truett propelled his new sandwich to menu darling status at the Dwarf House Grill. And even though customers loved it, he continued tinkering with his creation. Finally his regular diners, including many shift workers from Delta Air Lines and the Ford Motor Company, as well as new diners from Fulton County Stadium and Waffle House, where Truett expanded his sales, insisted he stop experimenting and stick with the sandwich they'd grown to love.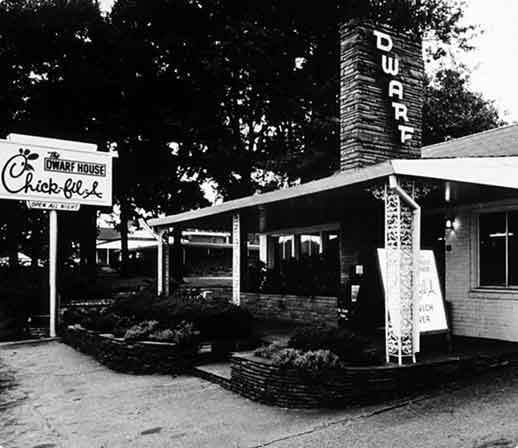 The extent to which Truett was driven by business smarts, divine inspiration, or both, we may never know. But what's certain is that the scope of his success — his new Chick-fil-A business (proudly named with the capital A to indicate the grade-A quality of the chicken,) his brand, and national acclaim — rested on something simple, satisfying, and potentially universal in its appeal.
It's that potential universality that holds the most promise for Chick-fil-A as it continues to expand well beyond its Southern roots. Consumers' preference for lean meat and sustainably sourced animal protein has given chicken the global edge, according to Arlin Wasserman, founder and partner at Changing Tastes, a food industry consultancy.

How Chick-fil-A will capitalize on the popularity of poultry and reach new markets while preserving its down-home roots is the company's most profound business question. It will have to decide how to balance rapidly changing customer demographics and expectations with the treasured legacy of its founder and the product that propelled the family business to stardom.
As a guidepost, the company still has the wisdom of Truett. His quotes and business-savvy one-liners ("Each person's destiny is not a matter of chance; it's a matter of choice") are what his children and grandchildren keep at the front of their minds when making decisions at the company they are charged with steering into the 21st century.
"Someone like my dad, as simple as he was, was given a lot of profound insights," Dan said. "The word intuition is oftentimes used, but if you go upstream from intuition there's a sense of insight and inspiration that I think is divinely led."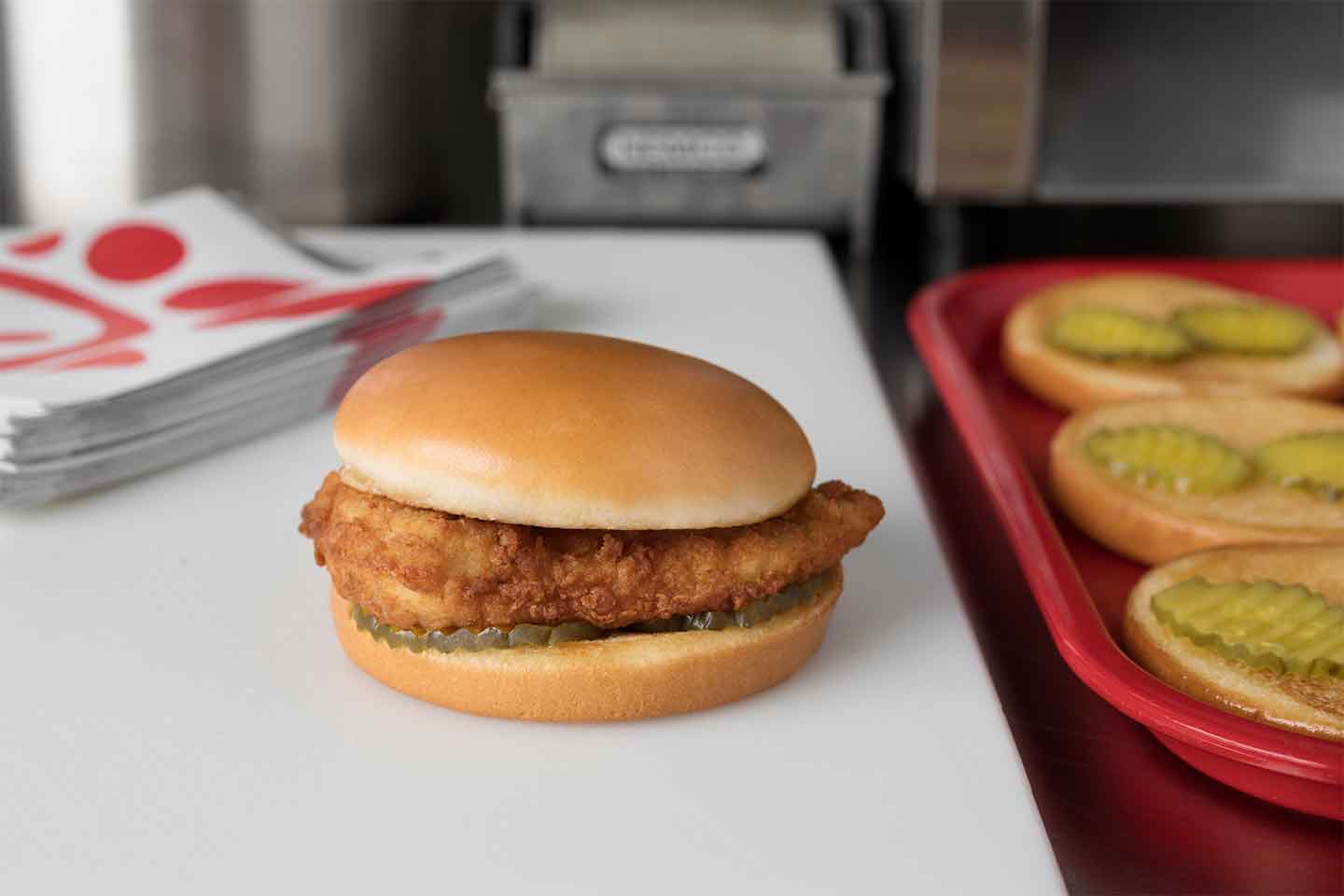 Crafting the sandwich: A labor of love
"Lift your heels up in the air and lean right into your tip-toes!"
Alexa Griffith, a culinary arts graduate working at one of the highest levels of corporate cuisine, issues kitchen instructions like an agile sideline coach. Gathered at the company's headquarters in a warehouse off Interstate 85 in southwest Atlanta, the reporters listened to Griffith relay the precise instructions for preparing the company's most treasured asset — its Original Chicken Sandwich.
To properly bread the chicken breast, one must tilt the whole body forward over the flour bin, lifting the heels and pushing down on the breast with an athlete's might to ensure the most dense and consistent application of the flour, Griffith explained.
When the reporters-turned-chefs complained that they didn't have the strength, Griffith had none of it. "Push-ups are hard for me, too," she said. "But you know what? I can fry chicken."
Griffith's insistence on proper frying technique is a testament to the company's fixation with standards, quality, and detail. For a founder to be particularly preoccupied with the quality of his product is one thing. (Apple founder Steve Jobs apparently toiled for years over the precise placement of the buttons on his iPod.) But for that ethos to trickle down through an entire corporation's ranks, from senior vice presidents to franchise Operators to 16-year-old Team Members, is another thing altogether. Chick-fil-A capitalizes Team Members and Operators out of respect.
That ethos is more than just an abstract commitment to high-quality food — it's about cultivating a deep familiarity with the chicken itself and learning the same tricks of the trade Truett learned from his mother in her boarding house kitchen. Despite the advancements in culinary technology and the need to cook in increasingly larger batches, the Original Chicken Sandwich still calls for a no-shortcuts, handmade approach. Griffith is not training future franchisees on how to push codes on a microwave — Chick-fil-A's restaurants don't have those — but how to bring the best out of a single chicken breast, to surprise or to satisfy just one customer who couldn't have guessed a piece of fried chicken between two buns could be so good.
"It's kind of hard to tell now — a trained eye can — but there's always a smooth side and a rough side to chicken," Griffith continued, holding a freshly floured filet. She walked over to the refrigerator to demonstrate the entire process again. The uncooked chicken breasts in Chick-fil-A's test-kitchen refrigerator are remarkably consistent: plump, rose-tinted, and coated with Truett's secret blend of spices. The breasts are cooked to order throughout the day, which makes having extensive knowledge of the chicken not only beneficial, but necessary.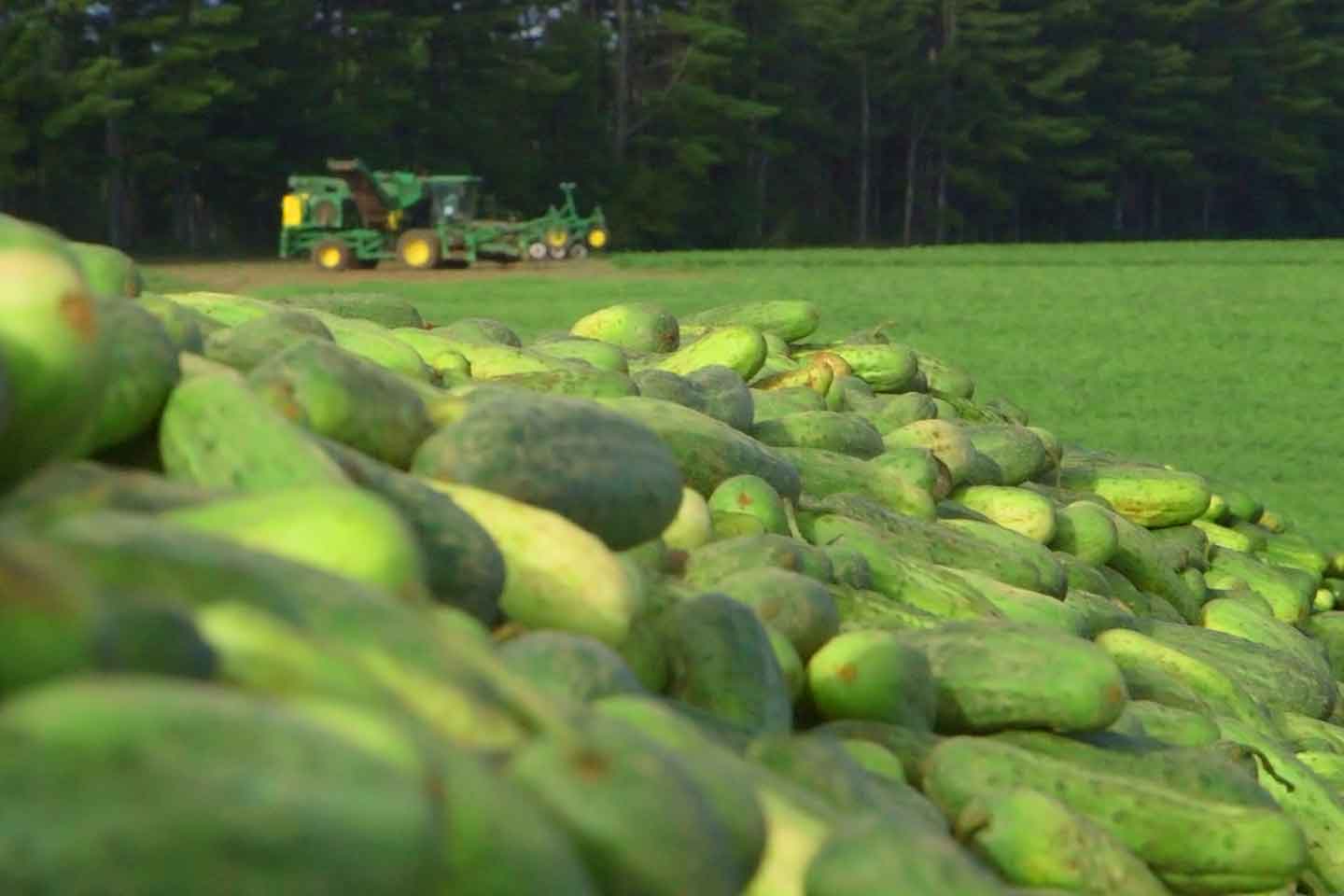 Perfection starts on the farm
As much as the company is devoted to the details of the sandwich's final presentation — Griffith instructed never to let the two pickles overlap ("they date, they don't mate") — it's equally focused on the source of the meat and the quality of the chicken breast itself. Chick-fil-A vets its poultry suppliers with the scrutiny of a national security agency and believes strongly that if a chicken breast isn't perfect at its source (the company prefers small and tender), no amount of work or flavor will save it.
"The industry has gone to a larger bird because if you're a chicken producer it's more efficient to grow a bigger bird," said David Farmer, the company's vice president of restaurant experience. "But we don't like bigger birds. We like the texture that comes from the smaller bird. We want the tenderness of that meat."
Beneath Farmer's affable demeanor is a take-no-prisoners meticulousness and attention to detail. With a nearly three-decade career at Chick-fil-A, Farmer leads menu strategy for the company, directing a team of chefs, nutritionists, and marketing experts to come up with new menu offerings and expand Chick-fil-A's culinary terrain.
Farmer is one the bridges between the company's storied legacy and its desire to innovate and remain competitive. He is willing to try new things at the risk of failure — a rosemary garlic flatbread wrap was shelved within months, a grain bowl was tested but didn't perform well, and a cranberry orange bagel never even made it to market. But more often than not, Farmer finds himself going back to what's already working.
"We have determined that while there are other ways you could bread chicken, we shouldn't do that. While there are other ways that you can make biscuits, we're going to keep making them from scratch," Farmer said. "There's nothing that replaces some of the handmade methodologies that we're using today."
The company's decision to stick with Truett's original recipes is not only a way to preserve its founder's legacy, but a way to protect one of Chick-fil-A's most notable differentiators: its flavor. In fact, many of Truett's intuitive culinary decisions — pre-buttering the bun and adding pickles to the bottom — have real foundations in food science and molecular chemistry.
Take the company's decision to butter its buns before toasting them. Doing so triggers something called the Maillard reaction, which takes place between the food's amino acids and reduced sugars. It leaves the bread with a rich, savory flavor referred to by food experts as umami, a Japanese word meaning brothy or meaty, according to Wasserman.
Or, take the placement of the pickles. Fried chicken is enhanced with something tangy and acidic to balance its rich flavors, but heavy use of condiments such as mayonnaise or ketchup tend to coat the tongue, leaving it desensitized and less receptive to new flavor, Wasserman said. Not only do Chick-fil-A's pickles offer a cleaner culinary alternative, he said, but their placement on the bottom of the bun means you taste it just before the chicken, making the tangy-to-buttery contrast even more stimulating.
"We think about the sequence in which your tongue experiences the sandwich and Truett just nailed it," Wasserman said.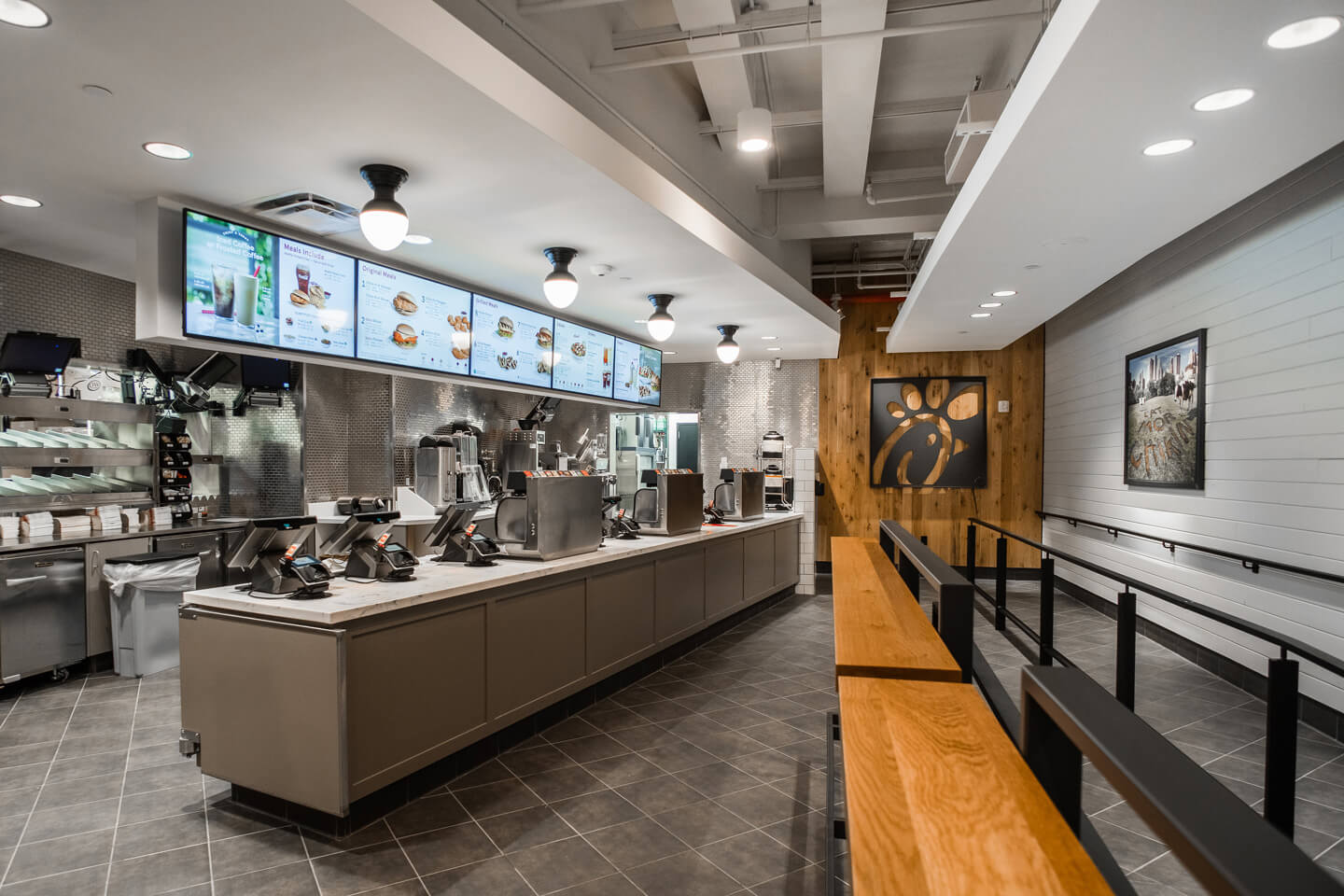 Weighing legacy against the future
While most of the methods that have served Chick-fil-A well since the 1960s are here to stay, the company will need to make some changes to scale its production and compete in a global market with varied consumer tastes. As Chick-fil-A enters its fourth year without its founder (Truett passed away in 2014 at the age of 93), it will need to reckon with a potentially game-changing question: How does a company with a revered 50-year-old product at its center adapt to changing customer tastes, new economic realities, and competition from all sides?
One answer is the power of the product itself. When Truett first designed his Original Chicken Sandwich, he had to compete with a market that dramatically favored beef and hamburgers. But in new markets, poultry is the meat of choice, becoming more attractive to environmentally and health-conscious consumers. And in responding to those consumer demands, the industry is moving quickly to eliminate antibiotics from chicken—a seismic shift due in large part to companies like Chick-fil-A requiring them to do so.
"It's one of the drivers that have made us dramatically shift from eating beef to poultry," said Wasserman noting that the beef industry has not been as fast to phase out antibiotics.
The other answer to staying ahead is something Chick-fil-A has been practicing for the better part of five decades — uncompromised customer service.
"For the first 40 years of our company, we were defined by our menu offerings," said John Diamond, a Chick-fil-A franchise Operator from his restaurant in Atlanta. "For our next 40 years, we're going to define ourselves with our service."
Diamond, a Chick-fil-A veteran with 30 years under his belt, is a tough-love boss who is still sentimental recalling his days working in a Chick-fil-A kitchen in high school and college. As a part-time student employee observing his boss interact with customers, Diamond discovered the full extent of the Chick-fil-A customer proposition and the positivity it can bring about.
"I thought about it, and I realized I could have the most influence in people's lives being a Chick-fil-A Operator," Diamond recalls. "Today my team will laugh because I'll be in here alongside them, grabbing a mop or working the drive thru or whatever. We're not just absentee owners. We're Operators actively running the business."
As Chick-fil-A grows, it's cultivating and hiring Operators from different backgrounds — people raised near Atlanta headquarters like John Diamond, who began working for Chick-fil-A in high school, as well as those raised in the new communities they are serving.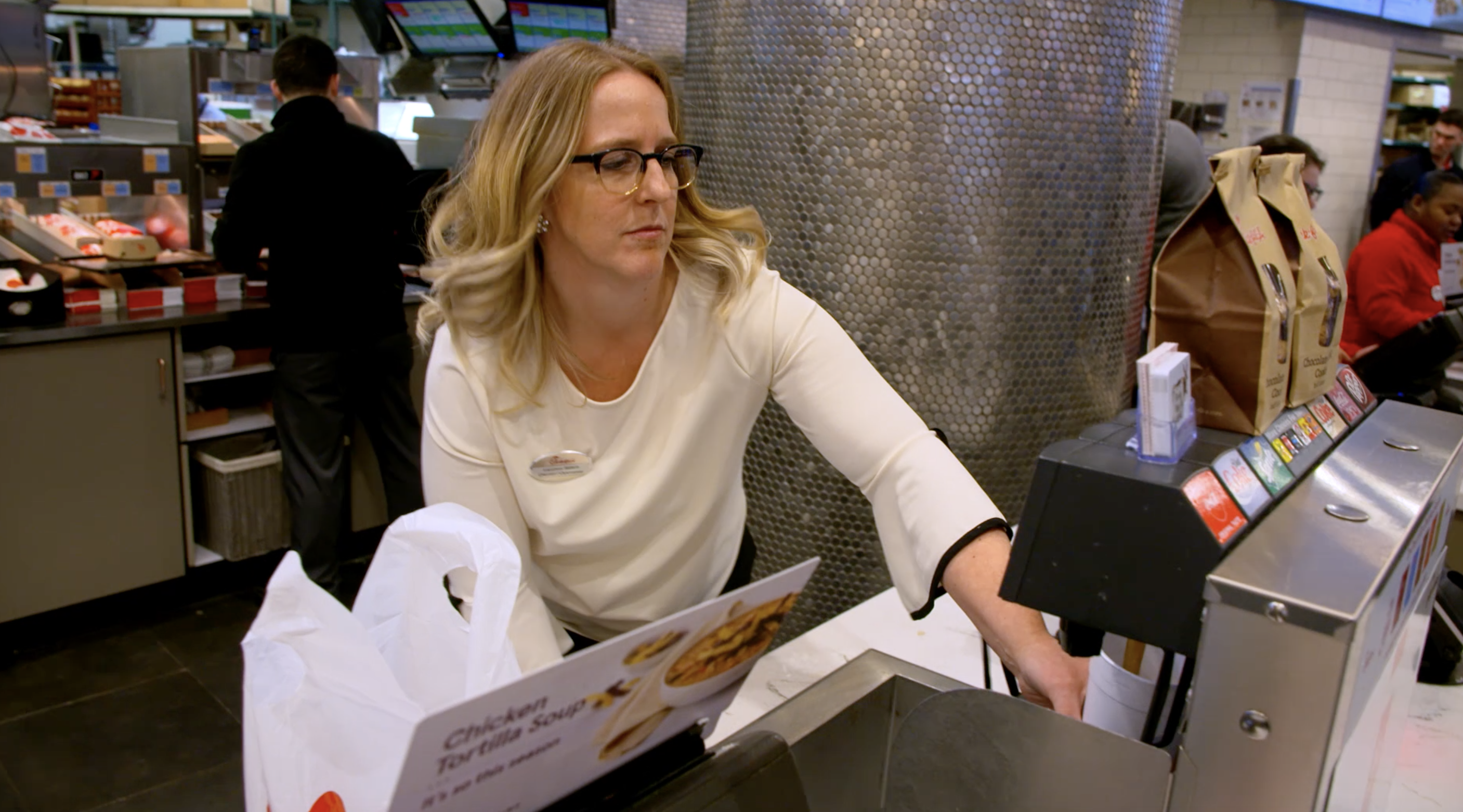 Lauren Silich, a Chicago-born former public relations executive, runs one of the busiest Chick-fil-A's in the city. Neither she nor her husband Steve, a former Chicago police officer who works with Silich at the restaurant, grew up with Chick-fil-A or had a formative experience working there after school. Instead, it was Silich's dedication to the service industry and deep familiarity with her own community that earned her the keys to the first Chick-fil-A in Chicago.
Seven years in, having mastered the ins and outs of running a busy Chicago store, she thinks about the direction of the broader business.
"Chick-fil-A has had such an intentional relationship with its roots, with who they are," Silich said. "But how do we sustain our company's growth and how do we stay relevant with the generations that are coming up and how they want to interact with a restaurant?"
With half of its corporate staff hired after Truett's passing, Chick-fil-A is building for the future. The Chick-fil-A One app, which allows Chick-fil-A customers to order food the moment they have the craving, partnerships with popular delivery services like GrubHub, and new experiments in packaging and family-style meals aim to reinvent the Chick-fil-A brand for younger customers who are dining out differently than their parents.
When other companies discuss innovation, they often talk about "disrupting" things, adopting the tear-it-all-down language made popular in Silicon Valley. But Chick-fil-A takes a more measured and deliberate approach to innovation, abandoning the practice of plastering splashy but unmemorable promotions on its menu in favor of refining the restaurant experience for new markets and increasingly diverse customers.
It's that experience and the taste of a great sandwich that Chick-fil-A is counting on to delight current customers and win over new ones. Signs are it's working.
"My favorite thing is coming here after I do horribly on an exam. The service is always super fast, the workers are super helpful and friendly, which is definitely not typical of a fast-food restaurant," said Regan Price, a 19-year-old business student at Loyola University in Chicago. "I get Chick-fil-A and it just makes me feel better."
The company's leadership is keeping this desire to serve people well at the forefront as they consider opportunities ahead.
"How can we distinguish ourselves not just with the taste of our menu items, but in terms of really being customer-centric and customer-focused, through honor, dignity and respect?" Dan said contemplating the future of the family business. "People today are even more starving for that than they are for a Chick-fil-A sandwich."