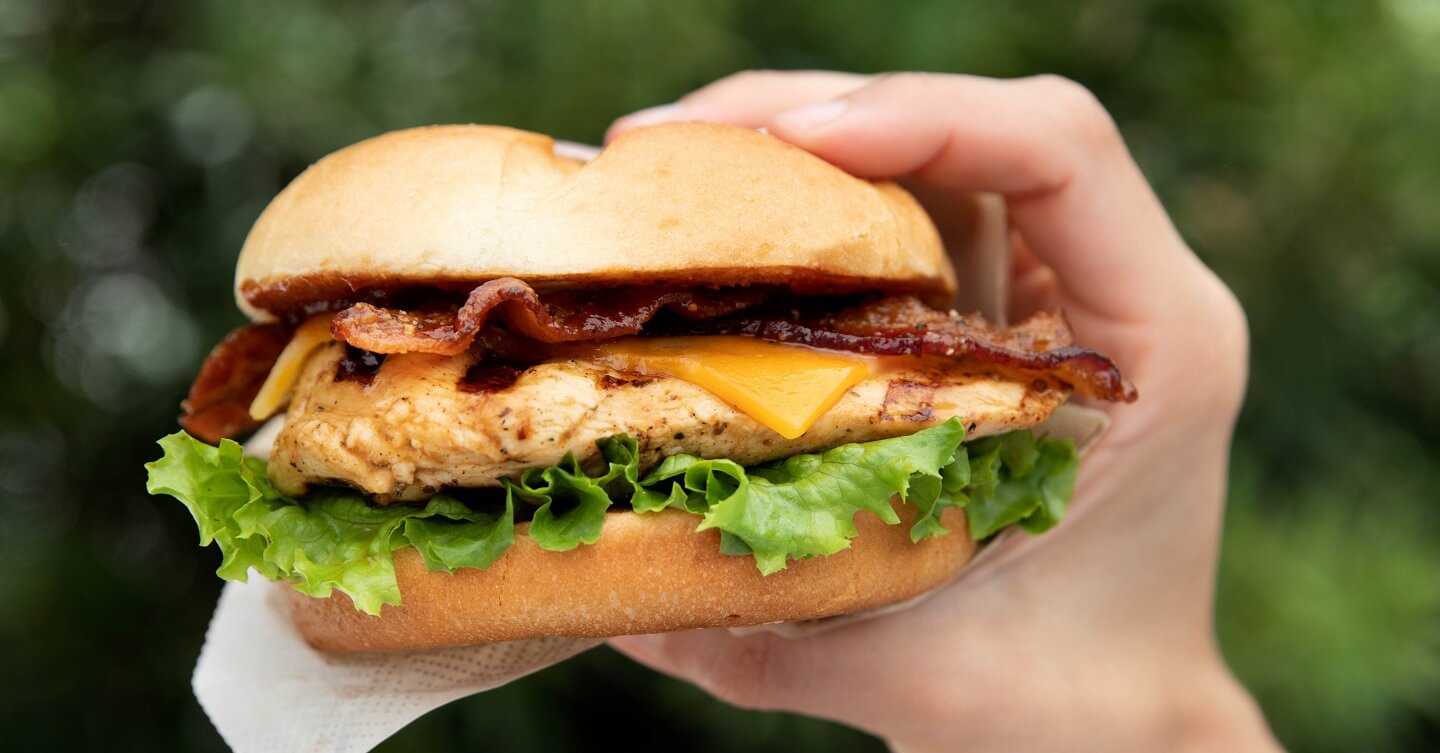 From coast to coast, these 10 cities order the Smokehouse BBQ Bacon Sandwich the most.
We all know that good things come to those who wait. The wait is finally over and a savory seasonal flavor, the Smokehouse BBQ Bacon Sandwich, is returning to our menu on Feb. 21 for a limited time.
There are many reasons this seasonal sandwich became a fast favorite among our customers—from the marinated grilled chicken and bacon that is hand-tossed in a brown sugar and pepper blend, to the zesty Smokehouse BBQ Sauce and toasted bun. But these 10 cities take their undeniable love of this sandwich to the next level and ordered the sandwich the most when the sandwich returned to the menu in 2019.
Did your city make the list?
10. Gloucester, Virginia
Gloucester is known for its rich history and number of historic sites. The unofficial Daffodil Capital of America, this city celebrates with beautiful flowers, an art show and a parade at its annual Daffodil Festival. The locals also celebrate the Smokehouse BBQ Bacon Sandwich when it returns to the menu.

9. Port Jefferson Station, New York
Port Jefferson is a waterfront town in Long Island where steamboats take hundreds of passengers to and from Connecticut each day. Around lunchtime, locals can be seen devouring boatloads of Smokehouse BBQ Bacon Sandwiches.

8. Coon Rapids, Minnesota
This charming mountain town is known for its abundance of hiking trails and parks—and now for its love of the Smokehouse BBQ Bacon Sandwich, which is perfect after a long day outdoors.

7. Kalispell, Montana
Another town boasting a considerable number of outdoor attractions, you can spend a day in Kalispell skiing, hiking or fishing. The residents of this city also spend their days savoring Smokehouse BBQ Bacon Sandwiches.

6. Parkville, Maryland
Located adjacent to the Chesapeake Bay, the state of Maryland is known for its love of blue crabs. Judging by the number of avid fans in the town, Parkville clearly has allegiance to their beloved bacon-topped barbeque sandwich, too.

5. Rancho Cordova, California
When gold was discovered in Rancho Cordova in the 1800s, people flocked to the town to mine for the treasure. Judging from the city's No. 5 spot on our list, one might say the locals think Smokehouse BBQ Bacon Sandwiches are gold, too.

4. Federal Way, Washington
Home to the largest water amusement park Pacific Northwest, the city is filled with family-fun attractions. When the residents of Federal Way are not plunging down waterslides or riding rollercoasters, they get their thrill from the Smokehouse BBQ Bacon Sandwich.

3. Santee, California
Cowles Mountain is one of Santee's most popular landmarks, and we like to think that residents can be heard shouting their love for Chick-fil-A from the mountaintop.

2. Searcy, Arkansas
Searcy is known for some of the most beautiful scenery in Arkansas. When the Smokehouse BBQ Bacon Sandwich returns, the locals take a break from sightseeing to enjoy the backyard grill flavor.

1. Bangor, Maine
Topping our list, customers in Bangor order more Smokehouse BBQ Bacon Sandwiches than any other city in the nation. Known as "the Queen City," it also happens to be the city with the biggest appetite for our seasonal sandwich.