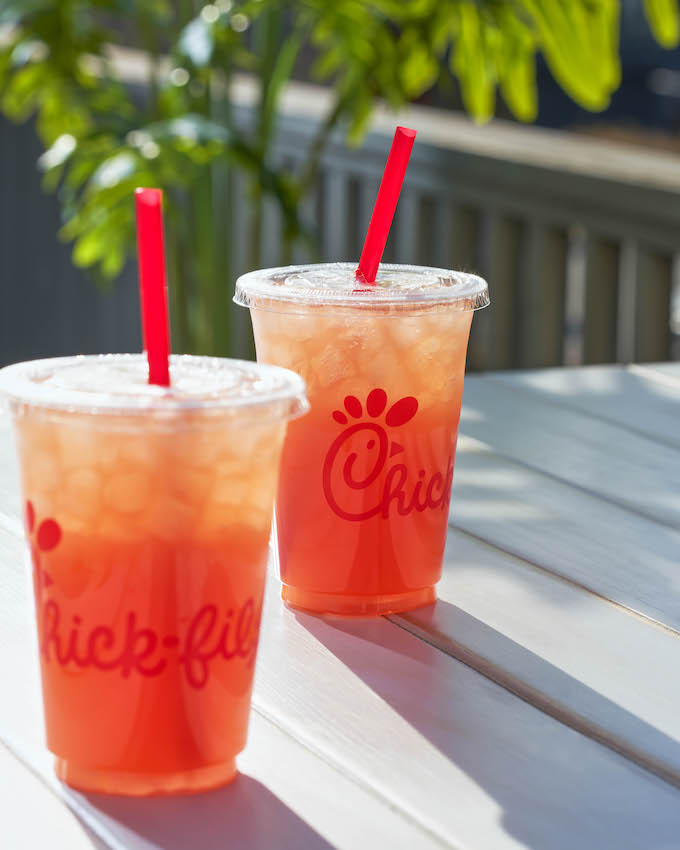 We're on cloud nine about this refreshing seasonal addition to the menu
Here to shake up your spring, a special beverage infused with one of the rarest berries in the northern hemisphere is blossoming onto restaurant menus for a limited time. Available starting April 25, the Cloudberry Sunjoy puts a sweet and tart spin on our popular Sunjoy® beverage, a combination of our regular Chick-fil-A® Lemonade and Freshly-Brewed Sweetened Iced Tea, by blending it with cloudberry and cherry blossom flavors. But what exactly is a cloudberry?
Get to know the new Cloudberry Sunjoy®
With hints of raspberry, mango, apricot and passionfruit flavors, the cloudberry provides a new and exciting experience for your taste buds. Its red and orange colors match its vibrant taste, a culmination of sweet and tart. The cloudberry can take up to seven years to grow from the time the seed is planted to the time the seed blossoms – but trust us, it's worth the wait. Flourishing in cooler climates, cloudberries are typically grown in Greenland, Canada and some northern parts of the U.S. Similarly, at Chick-fil-A, the Cloudberry Sunjoy is served over ice, making it a refreshing beverage to cool you off on warmer days.
Cloudberry Sunjoy will be available in a small beverage size, by the gallon and in 16-ounce bottles at select restaurants. The new beverage will also be offered as part of Chick-fil-A Catering orders and can be customized with Chick-fil-A® Diet Lemonade and Unsweetened Iced Tea. For customers looking for a special twist, try a Frosted Cloudberry Lemonade, which blends the mystique of this beloved berry with our signature Frosted Lemonade.
On cloud nine about the new cloudberry beverage and treats and need to get a taste of cloudberry goodness? It's only available for a limited time, so grab one at your closest Chick-fil-A restaurant or order through your Chick-fil-A App.
When our Cloudberry Sunjoy isn't available or you can't find it at a location near you, try our regular Sunjoy beverage options.