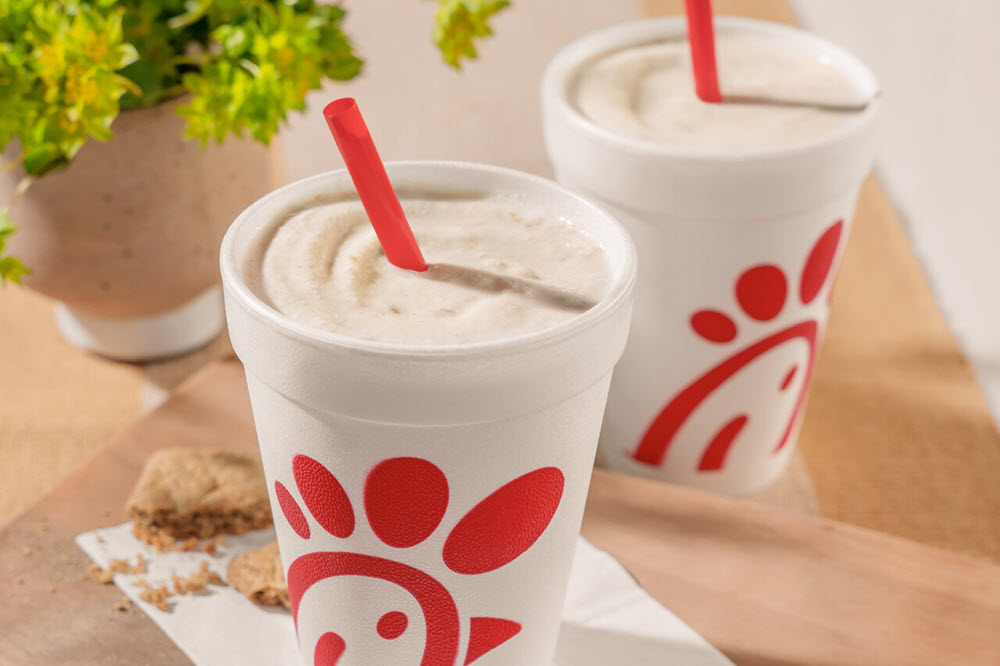 Autumn spice and everything nice, at participating restaurants nationwide through the fall season.
Last autumn, residents of Salt Lake City fell in love with the seasonal Autumn Spice Milkshake during the limited-time test at participating Chick-fil-A® restaurants throughout the city. Home to some of the country's most enthusiastic Chick-fil-A milkshake connoisseurs, their expertise put them in the unique position to be the only city to taste test the fall treat. Based on the popularity and the positive feedback from residents, customers across the country will now get a chance to savor the flavors of sugar and spice when the tasty fall treat debuts at participating restaurants nationwide starting Sept. 12.
Hand-spun the old-fashioned way, this milkshake is autumn spice and everything nice. This limited-time seasonal offering combines Chick-fil-A Icedream® dessert with warm fall flavors like cinnamon and crunchy bits of brown sugar spice cookies. Topped with whipped cream and a cherry*, this fall treat is the perfect way to signify the season.

"It's been four years since we've introduced a new milkshake flavor to our customers," says Beth Hefner from the Chick-fil-A Menu Development Team. "We hope the Autumn Spice Milkshake serves as an exciting kickoff to fall for our customers and that they fall in love with this new tasty treat of the season."

The Autumn Spice Milkshake will only be on the menu in participating restaurants for a limited time through the fall season, while supplies last. So, head to your closest Chick-fil-A restaurant to grab one of these sweet autumn sips before they're gone! You can also order through the Chick-fil-A® App or online.

When our Autumn Spice Milkshake isn't available or you can't find it at a location near you, enjoy one of our other delicious treats.

*Available at participating restaurants nationwide. Whipped cream and cherry toppings are not offered with delivery orders.