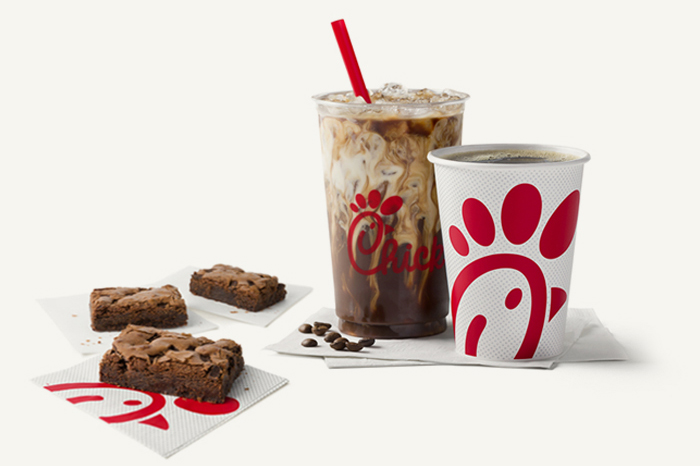 Coffee and dessert lovers, these new items are for you!
As we enter fall, Chick-fil-A® wants to give you three sweet, satisfying reasons to get excited for the new season: Chocolate Fudge Brownies, a limited-time Mocha Cream Cold Brew and a new blend of THRIVE Farmers® Hot Coffee.
Yes, you read that right. We are kicking off the fall season with three new additions to our menu, which will be available at participating Restaurants nationwide starting on Sept. 14.
Chick-fil-A fans often comment that they love seeing new dessert options on our menu, which is why we're adding some decadent, chocolatey goodness to our existing lineup of sweet treats. The Chocolate Fudge Brownie is made from rich, semi-sweet chocolate melted into the batter along with fudgy chunks. Each of our new brownies comes individually wrapped, or you can order a full catering tray!
Pro tip for instant "brownie" points: place the Chocolate Fudge Brownies on your own serving tray, and your guests or family will never know they aren't homemade!

THRIVE Farmers Hot Coffee and Mocha Cream Cold Brew
For those needing an extra boost, no matter the time of day, we have you covered with two new ways to get a caffeine kick — a creamy cold brew and a new hot coffee blend.
Served over ice, our new Mocha Cream Cold Brew is a delicious swirl of cold-brewed coffee, sweetened cream and chocolate-flavored syrup. Previously tested at select restaurants in Colorado and Wyoming, customers loved the Mocha Cream Cold Brew so much that we added it to our nationwide menu as a limited time offering. It's the perfect morning boost, mid-afternoon pick-me-up, or end-of-day treat.
If you're more of a traditional coffee lover, our new THRIVE Farmers Hot Coffee blend may be for you. Brewed fresh daily in regular and decaf options, our specialty-grade, farmer-direct coffee is a custom blend with tasting notes of smooth caramel and a nutty finish made from arabica beans grown at high altitudes. In a consumer taste test, participants preferred our new coffee blend. It was designed to accommodate cream and sugar preferences and has a milder aftertaste than the previous blend. Our proprietary blend is sourced by THRIVE Farmers, a farmer-direct coffee company that enriches the lives and communities of those who grow it — so you can feel good about what you're drinking, too.
As we head into a new season, treat yourself to the little things that make you smile. Whether it's carving out some time in the morning to enjoy a cup of our new THRIVE Farmers Hot Coffee blend, or indulging in a Mocha Cream Cold Brew or Chocolate Fudge Brownie at the end of a long day or somewhere in between, we hope our new menu items add some sweetness to your fall.
Beginning on Sept. 14, head to your closest participating Chick-fil-A restaurant to try these new items, or place an order through the Chick-fil-A App.