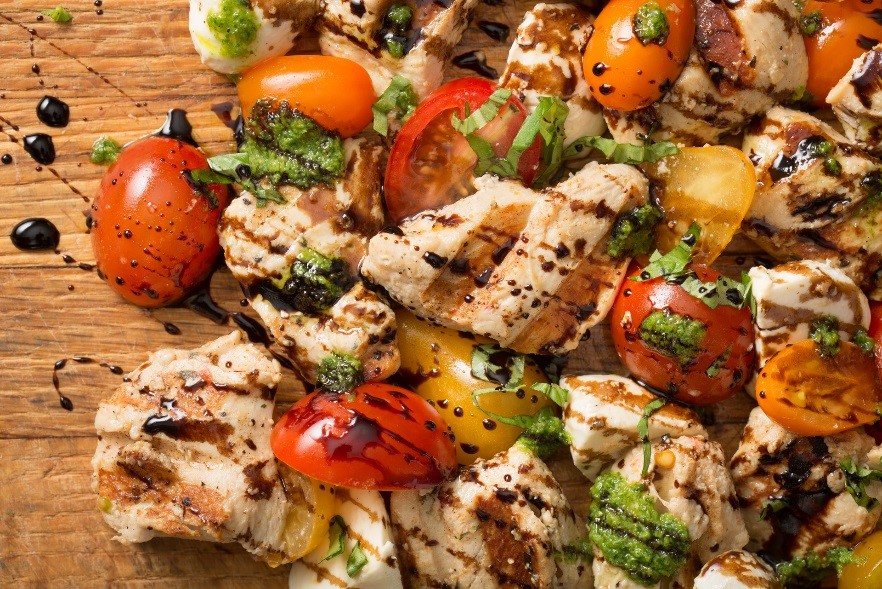 Ingredients for Skewers:
16 Chick-fil-A® Grilled Nuggets
8 whole baby heirloom cherry tomatoes
4 fresh 1-inch mozzarella balls
Balsamic Glaze as needed
Basil Puree (recipe below)
4 large (10-12 inch) wooden skewers
Ingredients for Basil Puree:
12 large basil leaves
3 peeled garlic cloves
Half of a small shallot
1/2 cup extra-virgin olive oil
Equipment: 4 large (10 inch) wooden skewers; food processor or blender for basil puree; outdoor grill or stovetop grill pan
Directions:
Soak the wooden skewers in water for 30 minutes.
For the basil puree, place the basil leaves, garlic, shallot and a pinch of salt and pepper into a food processor. Process the mixture by pulsing a few times to begin grinding up the ingredients. Add the oil slowly as the processor runs to emulsify the sauce. Add more salt and pepper to taste, and then set aside.
Preheat grill on medium-high heat.
Thread 4 nuggets, 2 tomatoes and 1 mozzarella ball onto each skewer, alternating for best color combination.
Quickly grill the skewers for about 30 seconds on each side to warm the tomato and cheese. Place on serving plates or family-style platter.
Drizzle with balsamic glaze and basil puree.