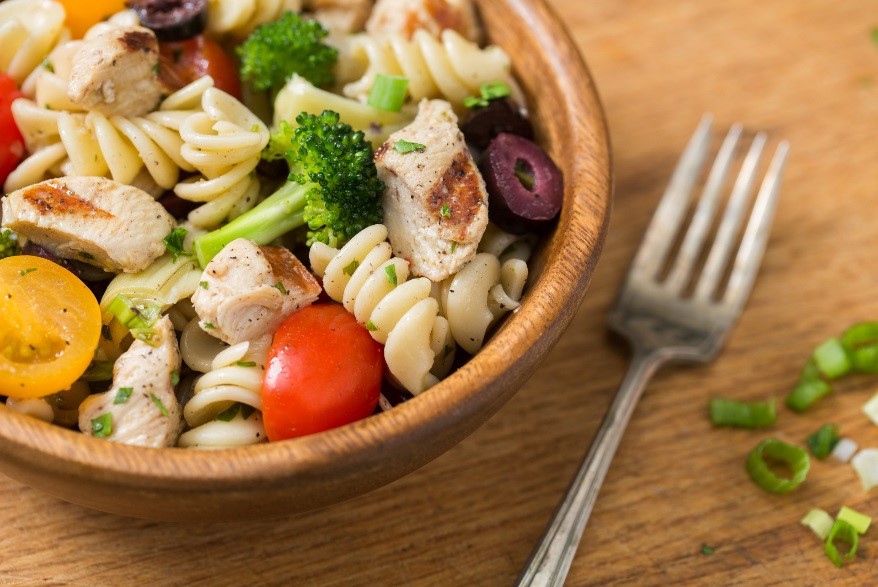 Ingredients (Pasta Salad):
8 ounces dry pasta, such as fusilli, shells or orecchiette
12 grilled Chick-fil-A® Grilled Nuggets or 2-3 grilled chicken breasts, sliced or cubed into bite-size pieces
1½ cups broccoli florets, lightly blanched
2 cups grape tomatoes, washed and halved
¾ cup pitted, sliced Kalamata olives (or pitted olive of your choice)
6 ounces marinated artichoke hearts, drained
2 green onions, sliced thinly
French Vinaigrette (recipe below)
Ingredients (French Vinaigrette):
¼ cup white wine vinegar
1 teaspoon Dijon mustard
¾ teaspoon salt
½ teaspoon coarse-ground black pepper
3 cloves garlic, minced (about 1 tablespoon)
½ cup extra-virgin olive oil
1 tablespoon fresh chopped Italian Parsley
Directions:
In a medium bowl place the vinegar, Dijon mustard, salt, pepper and garlic. Whisk in the olive oil in a slow, steady pour. Add parsley and stir to evenly combine to make French vinaigrette.
Using a stockpot or pasta pot, cook pasta in salted boiling water according to package directions. Drain and place in a large bowl. While pasta is warm, add vinaigrette and toss. The pasta will soak up the flavors as it cools.
Add chicken, broccoli, halved tomatoes, olives and artichoke hearts. Toss and then cover to refrigerate. To serve, stir pasta and garnish with green onions.