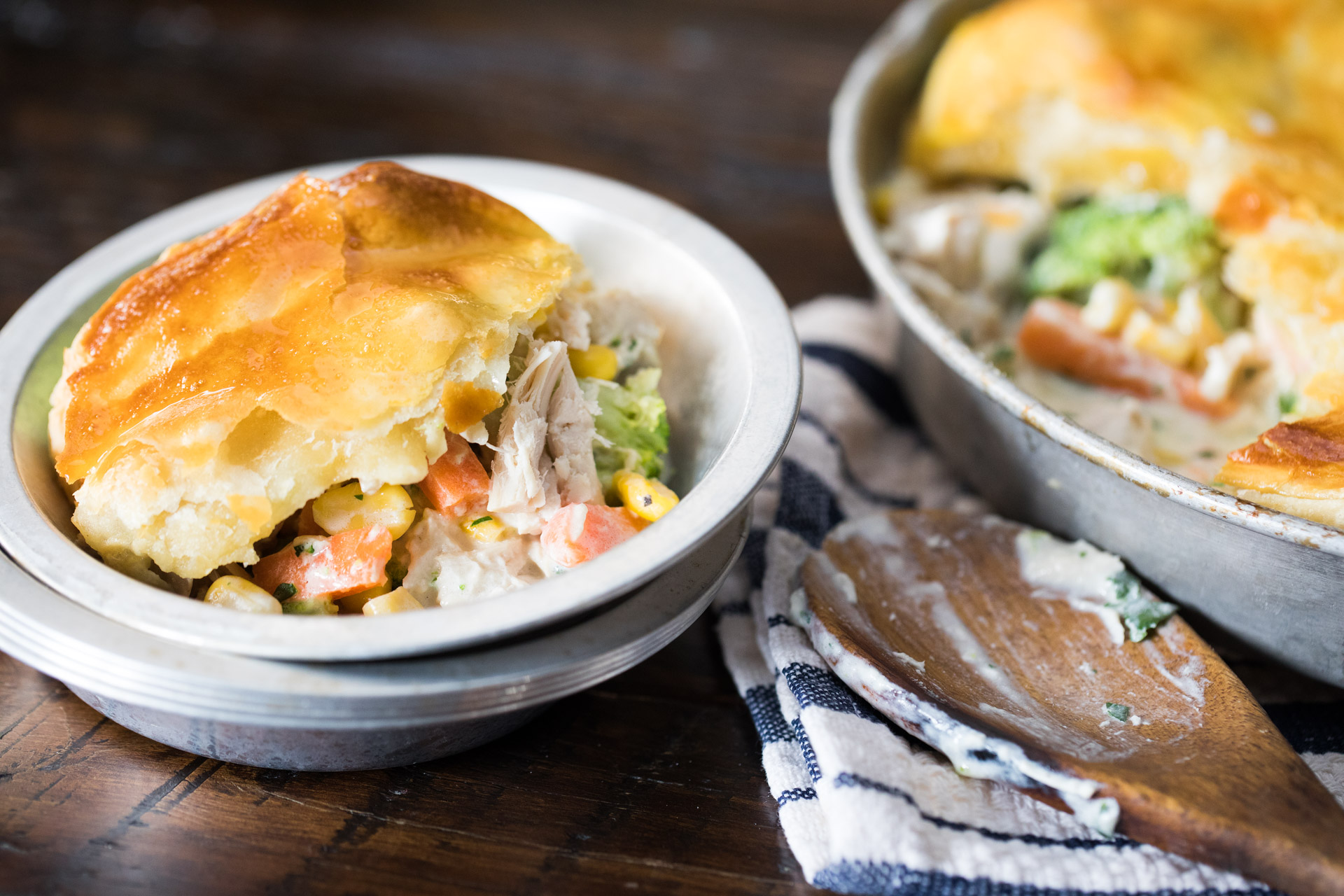 Nothing says comfort food like a chicken pot pie
Whether using leftovers from a whole roast, or making Sunday supper this chicken pot pie recipe from Chick-fil-A Chef Christy Cook is easy and filling. Cook suggesting buying and prepping a big batch of chicken ahead for making pot pies: "Chicken freezes well, so buy it on sale and freeze it! Then cut it up for casserole and easy recipes when you're short on time."
Ingredients

Filling:
2 tablespoons vegetable oil
½ cup diced onion
½ teaspoon kosher salt
¼ teaspoon black pepper
1 cup prepared or purchased chicken stock
8 ounces cream cheese
1 teaspoon parsley
½ teaspoon thyme
16 ounces frozen mix of broccoli, cauliflower & carrots, thawed
8 ounces frozen corn, thawed
2 cups cooked chicken, cut into chunks or shredded
Crust:
1 frozen puff pastry sheet
Glaze (optional):
1 egg yolk
1 tablespoon water
Directions

In a large deep skillet, sauté onions in oil until hot and tender. Add chicken stock, cream cheese, salt, pepper and herbs. Stir until blended and warm.

Add chicken and vegetables to creamy chicken base.
Once filling is warmed, add to a deep 9" pie pan. Lay puff pastry over top of pot pie. Trim edges of crust to fit pan and seal edge.

Use extra pastry to make a fun design on top. (Or pastry may be cut and latticed if time allows).
Optional glaze: Whisk egg yolk & water in small bowl & brush over top of crust. Bake at 375 for 30-40 minutes or until the pastry is risen and golden brown.