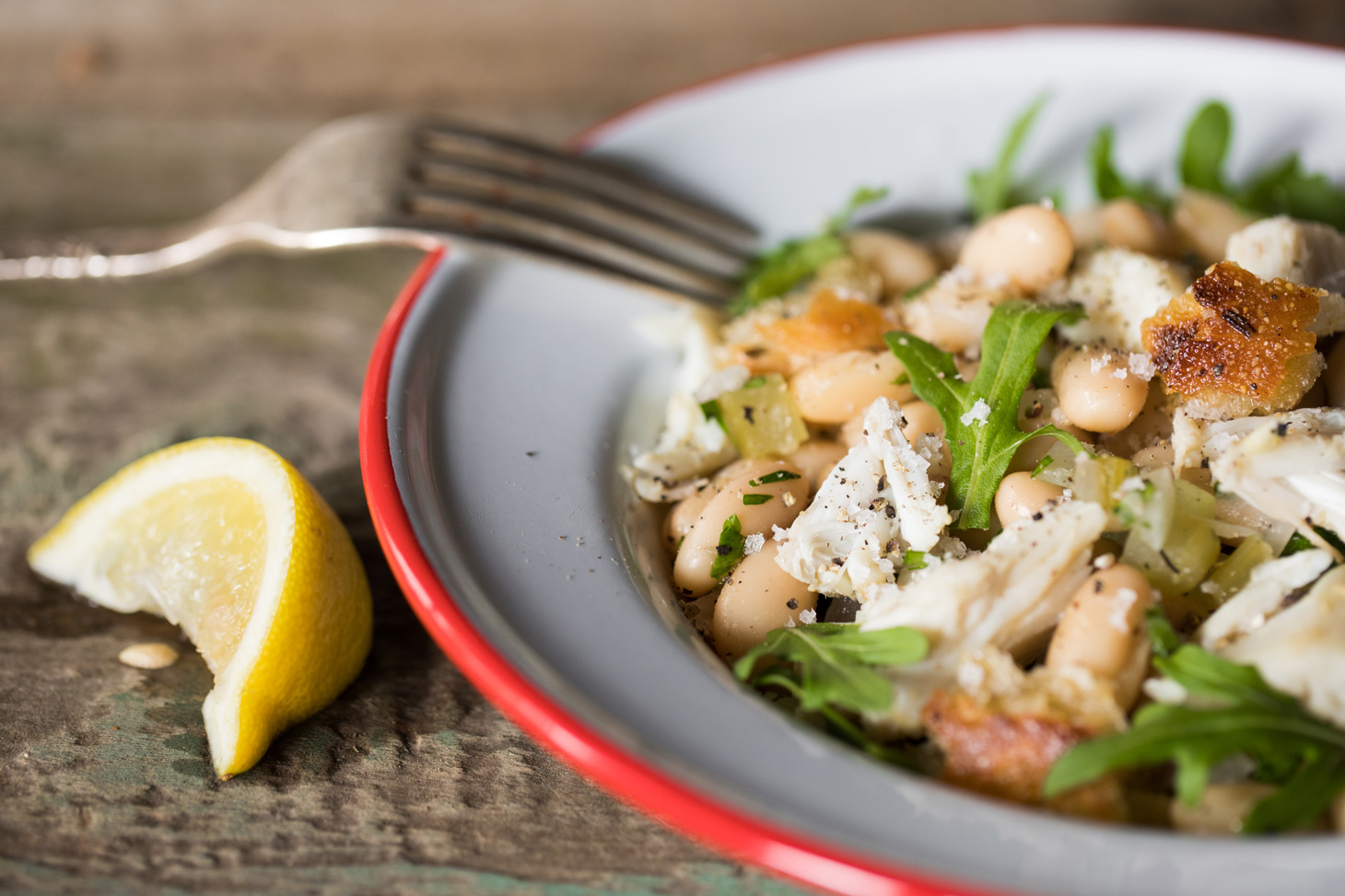 The crab and homemade croutons compete as star of this simple supper bowl
Chef Ford Fry
's restaurants
JCT Kitchen
,
The Optimist
,
Beetlecat
and
Marcel
have helped him soar to culinary stardom, renowned by honors from
James Beard
and
Bon Appetit
. But to be delicious and crowd pleasing, the humble restaurateur says food doesn't need to be complicated.
In fact, he simply serves some of his favorites – fresh crab meat, lettuce and croutons – all in one bowl.
"For me, with crab meat, I don't want to put much with it. I want to taste the crab."
"I envision this bowl as served at room temperature to slightly chilled."
Crab tip: It comes already boiled. Look for whatever is good, fresh and unpasteurized. Once you take the crab meat out of the shells, try to keep the crab meat in as big of chunks as possible.
Arugula tip: Try to find arugula from a local farmer's market or wherever local greens are fresh and sturdy. If you can't get to a farmer's market, you could use baby kale leaves from a grocery store.
And word to the wise, said Chef Fry, "with the homemade croutons, this is not the healthy recipe…"
Ingredients

1 pound good, unpasteurized crab picked from shells
2 cups dried cannellini beans (cover 2x with cold water and soak overnight)
¼ yellow onion
1 bay leaf
4 stalks celery (2 for beans and 2 should be minced finely and folded into the cooked beans with the vinaigrette)
2 small shallots (or 1 large shallot) (finely minced, to be folded into the beans and vinaigrette last minute)
1 bunch Italian parsley (picked leaves and finely chopped, to be folded into the vinaigrette last minute)
20 leaves of arugula (or other greens)
2 cups hand torn rustic sourdough bread (bite size pieces)
1 cup extra virgin olive oil (EVOO) (to pan fry the bread)
2 cloves fresh garlic minced (do not use pre-packaged garlic – use a fresh clove!)
Kosher salt and fresh cracked pepper to taste
1 ½ to 2 cups lemon dressing

Lemon Dressing Vinaigrette
2 large juicy lemons (zest and juice)
1 cup EVOO
1/2 cup champagne vinegar
2 cloves minced fresh garlic (do not use the jar stuff or anything pre peeled. Use a fresh garlic pod!)
Kosher salt and freshly cracked black pepper to taste
Combine ingredients. Fold in minced shallots, finely chopped parsley and last two stalks of chopped celery at the last minute.

Directions

Directions:

Beans
Cover beans with twice as much cold water to beans in pan or bowl and soak overnight. When ready to prepare, rinse the soaked beans. In appropriate sized pot, cover beans with twice as much water as beans. Add a tablespoon of kosher salt, onion, celery and the bay leaf. Simmer until tender. Remove bay leaf, strain and chill. Season with more salt if necessary. Set aside to chill to dress with vinaigrette later.

Pan fried croutons
In large sauté pan over medium high heat, heat EVOO and fry, stirring occasionally until bread has a crispy exterior and slightly chewy interior. Add the garlic, kosher salt and black pepper and cook very briefly. Garlic shouldn't go past golden brown. Cool and dry on a towel lined tray.

Build the Supper Bowl:
Toss the cold beans with lemon vinaigrette until fairly wet and slightly soupy. Plate beans evenly on the bottom of the bowl. Top evenly with picked, cold crab. Garnish with arugula and croutons. Drizzle with a bit more dressing, salt and cracked pepper.