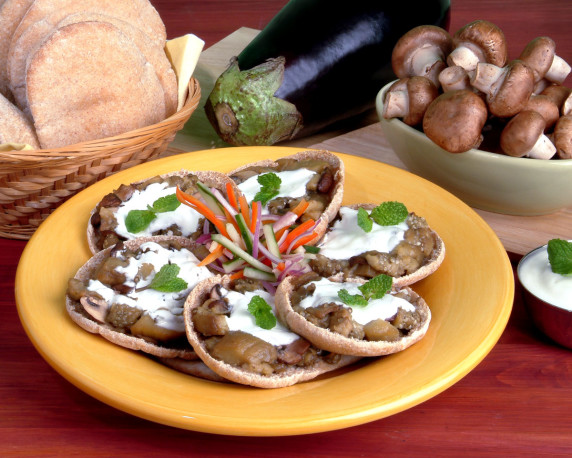 Ingredients

6 Mini Whole Wheat Pitas
2 oz mushrooms
3 cups boiling water
2 large eggplants
2 garlic cloves minced
2 tablespoons dry white wine
1 tablespoon soy sauce
1 & ½ cups plain low fat yogurt
1 tablespoon olive oil
Fresh mint
Directions

Directions

Preheat oven to 425° F.
Roast the eggplants in oven for about 20 minutes until skin is shriveled and eggplants softened.
Heat olive oil in a saucepan and saute mushrooms with the garlic over medium heat.
Slice the eggplant and add with white wine into oil.
Continue to saute for 5 minutes, stirring constantly.
Add soy sauce to bring simmer.
Open up pitas and top with eggplant and mushroom compote and spoon on yogurt.
Toast in oven until crisp.
Serve with fresh mint.