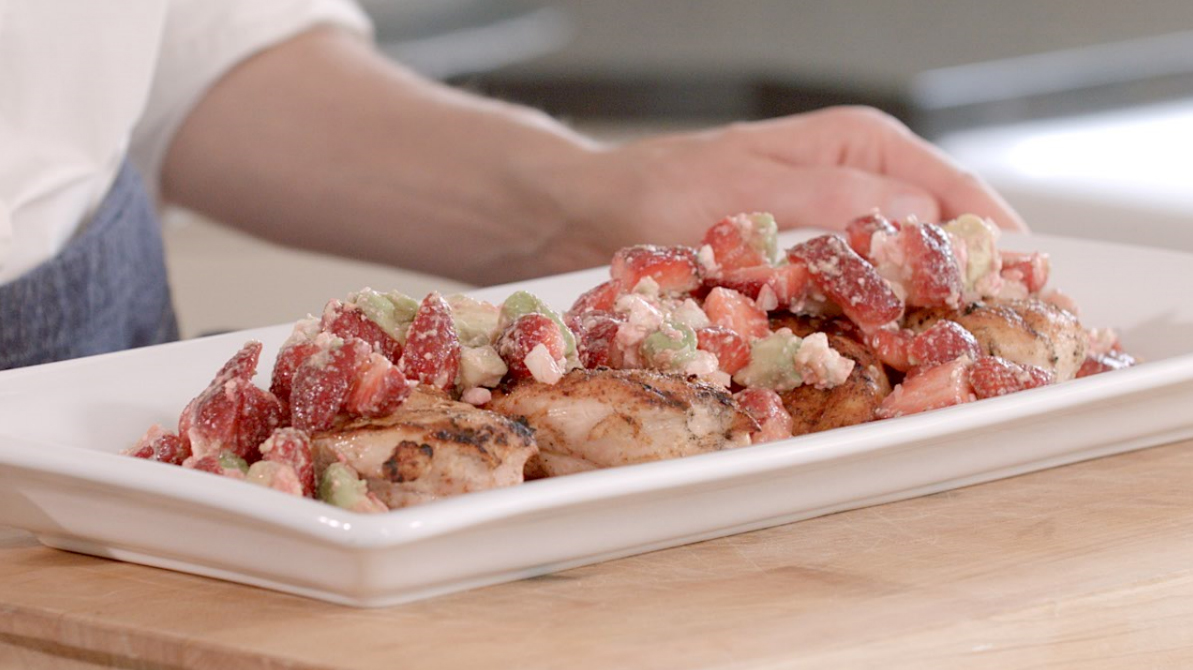 Spice up your chicken with this colorful salsa
Coming up with a creative dinner can be tricky, especially at the end of a busy day. But this recipe from Gena Knox, founder of the Athens, Ga.-based barbecue and grilling company Fire & Flavor, will have you ringing the dinner bell in less than an hour.
"One of the things I love about chicken is that it soaks up the flavors you pair it with," Knox says. "A simple rub and chicken cooked to just the right temperature can create a delicious meal for your family."
Knox's grilled chicken with strawberry feta salsa is a refreshing summer go-to that adults and kids will enjoy.


Servings

4
Ingredients

Salsa

2 cups fresh strawberries, hulled and quartered
½ cup finely chopped sweet onion
2 tablespoons lime juice
¼ cup crumbled feta cheese (can substitute with fresh, water packed mozzarella)
2 teaspoons olive oil
1 avocado, peeled and diced

Chicken

1 teaspoon ground cumin
1 teaspoon ancho chili powder
1 teaspoon brown sugar
½ teaspoon kosher salt
1 tablespoon olive oil
4 (6- to 8-ounce) boneless, skinless chicken breast halves
Directions

Directions

To prepare the salsa, combine strawberries, onion, lime juice, feta and oil in a medium bowl. Set aside.
To prepare the rub, combine cumin, chili powder, sugar and salt in a small bowl.
Brush chicken on both sides with olive oil and sprinkle with rub.
Preheat grill or grill pan to medium heat. Grill chicken for 6 minutes per side or until meat thermometer reads 165°F. Loosely cover chicken with foil and let rest for 5 minutes.
Add chopped avocado to salsa and season with salt and pepper. Toss gently. Top chicken with salsa and serve.