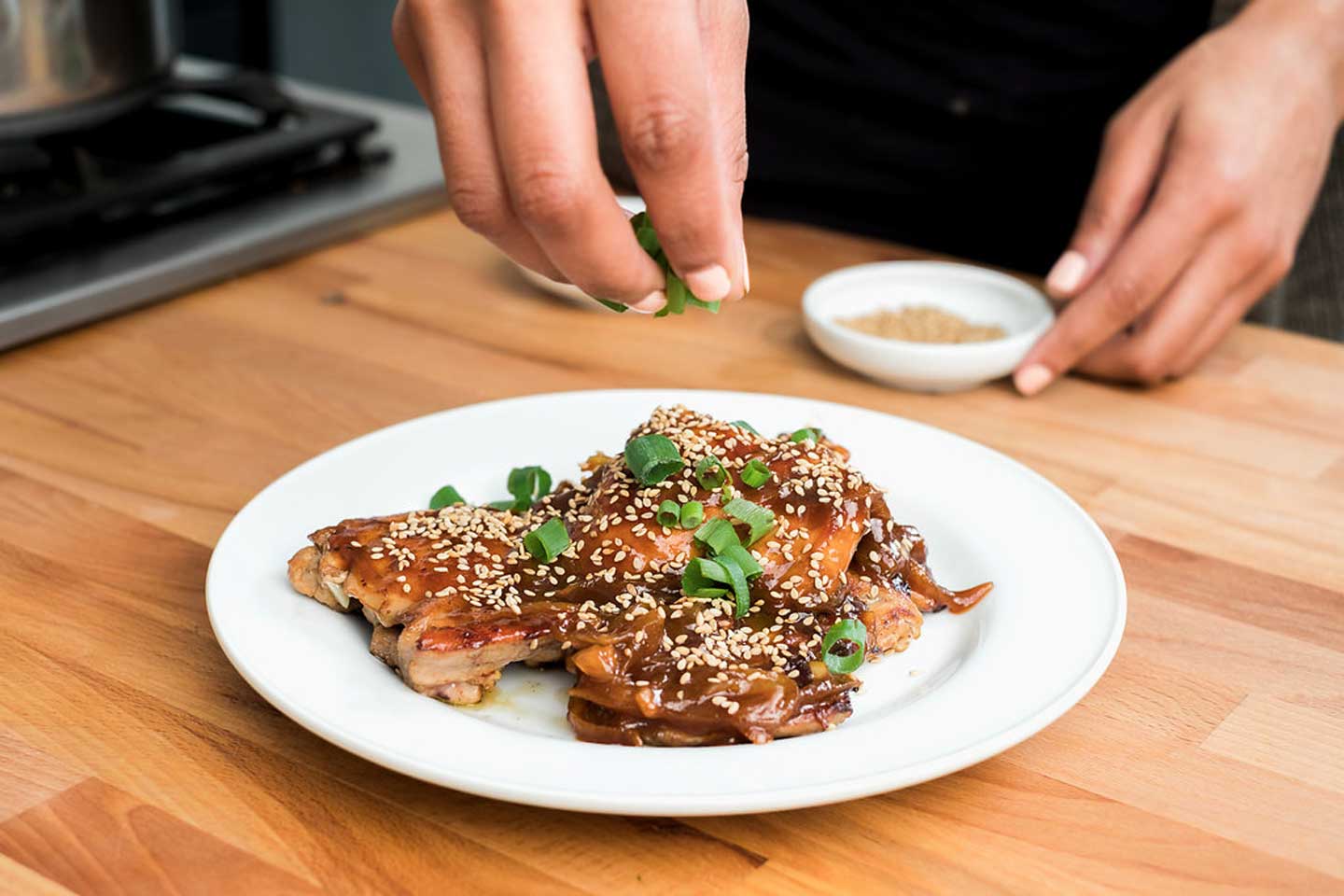 Combined with Yukon Gold Potato Salad, makes a delicious combo
Sunshine and flowers, gingham blankets and picnic baskets – some things are just meant to go together. That's why Chef Stuart Tracy at Chick-fil-A's test kitchen decided to combine spring's dynamic duo of sweetened iced tea and barbeque to create this sweet and savory dish. Paired nicely with a Yukon gold potato salad – and a glass of iced tea, of course – these barbeque chicken thighs are sure to receive any grill master's stamp of approval.
Ingredients

Iced Tea Barbeque Chicken Thighs - (allow 1 hour for the chicken to brine)

16 oz. Chick-fil-A Iced Tea Sweetened

½ yellow onion, peeled and thinly sliced

2 cloves garlic, peeled and chopped

4 boneless skinless chicken thighs

¼ cup apple cider vinegar

1 tablespoon hot sauce (this will yield a "medium" spice level sauce, so feel free to adjust this to your taste)

Yukon Gold Potato Salad

3 small Yukon gold potatoes, cut into 1-inch chunks

2 tablespoons finely chopped flat leaf parsley

4 slices bacon, cooked and chopped

2 ribs celery, finely chopped

Pro tip: order our freshly brewed Chick-fil-A Iced Tea by the gallon to serve as the beverage for this meal. We hear it is the perfect drink pairing!
Directions

Combine iced tea, water, onions, garlic, salt and chicken thighs in large plastic bag. Close bag and gently shake until everything is well combined. Marinate in refrigerator for 1 hour.

While chicken is marinating, prepare potato salad. Cook potatoes in simmering water until tender (about 20 minutes).

Drain water and combine potatoes with aioli, lemon juice, parsley, bacon and celery.

Remove chicken from brine. Put brine aside. Pat chicken dry.

Place brine in a small pot with ketchup, apple cider vinegar, hot sauce and soy sauce. Bring to a boil and reduce by two-thirds, until about the thickness of maple syrup.

While the sauce is cooking, heat grill or grill pan to medium heat. Brush the grates with a towel dipped in vegetable oil to minimize sticking. Add chicken thighs to grill and cook until well done (about 7 minutes per side).

Glaze the cooked chicken with the finished sauce, sprinkle with sesame seeds and scallions. Serve alongside the potato salad and enjoy!