Pumpkin spice lattes, pumpkin pie, pumpkin bread and pancakes—come fall, the orange squash reigns supreme. To satisfy that annual craving (we won't judge), Chef Brian Kolodziej invites you inside Chick-fil-A's test kitchen to share his seasonally inspired creation: the Pumpkin Spice Yogurt and Granola Parfait.
To make at home, combine pumpkin puree with Greek yogurt, then add in pumpkin seeds, pistachios, spices, maple syrup and honey, and you have more than a few of our favorite things. Find the full recipe below.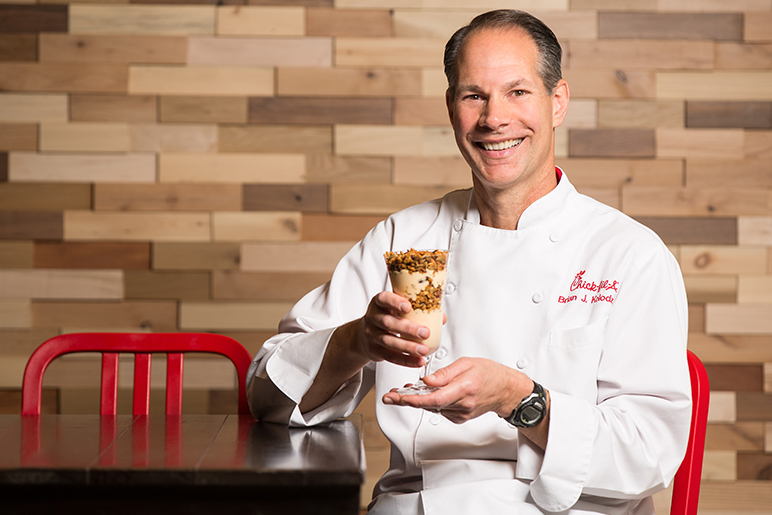 Chick-fil-A Chef, Brian Kolodziej
Ingredients (Granola):
3 cups rolled oats
¾ cup pepitas
½ cup pistachios, chopped
1½ teaspoon cinnamon
¾ teaspoon ginger
¼ teaspoon nutmeg
¼ teaspoon salt
¼ teaspoon ground cloves
¾ cup pumpkin puree
4 tablespoon butter
½ cup maple syrup
¼ cup honey
2 tablespoons vegetable oil
½ teaspoon vanilla extract
⅓ cup dried cranberries, chopped
⅓ cup dried apples, chopped
⅓ cup dried cherries, chopped
Ingredients (Yogurt):
2¼ cups plain Greek yogurt
½ cup pumpkin puree
Directions:

Preheat oven to 300°. In medium bowl, mix oats, pepitas, pistachios, and spices. Set aside. In medium saucepan, pumpkin puree, butter, syrup, honey, oil and vanilla extract. Stir occasionally over medium-low until simmering. Remove from heat and set aside, reserving ¼ cup of mixture for later.
Stir remaining mixture into dry mix until evenly blended. Spread this in thin layer onto baking sheet. Put into oven and bake until golden-brown, 45 minutes to 1 hour. Stir occasionally. Take out of oven, stir in dried fruit and let cool.
In a medium bowl, mix Greek yogurt, pumpkin puree, and ¼ reserved mixture. Stir until smooth. Chill in refrigerator until granola is ready.
When all is ready, place a layer of yogurt mixture on the bottom of a parfait glass. Alternate layers of granola and yogurt until glass is full. Enjoy! (And snack on your leftover granola later!)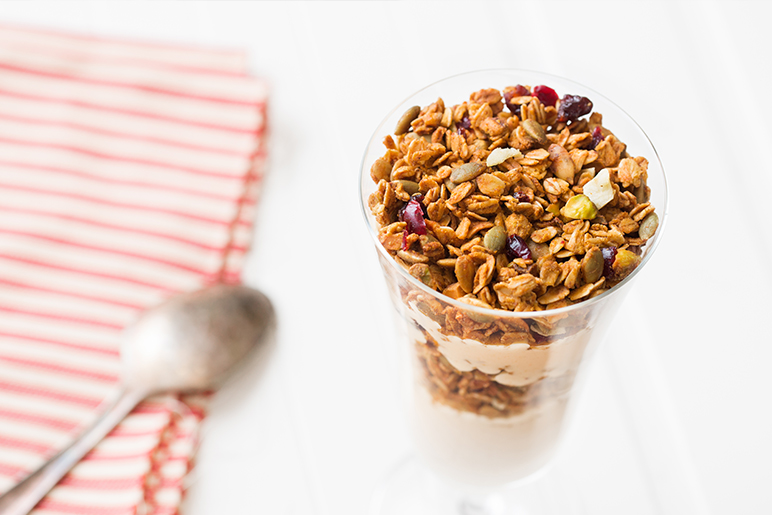 Click here to download a recipe card.