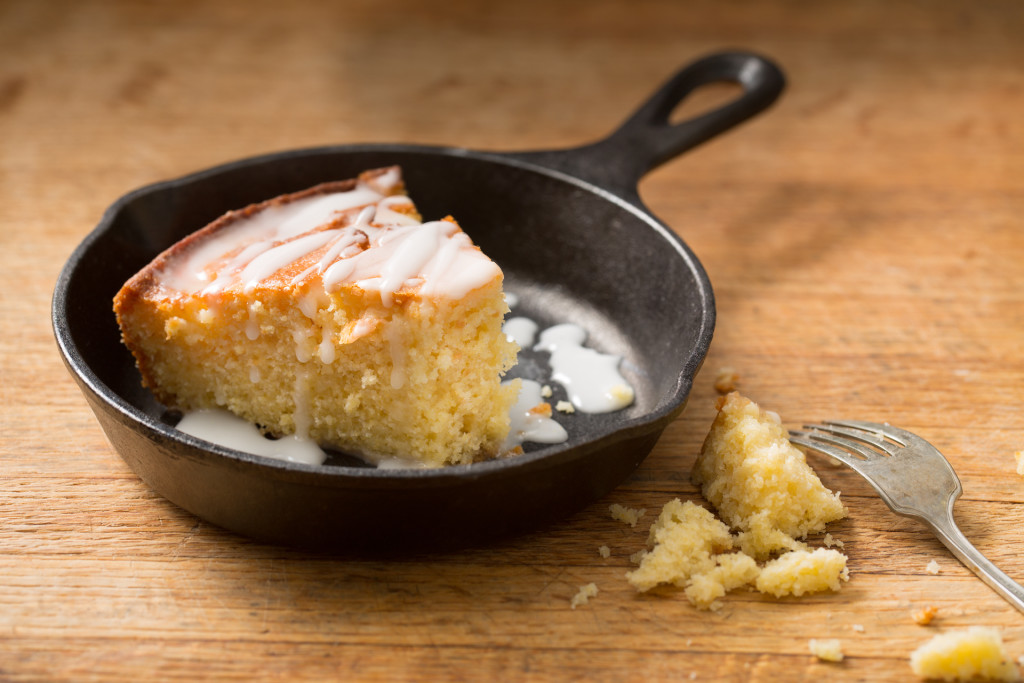 Yield: 8 servings
Ingredients (Cake):
1½ cups all-purpose flour
3/4 cup medium-ground yellow cornmeal
1 teaspoon baking powder
1/4 teaspoon kosher salt
2 large eggs
½ cup 2% vanilla Greek yogurt
½ cup lemonade
1 1/3 cups sugar
8 tablespoons unsalted butter, divided
Ingredients (Lemon Syrup):
Ingredients (Optional Lemon Glaze):
1 cup powdered sugar
2 tablespoons fresh lemon juice
Equipment:
1 9-inch iron skillet; mixing bowls; measuring cups and spoons; whisk; silicone spatula; small saucepan
Directions:
Preheat the oven to 350°F. Place the iron skillet into the oven to heat.
In a medium bowl, combine the flour, cornmeal, baking powder, and salt. Stir to mix.

In a large bowl, whisk together the eggs, yogurt and lemonade. Add the sugar and

whisk until smooth. Using a rubber spatula, fold the dry ingredients into the wet ingredients in two batches.

Add 2 Tablespoons butter to the hot iron skillet. Melt the remaining 6 Tablespoons butter and stir into the batter until smooth and uniform.
Remove the hot iron skillet from the oven and pour in the batter. Bake for 35-40 minutes until browned and a toothpick comes out clean when inserted in the center of the cake.
To make the syrup while the cake is baking, place the ½ cup lemonade in a small saucepan. Reduce over medium heat to ¼ cup. Remove from heat and set aside.
While the cake is still warm, pour on the lemon syrup around the edges of the cake and in the center. You may have some syrup leftover. Allow the cake to cool.