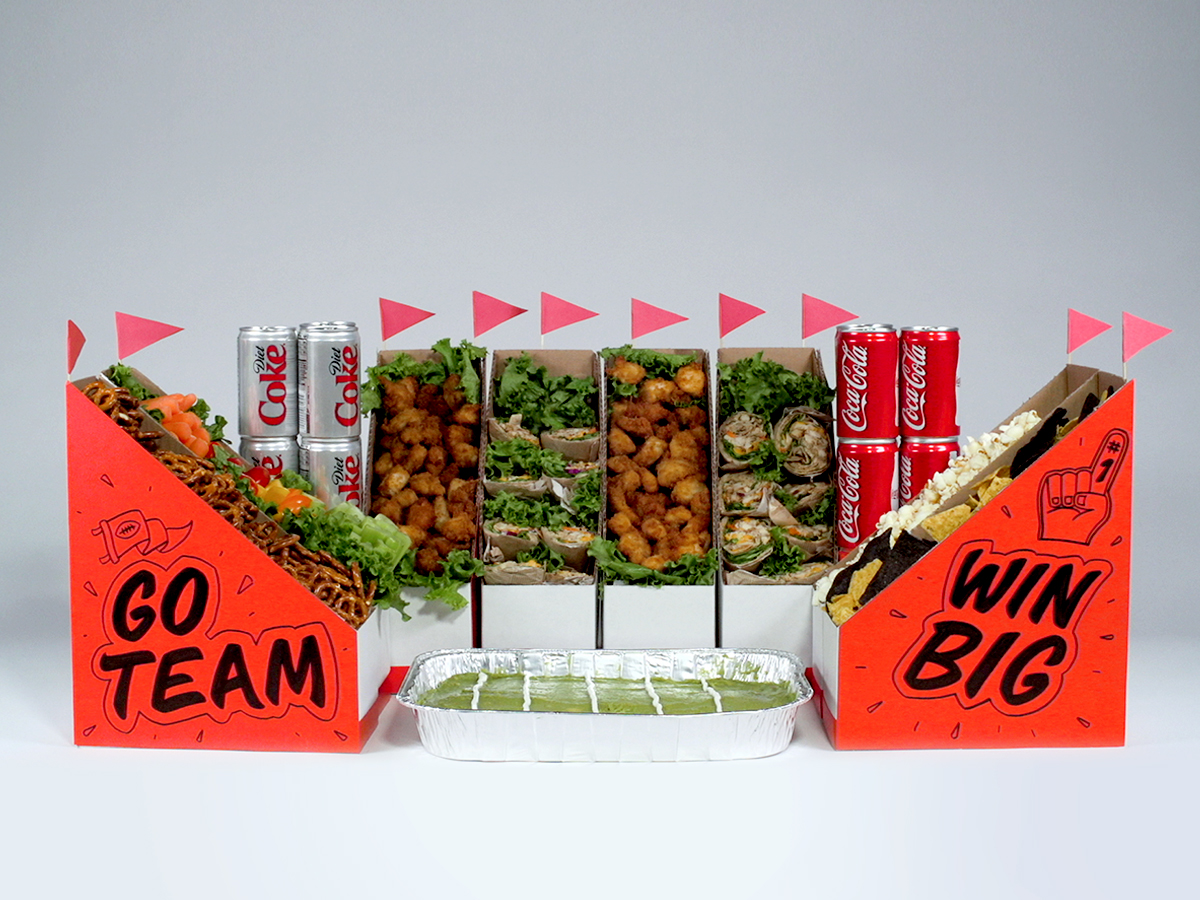 Crafting and snacking combine for the ultimate game day DIY
Welcome to The Chicken Wire on Chick-fil-A.com. In addition to great articles like this one, we're bringing you news about our food, recipes and stories that will inspire. Thanks for stopping by.
Football season and snack food. They go together like peanut butter and jelly. Whether hosting at home or taking your tailgate on the road, your friends and family will be impressed with your game day hosting skills with this awesome snack stadium.
Oh, what's that? You don't have an awesome snack stadium yet? Then it's a good thing we included these step-by-step instructions and video to get you started. (Hint: the 50-yard line is the tastiest seat in the house.)
Materials Needed:
Magazine holders (8)
Scissors
Tape
Glue or glue stick
Parchment paper
Marker
Construction paper
Piping bag
Parchment paper
9" x 13" aluminum tray
Tooth picks
Recommended Snacks:
Chick-fil-A® Nuggets tray
Chick-fil-A Grilled Chicken Cool Wraps® tray
Guacamole
Sour Cream
Tortilla chips
Pretzels
Popcorn
Assorted veggies
Leafy lettuce
Step 1: You'll need eight magazine holders. These can be purchased online or at your local office supply store. Note: If you can't find any, you can always trim a few empty cereal boxes for a similar effect.
Step 2: Using the construction paper, scissors, markers and glue stick, customize each magazine holder to match your favorite football team.
Step 3: To make arranging snacks easier, stuff the bottom of each magazine holder with parchment paper.
Step 4: Next, arrange your stadium, leaving space for the field (9" x 13" pan filled with your favorite dip).
Step 5: Arrange each of the magazine holders with your favorite snacks. Lettuce can create a nice garnish to add color to your stadium.
Step 6: Fill your 9" x 13" pan with guacamole and paint on the yard lines with sour cream. A piping bag will help you create clean lines.
Step 7: Using toothpicks and construction paper, up your team spirit with pennant flags by cutting out double-sided triangles and gluing them around the toothpicks. Attach them to the tops of your magazine holders using glue or clear tape.
Step 8: Grab a nugget, have a seat. It's game time.
Your snack stadium can work with nearly any Chick-fil-A catering tray. See the full range of catering options and place your pick-up or delivery order with your local Chick-fil-A restaurant.