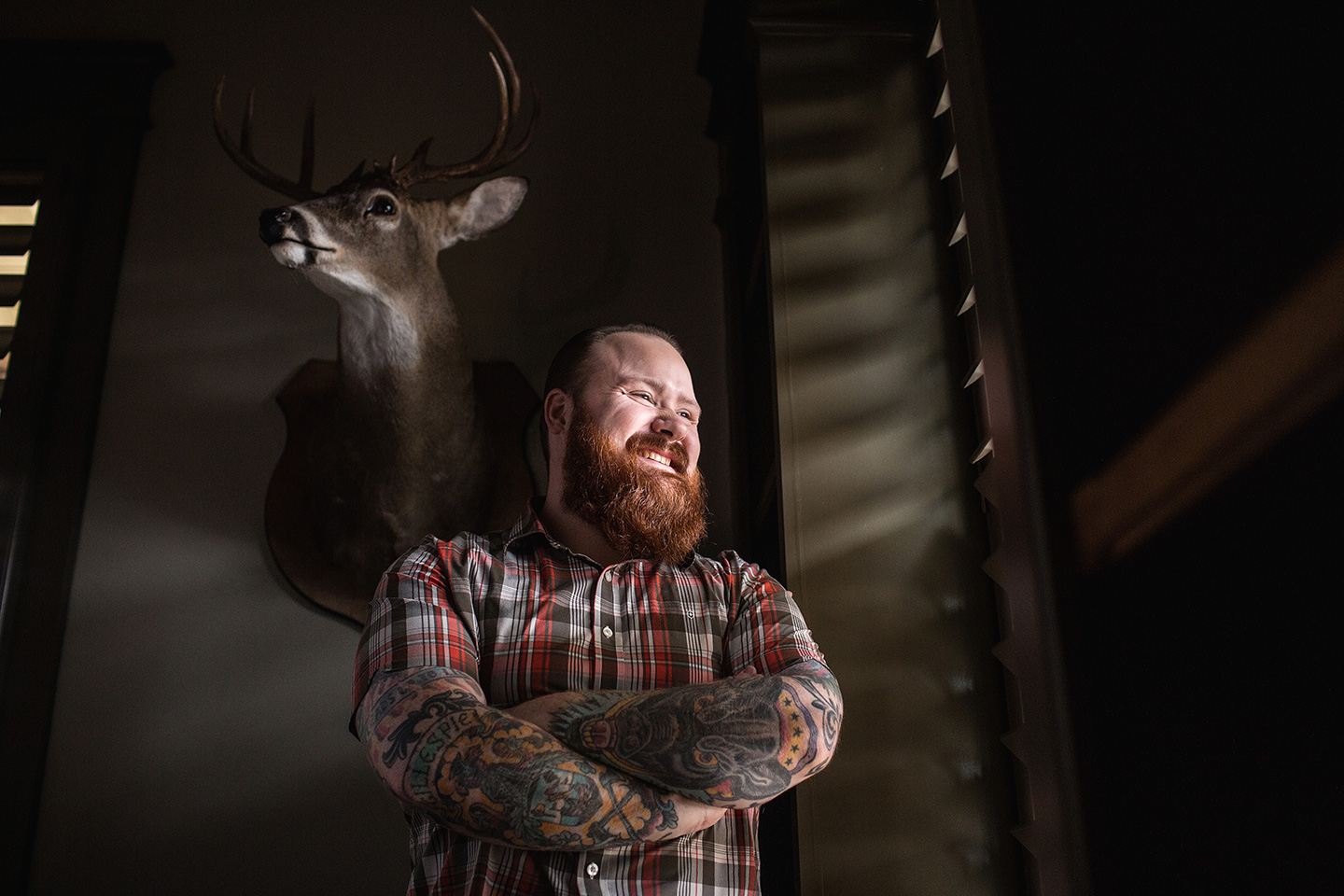 Top Chef Shares Where He's Headed and the Inspiration Behind His "Closed-on-Sunday Chicken Sandwich"
Welcome to The Chicken Wire on Chick-fil-A.com. In addition to great articles like this one, we're bringing you news about our food, recipes and stories that will inspire. Thanks for stopping by.
Kevin Gillespie is easy to spot in a crowd. Made immediately recognizable by his signature flaming-red beard, a favorite plaid shirt, familiar warm smile and a personality as colorful as the ink that lines his arms, he's Atlanta's own son and one who is making the city and the South proud.

Most affectionately known from his stint on season six of Bravo's Top Chef, the Georgia native, voted the show's fan favorite, is continuing to gain fans in Atlanta. But in the several years since making his national TV debut, it's the time spent off camera that has earned him recognition as a culinary visionary and industry leader. With two cookbooks, three restaurants, and an active social media and television profile, award-winning chef Kevin Gillespie appears to have a full plate. So let's add in a move.

READ MORE: Recipe: Korean Barbecued Pork Bulgogi from Kevin Gillespie's latest cookbook
On the Move

Having made his home in South Fulton County near the small town of Palmetto, Georgia, he and his wife are moving to Buckhead this fall, near the heart of Atlanta. His new home will put him 40 miles closer to his three restaurants: Gunshow, Revival and Communion.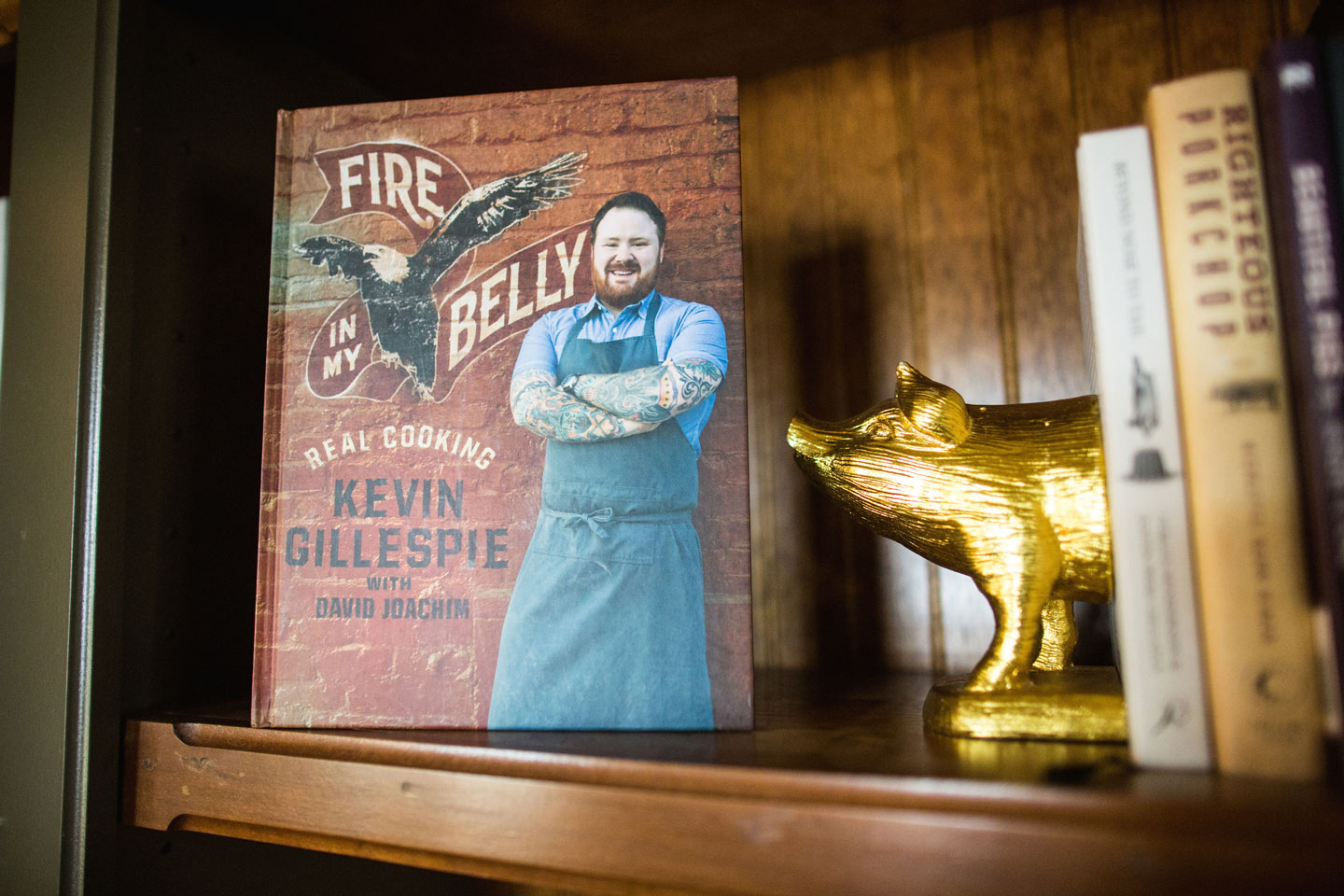 Movement has been a theme in Gillespie's 17-year career in the restaurant business. Though his roots run deep in the red Georgia clay, the Peach State native has traveled the country and knows what it's like to be a transplant. More than a decade ago, at the suggestion of his mentor, he headed to Portland, Ore. so that he could "ensconce myself where cooking with local product and running an independent business were the norm for them."

Gillespie remembers his time in Portland fondly, describing the locals as friendly and the coffee as strong. His favorite cup in the country is still poured at Stumptown and it's a stop he makes every time he's there. Living in Oregon, Gillespie worked at acclaimed restaurant ClarkLewis before settling in at Fife—a small production in Northeast Portland. Cooking side by side with then-owner Marco Shaw, Gillespie adopted a local-centric mindset and broadened his culinary repertoire by working on a menu that changed daily.
No matter where you venture in the Pacific Northwest, Gillespie says, the level of food service is exceptional. "Diners are good. Just okay is not acceptable," he said, adding, "everyone has to step their game up."

Inspiration from Home: Reviving Family Style Cooking

Gillespie brought that experience back home in 2013 and opened Gunshow in Atlanta's Glenwood Park neighborhood. At Gunshow, Gillespie brings his chefs tableside to present their cuisine directly to the guests who then pick and choose from the evening's menu. While he depicts Gunshow as a bit existential in "representing brashness and masculinity" -- the restaurant that embodies the younger Kevin in being "very bold and doing its own thing" -- the name is actually a tribute to time spent with his dad. When he was a kid, Gillespie's father worked two to three jobs at a time and it was the rare non-working Sunday that they spent together at the local gun show, which served as a community gathering spot.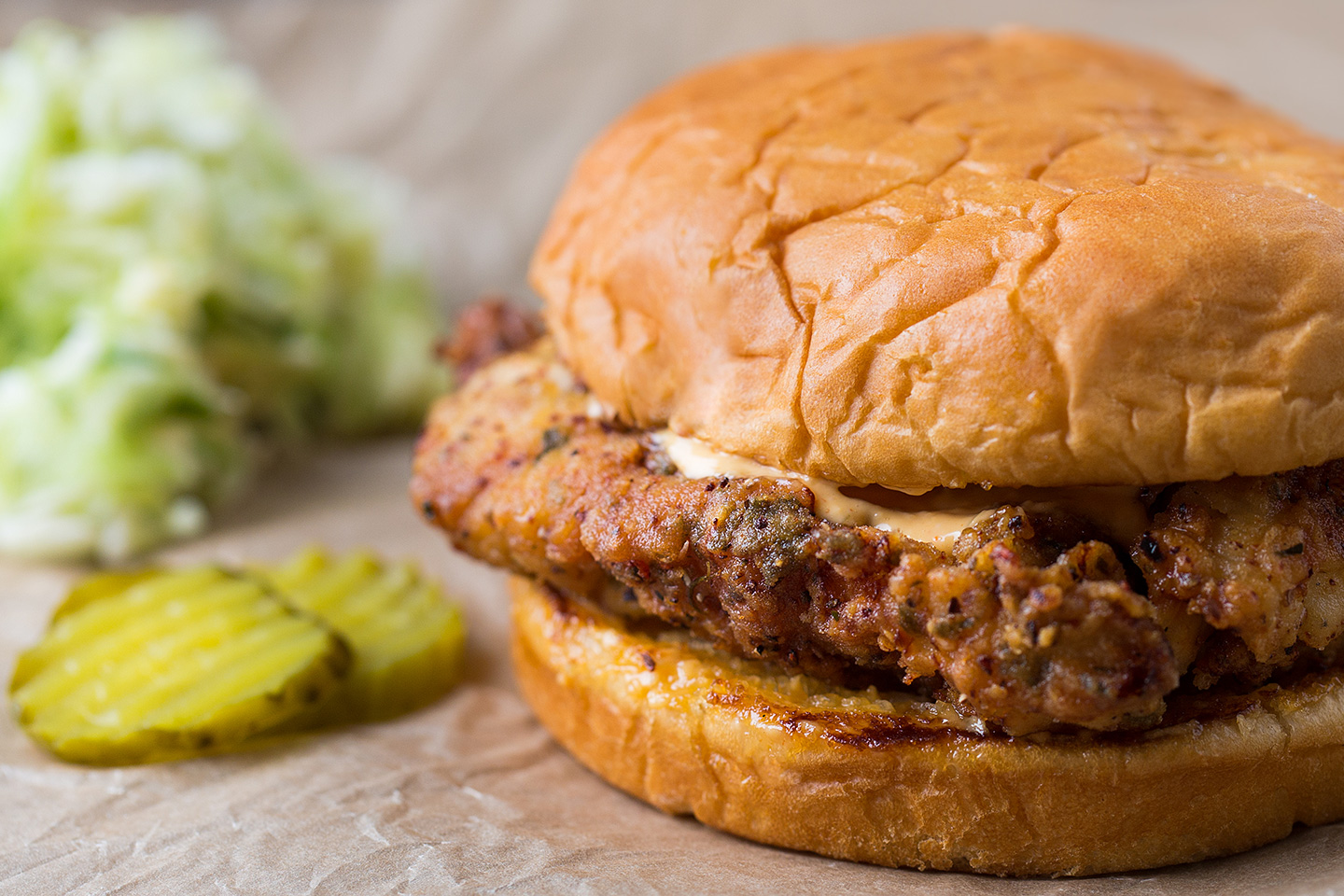 The restaurant's concept was an instant success and earned him the seventh spot on GQ magazine's list of "12 Most Outstanding Restaurants."

If you are planning to dine at Gillespie's Gunshow, know that it is unapologetically closed on Sunday and Monday. Meals at Gunshow are served Tuesday through Saturday. The five-day work week is fully intentional: "We chose that model with the knowledge that it would hurt us financially."
READ MORE: Recipe: Chick-fil-A Dwarf House Lemon Pie
He willingly bears the financial brunt of that burden. "I always thought it was unfair that restaurant employees couldn't assimilate into the culture.
"As long as staying closed two days doesn't hurt the restaurant conceptually, that was the choice to make."
And it's a choice that appears to be working well, as Gunshow was also one of 12 restaurants on Esquire magazine's "Best New Restaurants of 2014" list. Then in 2015, Gillespie unveiled his second project, Revival. It was a sweeping success, with Southern Living naming it one of the South's best new restaurants.

While Gunshow, a bold experiment with a new take on traditional dining, offers an unpredictable menu and a fun, masculine atmosphere, Revival gives off a much different impression. If Gunshow is a Saturday night party, Revival is Sunday morning with lunch on the grounds. This restaurant is more feminine in ambiance and a nod to the women who taught Gillespie to cook: his maternal and paternal grandmothers.

He says this is his way of "paying homage to those who put me in that place in the beginning."

Revival's home is a renovated house in a family-centric Atlanta neighborhood. To put it simply: it feels like home with a large porch up front with his third concept, Communion, a beer garden with food trucks out back. Revival is Gillespie's version of the traditional Sunday dinner served family style. There he showcases foods of the region—once again going back to Gillespie's roots. Gillespie is a self-proclaimed byproduct of colliding cultures: "one-part family of blue-collar hillbillies, one-part wealthy Atlanta."

For Gillespie that combination means giving traditional cuisine the respect it deserves. He's throwing out the canned and frozen ingredients to make meals in the manner a grandmother would, as "a celebratory meal, the reward for hard work during a time of substantive living."

Among the menu items at Revival are his paternal grandmother's soup beans. (That recipe was featured in Saveur Magazine.) Her name is Geneva Gillespie, but to Kevin she is simply "Granny." Even when pressed, Gillespie won't choose a favorite menu item since most of the recipes are his grandmother's and each is special in its own right.

The Extended Family

The chef extends the opportunity for nostalgia to his staff by adding dishes to the menu that are fond memories from their families. Diners also seem to revel in wistful sentimentality, taking their time and enjoying both food and company while lingering over the food. Time is a currency in cuisine that can reflect how the eater feels about the atmosphere. At Revival, customers are clearly right at home. Count Gillespie's family in with that crowd; they eat at Revival frequently. In fact, it's where they most recently celebrated Granny Geneva Gillespie's birthday.

Both Gunshow and Revival vary their menus, but on different schedules. Gunshow's offerings change weekly, while Revival takes a steady approach with six menu updates a year and weekly tweaks. Standards from Gillespie's latest cookbook, "Pure Pork Awesomeness," are always available. The book of 100 recipes was released last year and celebrates swine in a way that readers rave is "attainable and easy to follow." The book comes to life through the popular Pork Belly Buns at Gunshow and Fatback Fried Corn at Revival.
READ MORE: Recipe: Peach Milkshake Pie
A Not-So-Secret Admirer
Another big seller? Gillespie's loving tribute to Chick-fil-A, called the "
Closed-on-Sunday Chicken Sandwich
." The recipe was born of his love for the "Number One" and the "conundrum of waking up Sunday morning—it seems like clockwork— and dang, it's not available."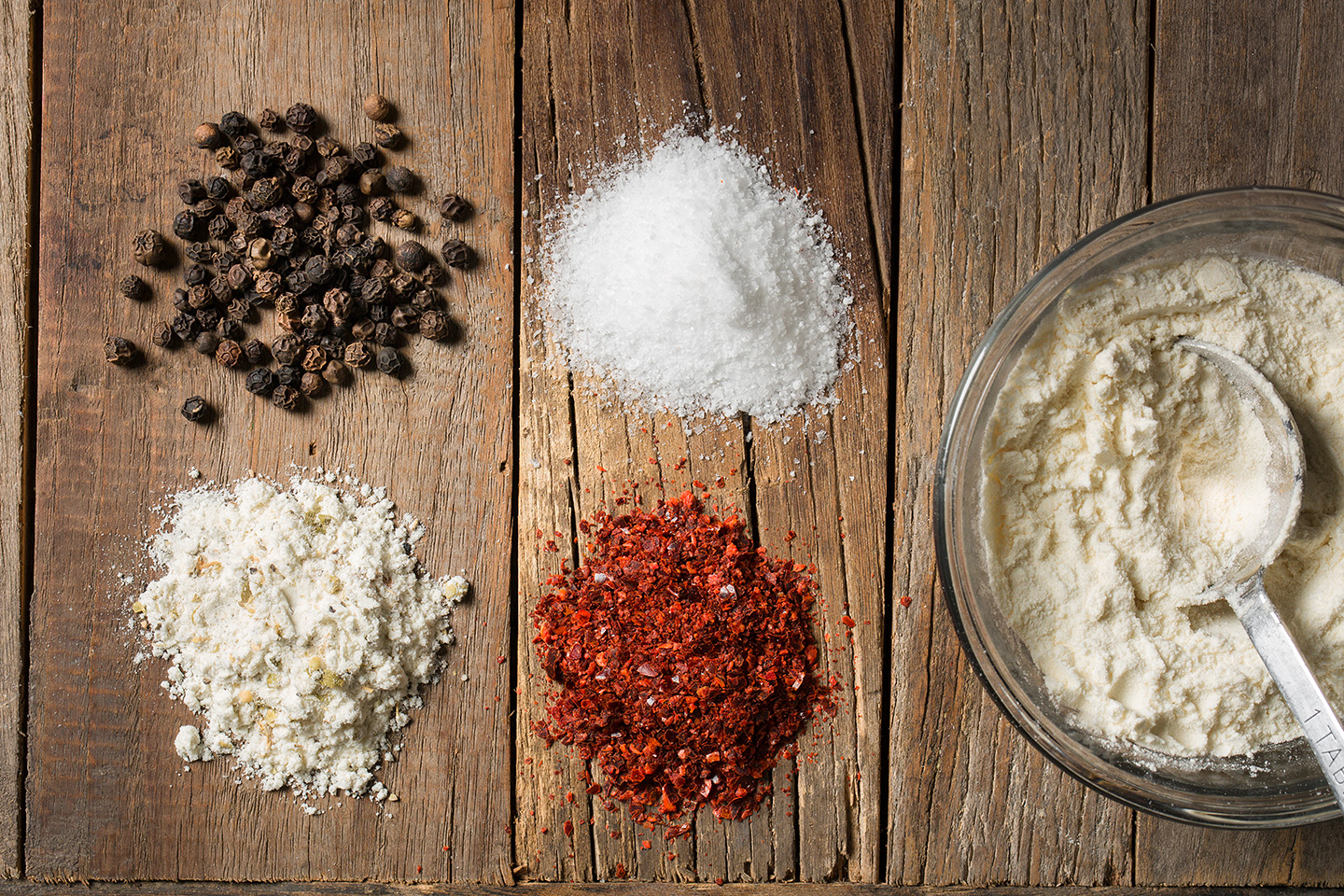 So now Gillespie serves his version of Chick-fil-A's classic intermittently at Gunshow and on the weekends at Revival. "People love it," he says. "We serve it as a slider so it is fun and easy."
But Gillespie admits, there's no replacement for the real thing. "I don't think they're that similar; if you eat them side by side, they taste different." What they have in common, Gillespie says, "is the ability to satisfy on a Sunday when there's nothing else like it available."

As Gillespie expands his culinary empire and goes whole hog into Buckhead, it's easy to see that he has the same quality: there's no one else like him.

Watch below to see how to make Gillespie's Closed-on-Sunday Chicken Sandwich, or get the recipe here.
For more recipes from Kevin or to learn more about his restaurants, click here.