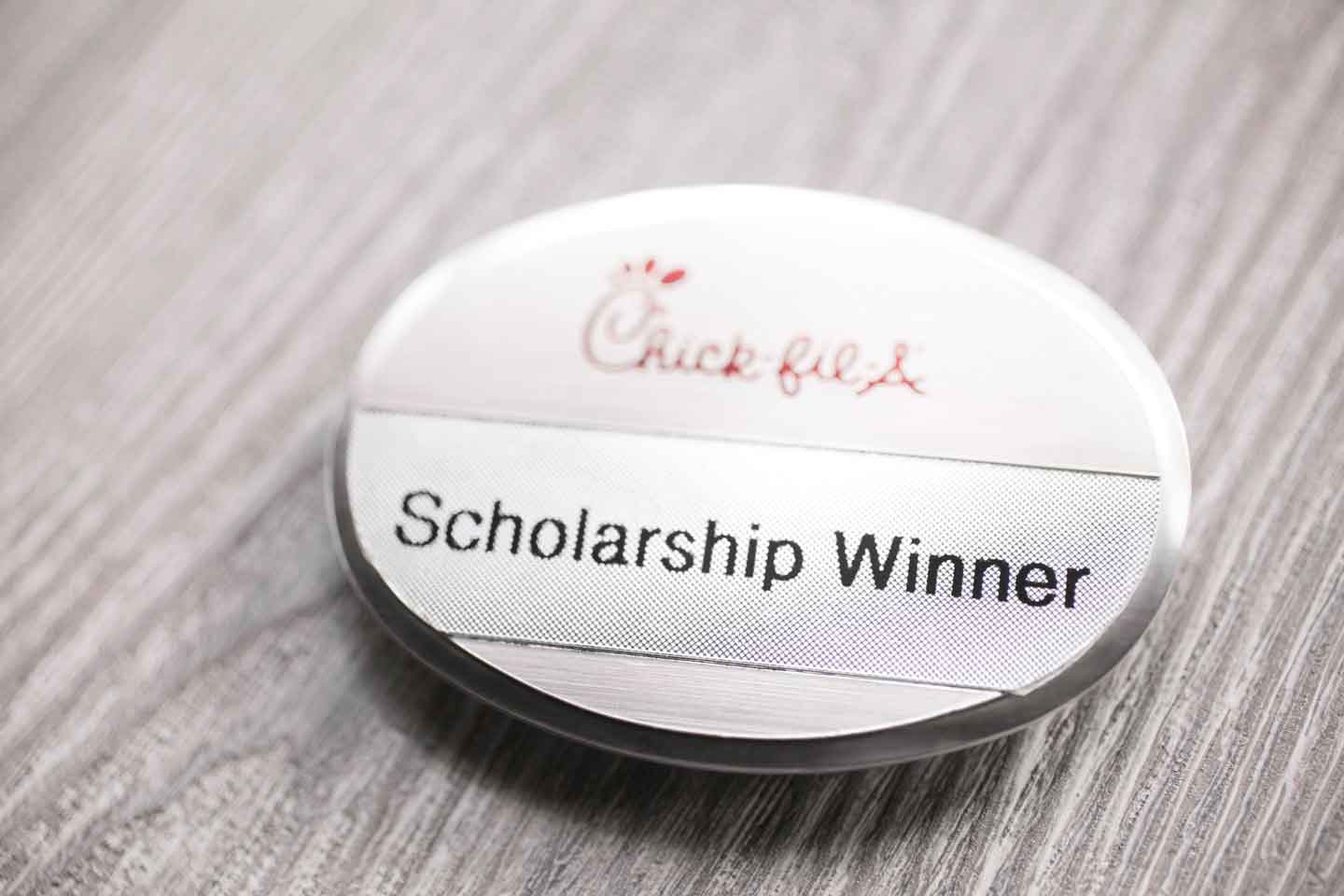 It's all about helping Team Members have a "Remarkable Future"
With the annual cost of a college education rising, college students need all the help they can get. And this year, more than 5,700 students will get a boost to their college fund as Chick-fil-A invests more than $14.5 million in scholarships for college students who work at restaurants nationwide.
"The pay I receive is already competitive, but this scholarship sets my employment apart from other employment opportunities," said one Chick-fil-A scholarship recipient in a recent company survey. Another echoed the sentiment adding, "It helps me know that I'm part of an amazing team that will take care of me whether I'm at work or in the classroom."
How does Chick-fil-A's scholarship work? Here are the top 10 things you should know:
1) It's to help Team Members create "Remarkable Futures." There are three different ways the Remarkable Futures initiative helps student Team Members pay for college: a $2,500 scholarship, a $25,000 scholarship and tuition discounts.

The goal is to invest in restaurant Team Members and "help them achieve their dream, whether it's to stay with Chick-fil-A or embark on another career," says Rodney Bullard, vice president of community affairs at Chick-fil-A.

2) Team Members can earn up to $25,000. In 2018, Chick-fil-A will award 13 scholarships in the amount of $25,000. The Team Members who receive these scholarships demonstrate academic and leadership achievements, financial need as well as a commitment to community service.

3) More than 5,700 Team Members will get a $2,500 scholarship in 2018. That means about 70 percent of the Team Members who apply receive a scholarship.

4) The scholarships are not only based on GPA. Community service is a factor, too. In 2018, scholarship recipients logged more than 70,000 hours of community service. The 13 recipients of $25,000 scholarships volunteered an average of 450 hours each.

5) You can re-apply each year. In 2018, more than 5,700 Team Members will receive a Chick-fil-A Leadership Scholarship in the amount of $2,500. Team Members can re-apply for the $2,500 scholarship each year and can earn up to a total of $10,000. (The $25,000 True Inspiration Scholarship is only awarded to an individual once.)

6) Even if you don't get a scholarship, Chick-fil-A can still help you save money on a college education. Tuition discounts of up to 30 percent are available for Chick-fil-A Team Members at 100 colleges and universities across the countries through a partnership between Chick-fil-A and Scholarship America. The tuition discounts can be combined with the Chick-fil-A scholarships.

7) The tradition started a long time ago. In 1973 to be exact. That's when Chick-fil-A Founder Truett Cathy began awarding scholarships to incentivize his employees to further their education. Since then, more than 47,000 Chick-fil-A Team Members have been awarded $60.5 million.

8) You can study anything you want anywhere you want. There are no requirements for a field of study to earn one of Chick-fil-A's scholarships. And recipients can attend any accredited two- or four-year college or university, online program or technical/vocational school.

9) Chick-fil-A's President was a Team Member and scholarship recipient too! Tim Tassopoulos began his career with Chick-fil-A as a teenager working as an hourly restaurant Team Member, where he also received a Chick-fil-A Leadership Scholarship to help pay for college.

10) Any Chick-fil-A Team Member can apply. You don't have to work a certain number of hours, or work at Chick-fil-A for a certain amount of time to apply. All you have to do is be a current Chick-fil-A Team Member with a minimum GPA of 2.5.