Watch as this Georgia Chick-fil-A restaurant celebrates one local teen's big challenge
"I've loved Chick-fil-A from the time I was just a little kid," says Joey Smith, adding that every time his mom asked where he wanted to eat, the answer was "Chick-fil-A."
Fast-forward to today, and Smith, now a high school junior, loves it as much as when he was a child.
That's why he decided to challenge himself to eat there 10 days in a row. But, with Chick-fil-A being his favorite restaurant, 10 days was easy. So, he went bigger, challenging himself to 20 days in a row, then 40.
Finally, he decided to try for 100 (excluding Sundays, of course!). And three months after he started, Smith found himself being chauffeured to his local restaurant to celebrate an accomplishment he never thought he'd achieve.
"It's pretty wild," says Smith. "No one thought I'd be able to do it," says Smith. "But I was determined to make it happen."
Reaching 100
"We saw some posts from Joey on Instagram, who said he had come to our restaurant 100 days in a row," says Brad Williams, franchise Operator of Chick-fil-A at Moore Road in Suwanee, Georgia. "We said, 'Hey, let's do something really over the top and kind of crazy for him.'"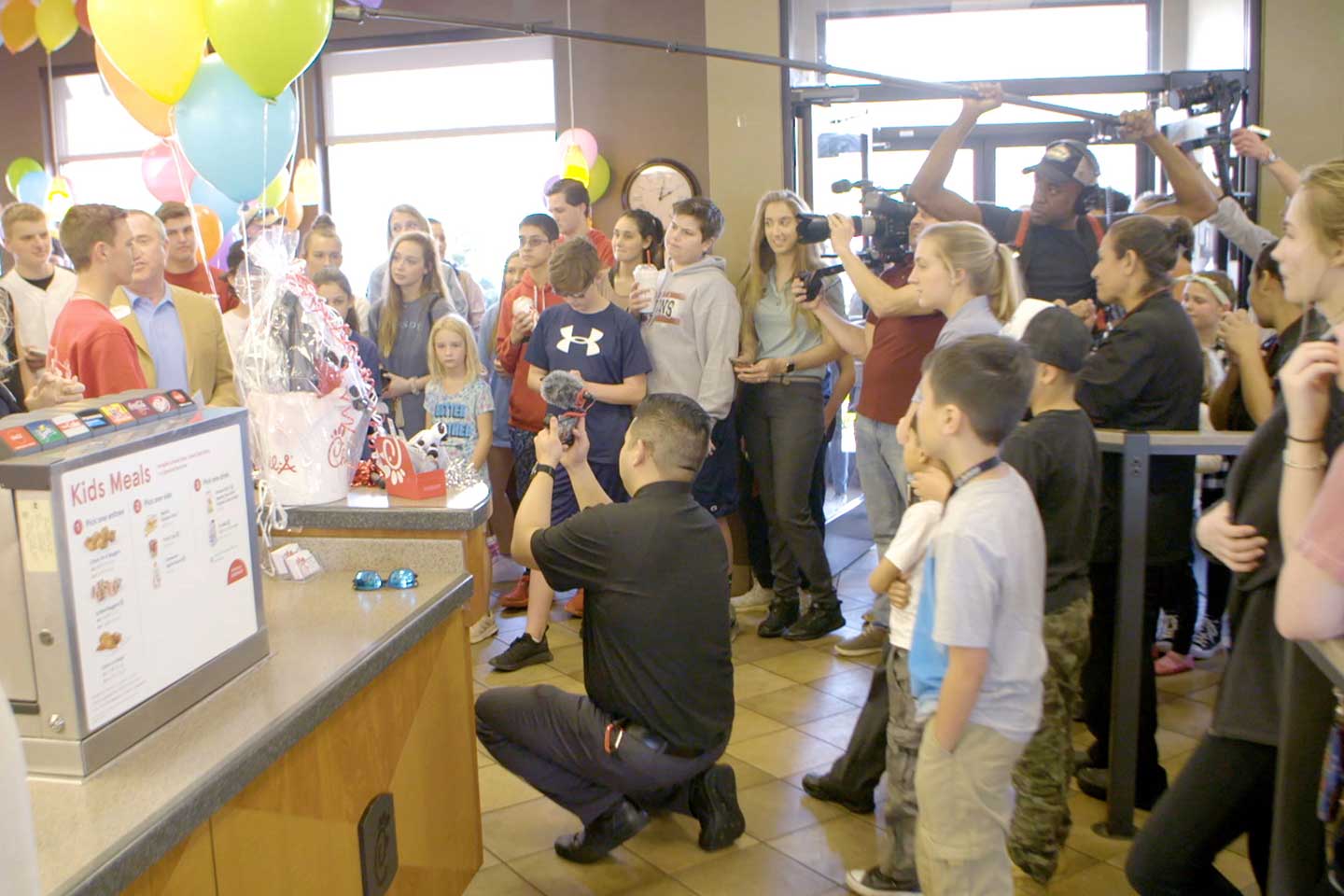 It wasn't long before Williams and his team contacted Smith to let him know they were throwing a "Joey Day" – a party to celebrate his 100th visit. But for Williams, it was more than a celebration for Smith's challenge; it was symbolic of the amazing customers his restaurant serves every day.
"When we see things like this, it's a reminder that we have a lot of responsibility to our guests," says Williams. "We want to show them in every way just how thankful we are for them. 'Joey Day' was symbolic of that thanks."
On March 29, Smith accomplished what no one thought he could do, and Williams held up his end of the bargain. Escorted from his home to the Chick-fil-A restaurant he had just visited 99 times in a row, Smith arrived to a spectacle even he couldn't have imagined. Check out the video to see how it unfolded.