Cathy viewed business as more than a source of revenue his family
It was 1946 – that golden era sandwiched between the weary years of the Depression and the rock-and-roll craze– when Truett Cathy started Chick-fil-A. Well, it wasn't called Chick-fil-A then. In those days, it was the Dwarf Grill, a small ten-stool diner located in Hapeville, Georgia. It was in his diner that Cathy cooked and served, talked and laughed, worked and dreamed.
Then, along came what Cathy identified as "unexpected opportunities." His friends Jim and Hall Goode, who supplied chicken to a local airline, offered to sell him chicken breasts the airline wasn't going to use. At the same time, he had a little extra, unexpected time on his hands from closing one business he lost to a fire. So in the kitchen of his tiny restaurant, he experimented with flavors and cooking methods until he perfected the recipe for the original chicken sandwich. The recipe inspired Cathy to multiply his one diner into the more than 1,900 Chick-fil-A restaurants in operation today.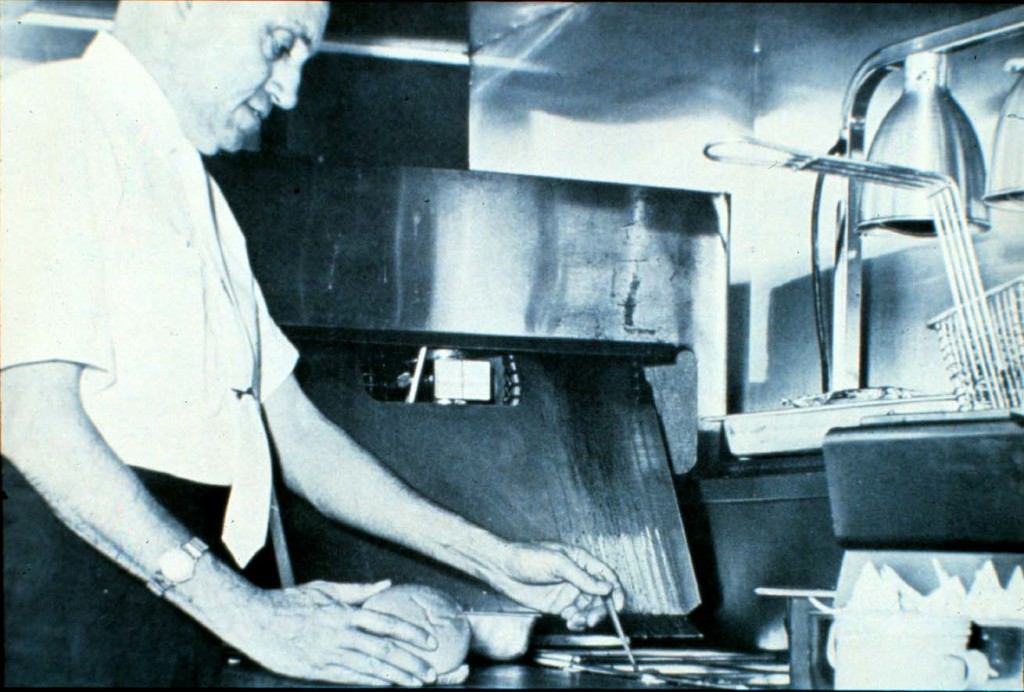 As a restaurateur, Cathy had an uncanny knack for business. But he had another intuitive sensibility.
People.
Cathy always maintained he wasn't in the chicken business, but the people business. From knowing his customers by name, to forming lifelong friendships with his employees, Cathy viewed his business as more than a source of revenue for him and his family; it was a source of encouragement to others. "
He would always take food from the restaurant, and on the ride home, he would stop by a hospital to deliver it to someone who was sick, or check in on struggling widow who lived in the house down the street," shared Mark Cathy, his grandson, who now serves in hospitality and service design for Chick-fil-A.
"As his business and income expanded, so did his passion for giving it away."
The elder Cathy took it a step further. He kept a running list of people's needs that he jotted down on a scrap of paper and tucked safely into his pocket. Whenever he had extra, he would quietly meet their need with little fanfare.
As his business and income expanded, so did his passion for giving it away. He offered college scholarships to the team members in his restaurants. He bought an orange grove in Florida and faithfully sent fruit each year to friends, even ones he hadn't spoken to in years. He insisted on serving free lunch to his employees. He quietly surprised a single mom in need with a car. He stealthily swapped his first class airline tickets for the coach tickets of his travel companion.
And then there were the children. While they spent their life mentoring young people throughout their community and business, Cathy and his wife Jeannette took it a step further and established WinShape Homes, a fostering organization.
"He loved those kids," the younger Cathy reminisced. "He called them his adopted grandchildren. He always joked with them, 'You don't have to call me Grandpa, but those who do will get more on their birthdays and Christmas.' But more than anything he loved to give hugs."
Some of Cathy's most famous words, which still ring in the conversations of those who knew him: How do you know someone needs encouragement? "If they're breathing."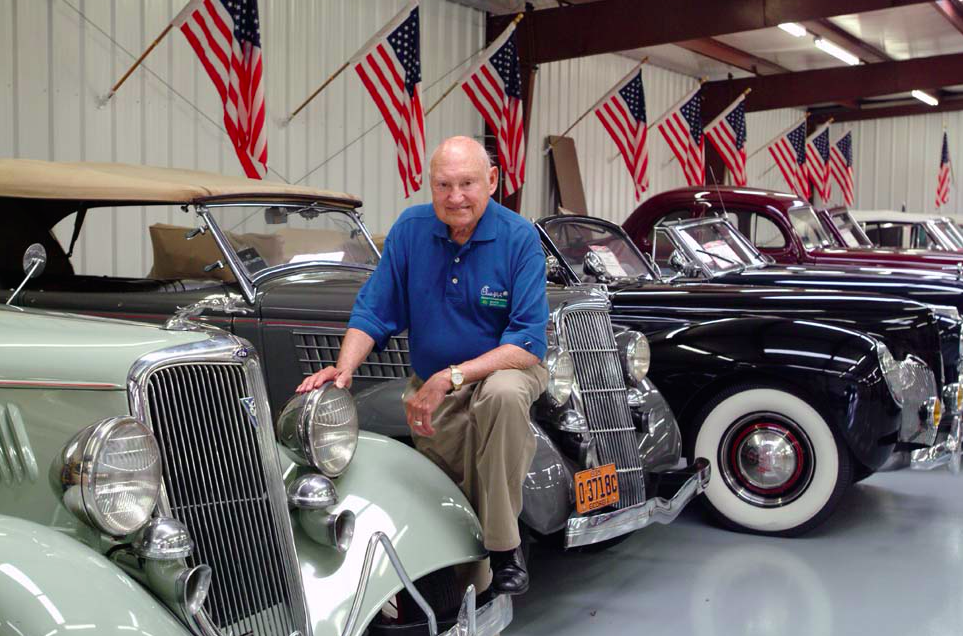 And sometimes the best encouragement comes from laughing. Cathy loved to have fun. He collected cars and enjoyed long-distance motorcycle trips. He celebrated the success of his business partners, local Chick-fil-A franchise owners, by dancing on tables with hula hoops. Instead of a briefcase, he toted a shopping bag full of Eat More Chicken Cows everywhere he went, in order to reward children when they gave the correct answer when asked what the cows say. (The correct answer is not "moo," by the way.)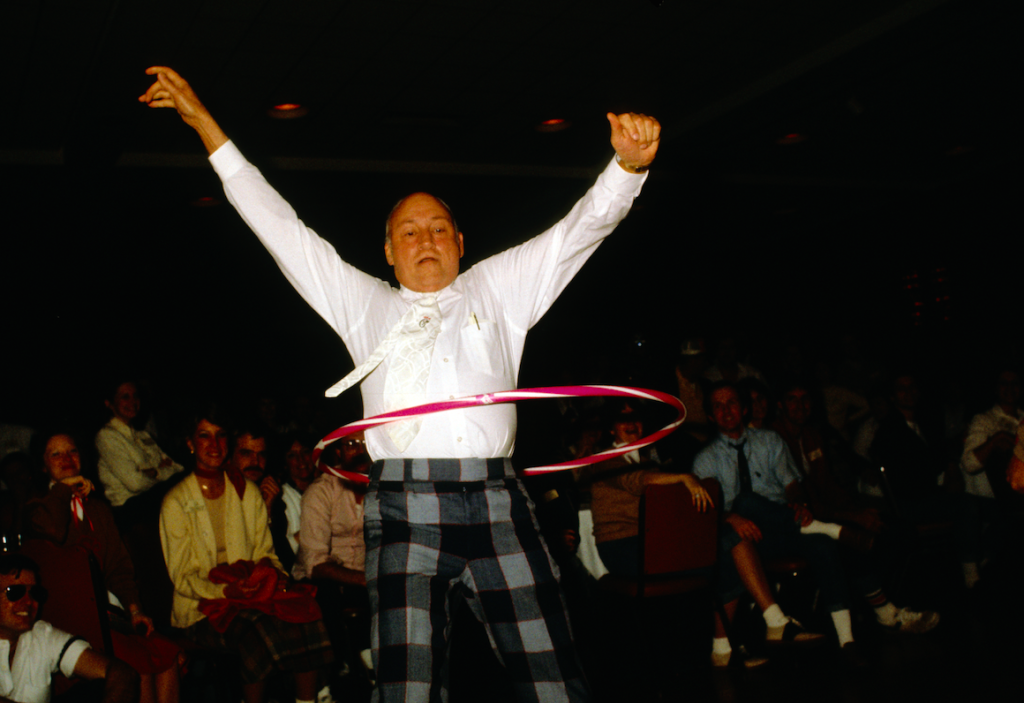 In fact, even the Cows themselves are a reflection of Cathy's whimsical spirit. In the same way the clever bovines became known for their playful antics, Cathy too was known for keeping things interesting. He loved practical jokes like pouring ice buckets over people, short-sheeting beds, and pushing people into swimming pools. He occasionally put on pirate costumes or superhero garb in the office. He kicked off meetings with "The Happy Cheer" that employees still recite today. He drove a motorcycle – indoors – at the annual meeting with his franchisees.
"Truett was always in the middle of it somehow," Tim Tassopoulos, executive vice president of operations remembers with a smile. "Sometimes he was the target, sometimes he was the instigator, and that little sense of fun –good, clean fun –it just made it really a great experience to work at Chick-fil-A"
"If you're not having fun, you're not doing it right."
Some of Cathy's other famous words? "If you're not having fun, you're not doing it right."
Whether through small acts of sincerity, grand gestures of generosity, or silly antics to lighten the mood, Cathy simply found joy in making other people's day. He sought out unexpected opportunities for encouragement. He loved laughter. Intertwined in his legacy of excellence, hard work, and integrity is also a lifetime of relationships.
After all, he was in the people business.