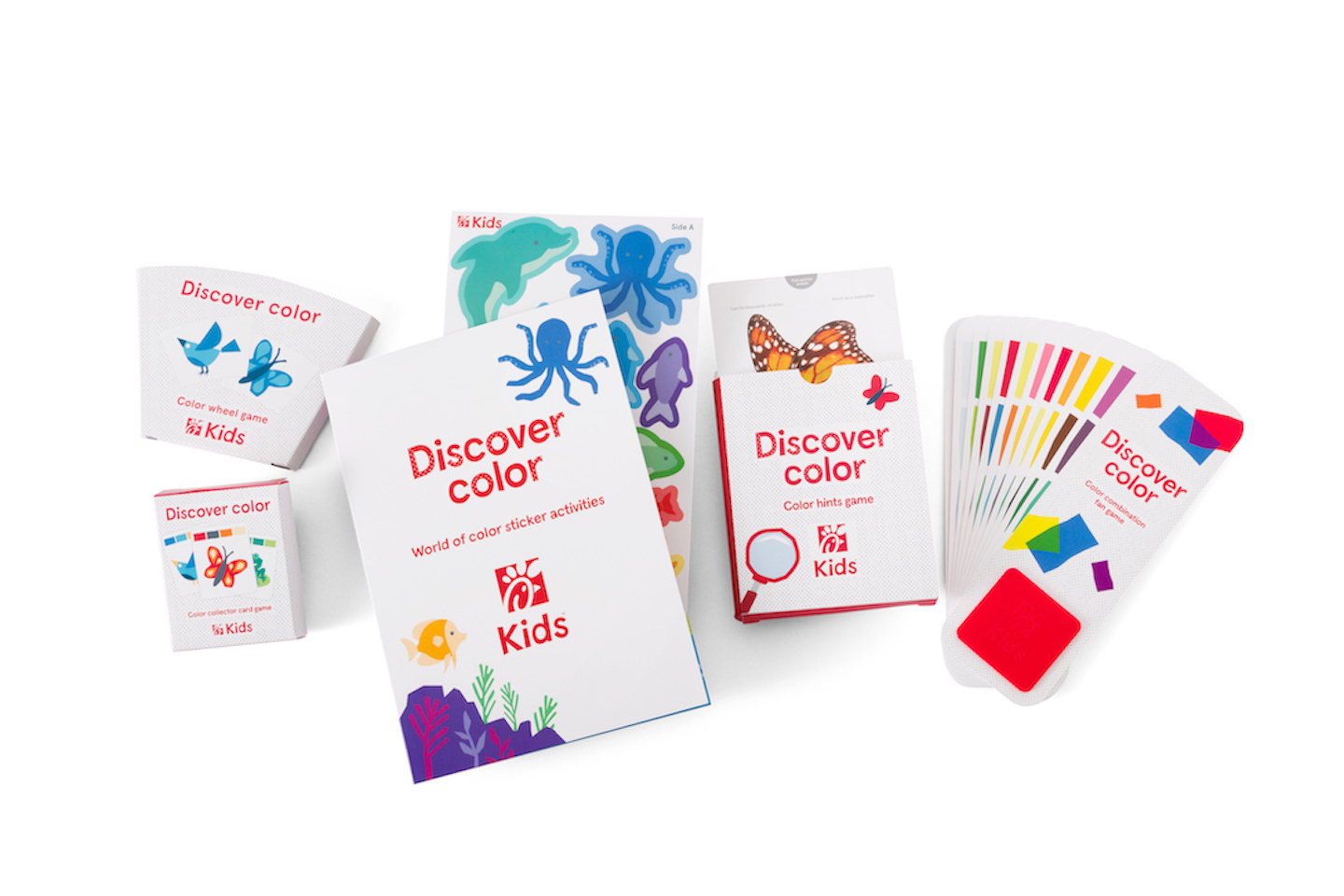 Behind the scenes with Chick-fil-A's kids' meal experts
Shrieks, squeals, sometimes even flying food. Welcome to the life of a mom simply trying to feed her two toddlers.
Amy Wells can relate. She has two boys, and though they are able to feed themselves now, Amy remembers what it is like to fight a four-way tug-of-war: keeping the kids' attention, giving them food they want, making sure it is nutritious and actually getting them to eat it.
Her personal experience comes in handy: Wells works for Chick-fil-A developing the same meals she feeds her children on a regular basis. She is a senior marketing consultant who helps develop the Chick-fil-A's Kid's Meal Program. She says her years of raising children help her navigate the task.
"My boys are both an inspiration and a reality check for me," Wells says.
"Parenting is hard, and I love brands who help me feel better as a parent. At Chick-fil-A we want to help parents be better parents and kids be better kids. We want it to be a positive experience for the whole family."
It Takes a Village

Wells is part of the marketing team charged with creating kid's meals and is one piece of a larger puzzle that brings those meals to life. Teams dedicated to menu development, food & product safety and supply chain all partner together to make the Chick-fil-A Kid's Meal an industry leader—which means collaborating with outside partners to create award-winning prizes.

Wells says delivering kid's meals involves more than just feeding a child; it helps him or her develop mentally, socially and emotionally. A central focus is the prize that comes with each kid's meal.

"Our whole approach is to create meaningful fun for families. We want to be thoughtful and intentional to create prizes that bring families together. We want to empower and inspire kids, our next generation," Wells says.


Chick-fil-A releases 12 prizes a year, with each program running four to five weeks. For toddlers and infants, there are also four, under-3 board books that are offered year-round and rotate on a quarterly basis.

Selecting those prizes is a lengthy process, with the team deciding on prizes two years in advance. That's where the marketing team collaborates with outside agencies to research trends, themes and insights from a kid and family perspective. Everyone works together to bring toys and books to Chick-fil-A that are inspiring, meaningful and fun for kids.

"We like to offer a variety of prize options throughout the year. We either offer mini versions of well-known retail games or branded toys," Wells says. "Or, we create our own signature Chick-fil-A prizes."

One Giant Leap for Fast Food

The enriching, interactive aspect of the prizes extends to the entire kid's meal experience. The bag the meal comes in includes a creative component where kids can use their imaginations. If you turn the bag upside down it turns into a cow puppet that kids can color and decorate.

The final prize selections are chosen with great care.

"We strive to create quality toys and books that have a high value and a long-term shelf life in a family's home," Wells says.

It can be a challenge to develop prizes so far in advance, but there's a reason for the large amount of lead time: product testing and production.

Playing it Safe

David Monk and Anj Holland are a part of the food and product safety team. This group is charged with meeting all the regulatory guidelines for food safety as well as governing the safety of non-food products, including kid's meal prizes.

The minute the marketing team selects an idea for a prize, the product safety team gets involved, monitoring the entire process from concept to creation.

Every toy has to meet Chick-fil-A's standard, which is incredibly stringent.

"We meet with world's top experts on toy safety several times to help make sure we comply with the strictest guidelines from around the globe," Monk says. "If there is a country with tougher regulations than the United States in any given area, then we strive to meet those statutes."

Those rules apply to each facility that has a hand in producing the prizes for Chick-fil-A—which are all certified by the product safety team.

"Safety is our top priority," Holland says. "We partner with the best safety labs in the world to evaluate the safety and regulatory compliance from design to manufacturing and distribution. Above all, we want to protect and serve our customers."

That means testing at every stage of toy production. And all toys are tested for all ages, to help make them safe for even the tiniest hands.

"We don't just look at who the toy is targeted for," Holland says. "We think about who will actually play with it."

Monk adds, "The age on the packaging means that is the likely age a child will play with the toy the most. But even if a toy says '4+', we understand there is potential for that toy to fall into the hands of someone younger. So if a four-year-old has a two-year-old sibling, and that younger child gets the toy, we want to make sure it's safe for everyone."

Making the Meal

In addition to a safe, enriching experience, young minds and bodies also need nutritious food options. Kanika Patrick manages menu strategy and development for Chick-fil-A. In her role, she is challenged to find meals that are both child and parent-approved.

"We like to have a number of options for even the pickiest eater," Patrick says. "We identify healthy options that can be consumed on the go that are both delicious and meet nutritional guidelines."

It's also important to empower children while still giving parents control of their children's nutritional choices.
"Our Kid's Meals are smaller portions of our adult menu, so they can feel like little people."
Today parents have even more options, with the introduction of Chick-fil-A's first organic Kid's Meal item in 2016:
Honest Kids apple juice drink
. The effort to encourage healthy eating among children has been ongoing. In 2012, Chick-fil-A was the first national fast food chain
to offer a grilled entree as part of a children's menu when it added Grilled Chicken Nuggets
.
Chick-fil-A also serves applesauce or a fruit cup as alternatives to Waffle fries. And drink choices are varied, with the organic juice, low-fat milk, low-fat chocolate milk, lemonade, and water to quench little ones' thirst.
Patrick says the menu ultimately starts and ends at the same place: with the customer.
"We have parent panels and research the needs of the consumer," she says. "We also follow up with more exploration using tools like Chick-fil-A Cares, one of our customer support systems."
The combination of nutritious food, inspiring prizes, and engaging packaging has resulted in one of the most loved kid's meals in the country.
A Legacy Honored
In 2014, Chick-fil-A was
ranked #1 in kid's appeal
for fast food – an indication that the parents and kids alike appreciate the effort.
It's all part of a legacy of excellence and commitment to quality that Chick-fil-A folds into every aspect of its restaurants, a legacy that started with the company's founder, Truett Cathy. It's one that Amy Wells is proud to uphold for her boys and for all the other children who eat at Chick-fil-A.
"Truett had a heart for children, and we want to continue his legacy by pouring into kids with meaningful prizes, content, and experiences," Wells says. "Like Truett, we want to have a positive influence."