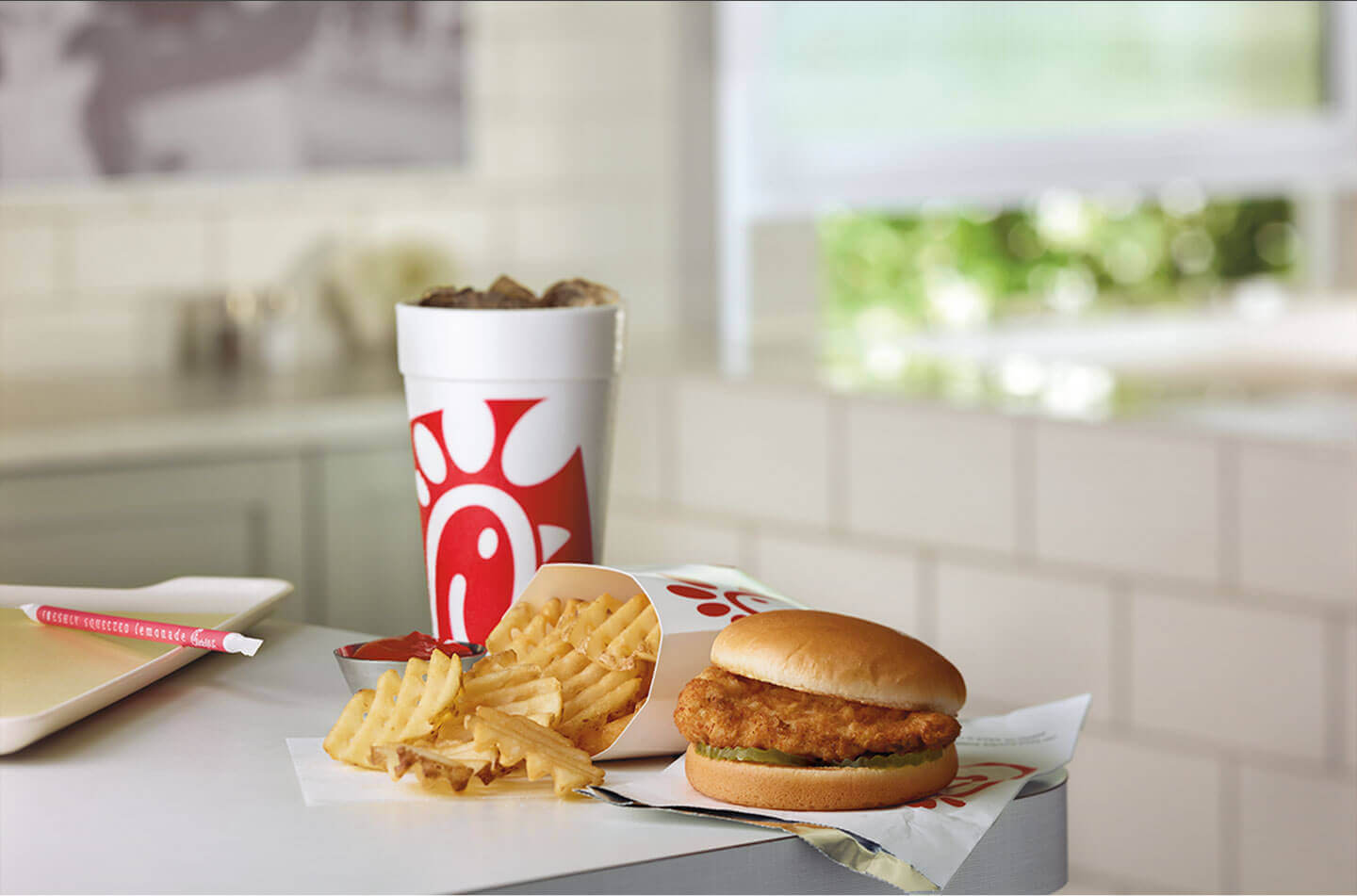 In a world of antibiotics claims, No Antibiotics Ever means just that
No Antibiotics Ever. It's a commitment we made in 2014. Today, we're more than halfway to our goal of converting our entire chicken supply to NAE, and we're on track to do so by year-end 2019.
But what does it mean? And why are we doing it?
With other words like "antibiotic-free", "no human antibiotics"" and "no antibiotics intended for human use," we know the different claims can be confusing.
No Antibiotics Ever is as simple as it sounds. And it's something no other restaurant company has done before.

What Does No Antibiotics Ever Mean?
By the end of 2019, every Chick-fil-A restaurant across the country will serve chicken raised without any type of antibiotics. No exceptions. None. Zero. Nada.
Why Are We Doing It?
Because what's important to our customers is important to us. We heard from you that antibiotic-free chicken was important. In fact, our research showed 70 percent of customers said eliminating antibiotics in meat is an important issue.
How Do We Know There are No Antibiotics?
We are working with our suppliers to convert their entire supply chains to ensure no antibiotics are used at any point in the chicken's life cycle. We audit their farms and re-certify them every year.
But there's more. We are also working directly with a third party -- the U.S. Department of Agriculture (USDA) -- to verify our No Antibiotics Ever program. That means USDA officials inspect our suppliers. If a supplier fails to meet our standards, we will no longer work with that supplier until it regains certification.
We mean it when we say No Antibiotics Ever.
Why Wait Until 2019?
We're not waiting. We're working hard to change the chicken industry. That takes time, and we want to do it right.
"Eliminating antibiotic usage sounds like a simple change, but there's a lot involved," says Steven Lyon, Ph.D. and a leader in Chick-fil-A's Food Safety team. "It was new territory – no roadmap."
We are the nation's largest chicken chain and need a sustainable supply of No Antibiotics Ever chicken – our suppliers can't run out. They are overhauling their entire operation to make it happen.
What Does This Mean for the Food Industry?
"Not only is this good for customers, but it has the potential to positively impact the larger food system as well," said Lyon.
We are working directly with our suppliers to make sure we can support the NAE commitment in the long term, and doing it right also benefits others in the industry.
For example, Chick-fil-A restaurants only serve high-quality white meat (the breast and tenderloin), which means our suppliers can offer No Antibiotics Ever dark meat to others – like school cafeterias or other restaurant companies.
Once our suppliers change their infrastructure to support No Antibiotics Ever, it will be easier for others in the industry to make the switch too.
What If a Chicken Gets Sick and Needs Antibiotics?
We take
animal welfare
seriously. Birds that need antibiotics for medical reasons will be treated. But those that are treated – and their entire flock – will first be taken out of Chick-fil-A's supply chain.
Aren't Other Restaurants Doing This Already?
Not all antibiotic-free policies were created equal.
Rather than just serving chicken raised without certain types of antibiotics, which is a common practice, we believe in No Antibiotics Ever. From the egg through the entire life cycle, Chick-fil-A customers can be confident that no antibiotics of any kind have been administered.
No Antibiotics Ever. It means just that. If you want to learn more,
click here for additional information on our No Antibiotics Ever commitment.