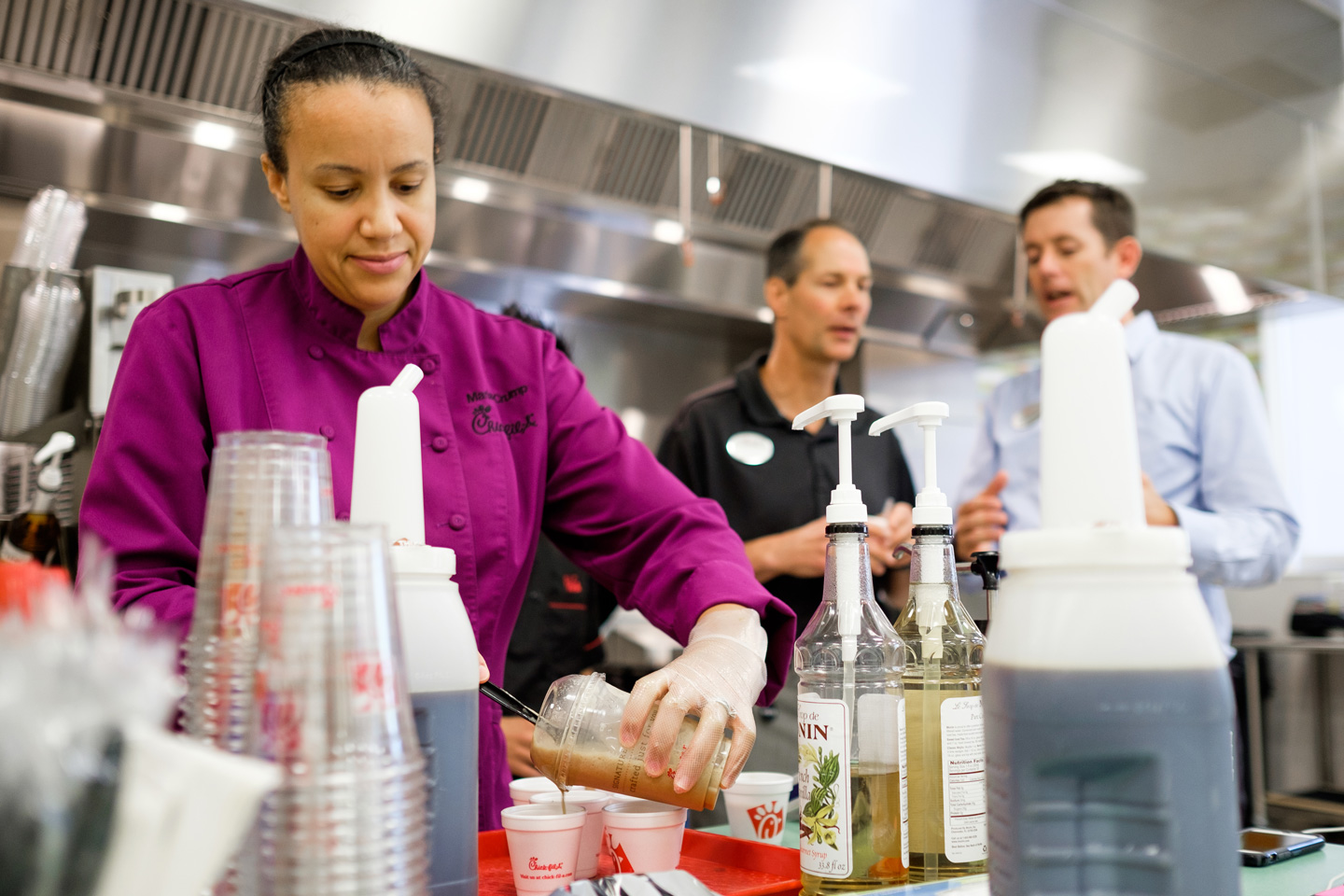 The World May Never Know Chick-fil-A's Cranberry Orange Bagel
Imagine yourself at the counter of your local Chick-fil-A. You walk up and order the usual: A Chicken Sandwich, Waffle Fries and… a Salted Caramel and Triple Chocolate Frappe.

Yes, if fate (and our test kitchens) had gone in a different direction, this decadent coffee treat could have been offered in our restaurants today.

At Chick-fil-A we're always testing out new ideas for our menu, but only a few of these concepts actually make it to the restaurant. Behind classic menu favorites like the Chick-fil-A Chicken Sandwich, or newer additions like the Superfood Side, are a number of recipes that fell short of earning a coveted position on the Chick-fil-A menu.

We asked Chick-fil-A Chefs Christy Cook and Shona Johnson, two of the masterminds behind the Chick-fil-A menu, to share some of their most memorable recipes that have helped Chick-fil-A "fail forward."

Biscuit Cinnamon Rolls

A delicious idea that originated from restaurant team members, the Biscuit Cinnamon Roll combined biscuit dough with cinnamon, butter, and sugar, that was then cut, baked, and topped with icing.

The potential menu item made perfect sense – Chick-fil-A biscuits were already baked fresh in restaurants each morning. It was even included in a customer test in a few cities. So, why did it fail?

"Even though the recipe was simple, it was surprisingly complex to make across all our restaurants," says Chef Christy Cook. "Customers loved how it tasted, but because we couldn't prepare it fresh in our restaurant kitchens each morning and get it right every time, we cut it."

Chicken Quesadilla

Another idea that started with restaurant team members getting creative in the kitchen, the Chicken Quesadilla was made from the Chick-fil-A Chicken Nuggets, cheese, and the tortilla from the Breakfast Burrito. The dish never made it to a taste test in the restaurants.

"We have certain criteria every potential menu item must meet before it's added to our menu," says Chef Shona Jonson.

And while some menu items fail because the taste doesn't measure up, the Chicken Quesadilla was also difficult to meet speed of service requirements. Chick-fil-A strives to serve fresh food fast, and the chicken quesadilla took too long to cook.

Rosemary Garlic Flatbread Wrap
This item actually sparked the first generation of Chick-fil-A's cool wraps. It went through taste tests in markets in Memphis, Orlando and Myrtle Beach, where people tried it but didn't know it was from Chick-fil-A.

"It was very polarizing," Jonson said. "There were lovers and there were haters."

While the rosemary garlic flatbread didn't make the cut, Chick-fil-A later added the Grilled Chicken Cool Wrap, with a multigrain wrap instead.

Cranberry Orange Bagel

This incredible square bagel, served with a breakfast chicken fillet and cream cheese on the side, was being considered for the menu in 2006.

"It was just so far out there, ahead of its time," said Cook, adding, "Often that's what happens. The market isn't ready for it."

While the cooks in the kitchen say it was delicious, Chick-fil-A's raving fans may never know. The breakfast item never made it to a taste test. However, the concept sparked by the doughy dish resulted in Chick-fil-A's popular Chicken, Egg and Cheese Breakfast Bagel.

Salted Caramel and Triple Chocolate Frappe

This decadent treat was tested for a few months in Austin, Charleston and Cincinnati in 2014 and, although it scored well in taste tests, it eventually came off the menu.

"The Triple Chocolate version had a rich coffee flavor, mixed with white and dark chocolate and milk chocolate sauce," said Cook. She added, "We suspect that it, too, was ahead of its time."

Chick-fil-A now serves THRIVE Farmer's coffee, the quick-service industry's first-ever specialty-grade coffee, a designation only the top 10 percent of coffees consumed worldwide meet. It's available hot, iced or frosted!

So, will the salted caramel and triple chocolate frappe make a comeback? While the chefs haven't ruled it out, they won't spill any secrets.