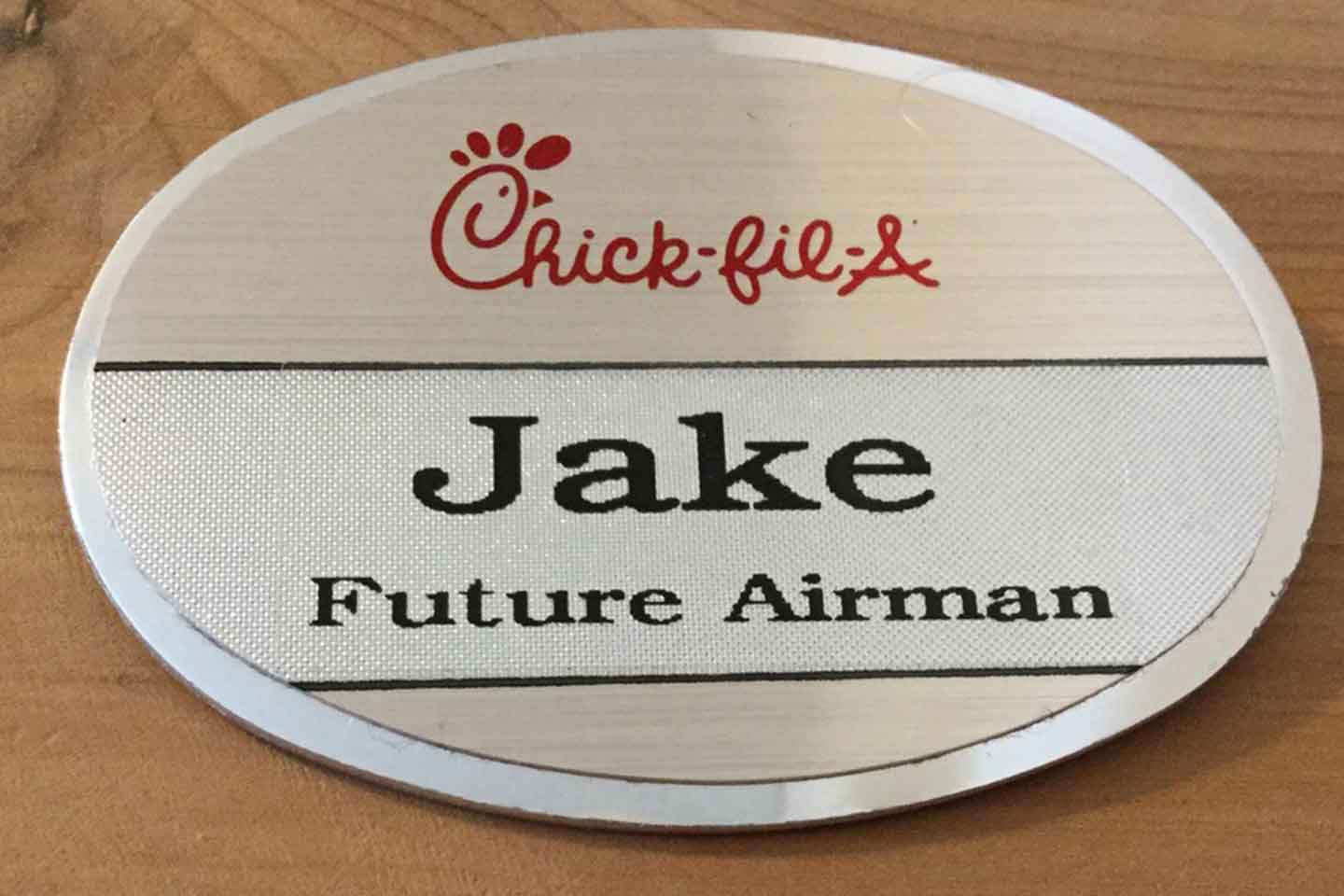 Where everybody knows your name, and your dreams
A name tag typically tells you one thing: a name. It could be the name you were born with or a nickname you've earned over the years, but a name nonetheless.
But if you walk into Operator Joe Weber's Chick-fil-A in Castle Rock, Colorado, you'll notice something different about his Team Members' name tags. The person who's serving you a Chicken Sandwich with Waffle Fries isn't just a "Jessica" or a "Darrell." That person is a "Future Veterinarian" or a "Future Engineer."
Joe's unique name tags allow you to not only know someone's name, but to also know their dreams.
It all started back in April 2017 when guests would comment on the Oklahoma State University alumni pin Joe wore in the Restaurant. This sparked the idea of including Team Members' future career interests on their name tags as a fun way to pique guests' curiosity, generate conversations and create more meaningful connections in the community.
From then on, each person who joined the Castle Rock team received a customized name tag on their first day of work that listed a future ambition. Today, Joe's team consists of future doctors, lawyers, teachers, pilots, pastors, firemen, accountants, actors, scientists, nurses, police officers, musicians, technicians, mechanics, EMTs, and business owners – just like Joe.
"The name tags help our guests slow down and realize this is not just some fast food hourly worker who is helping them – this is a [person] who is learning, growing, and developing skills," says Joe.
The name tags have also helped Team Members feel more welcomed and connected with their fellow co-workers, who see themselves as a work-family and a true second family, too. "We have a family atmosphere here," says Joe. "And if we're going to be a family, we have to recruit and develop great people."
Joe has found that the long-term benefits of working in his Chick-fil-A restaurant have recruited these talented, driven individuals all on their own – benefits that can actually help these individuals reach their future goals.
The unique and well-defined Team Member experience at Castle Rock provides training, coaching, and intentional opportunities for developing a host of skills encompassing teamwork, communication, leadership, responsibility, communication, service, and stewardship. "We don't just say we are providing these values," says Joe. "For our Team Members, it's actually happening."
"These nametags help us make genuine connections between Team Members, Restaurant Leaders, and guests," says Joe. "They've helped us build deeper relationships with each other as we discuss dreams and goals, and best of all, they are helping us grow into the very best version of ourselves."