Chick-fil-A scholarship recipient is working toward a career in politics to make a positive impact
Whether on stage, in the classroom or behind the counter, Chick-fil-A 2019 True Inspiration Scholarship winner Corryn Barnes knows the meaning of hard work.
Following the lead of her supportive parents, Tommy and Diana, Barnes grew up believing that no dream is too big – even one to become the President of the United States.
"Whatever you do, do your best in it, and still carry it throughout the day and tomorrow," Barnes said. "That's the best advice my parents gave me."
Dreaming big
In the family's hometown of Richlands, North Carolina, Barnes followed her mom, president of the local chamber of commerce, to community events, speaking engagements and business openings, sparking a passion for politics and social justice in Barnes. She began dreaming of attending North Carolina State University (NC State) to study politics.
Barnes spent her free time in high school trying to find ways to "do something positive and impactful." She poured her effort into several extracurriculars in high school, including Future Business Leaders of America.
Finding her rhythm
While she was making great strides academically, Barnes faced an obstacle after the loss of her grandfather, her closest companion. The loss resulted in a battle with depression and her withdrawing from family, sports, friends and academics.
Barnes turned to her close-knit family for strength and found an outlet for her self-expression through dance. Without formal training, she was transformed on stage. "Dance helped me express myself when I couldn't find the words to."
A leader in the making
At 15 years old, Barnes applied and was hired on the spot for her first job at Chick-fil-A Western Boulevard. After gaining experience, she went to her parents one day with the aspiration of taking on a Supervisor role at Chick-fil-A Jacksonville Mall, working alongside Operator Pete Burgess.
Timing played an important role in Barnes' journey. After being deferred for acceptance to NC State for the fall after graduation and not being able to afford tuition, she spent a semester in community college and saved money for college by working at Chick-fil-A.
One night she took on an extra shift and bumped into Burgess, who handed her a flier about the Chick-fil-A Scholarship program and encouraged her to apply.
"I'm one person from this small town that no one's ever heard of, so how in the world are they going to pick me?" Barnes asked.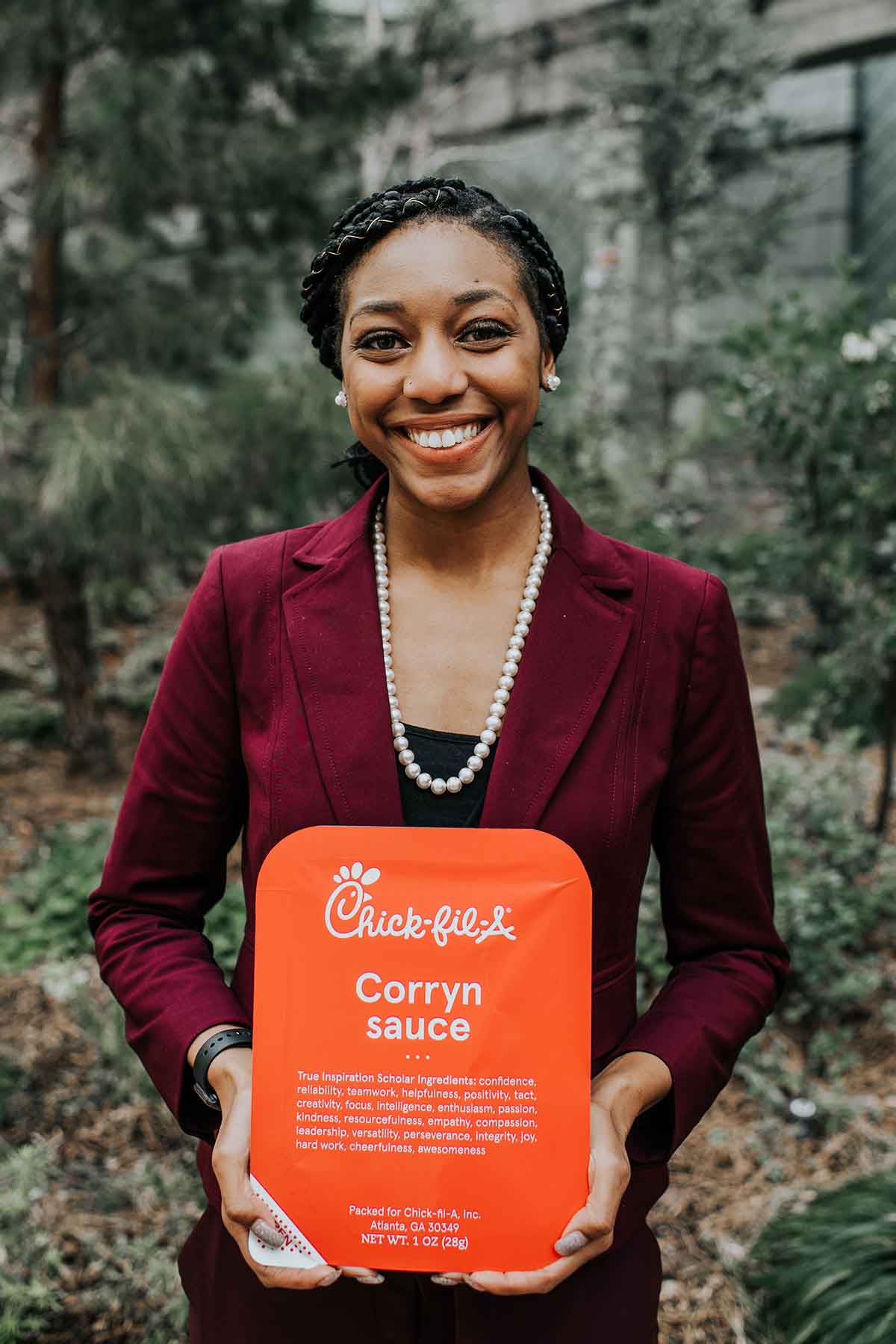 Making the impossible possible
Months later, Barnes and her mother were flown to California with the belief that they were going for an interview with Chick-fil-A Corporate, according to Burgess. Little did they know the next few days would change Barnes' life and open doors of opportunity she'd dreamed of for so long.
When Chick-fil-A CEO Dan Cathy took the stage and announced that the young people with him would receive True Inspiration Scholarships of $25,000, Corryn said everything was in "slow motion." She cried and hugged her mother and Burgess as the confetti fell from the ceiling.
"The impossible dream came true," Diana Barnes said. "I look back every now and then at this magical moment that has happened – to give somebody a chance that couldn't afford a chance is so amazing. I call it the impossible dream that came true."
The True Inspiration Scholarship is part of Chick-fil-A's Remarkable Futures initiative. In 2019, more than 6,000 Team Members received $15.3 million in scholarships. Since 1973, nearly 53,000 Chick-fil-A Team Members have been awarded $75 million in scholarships.