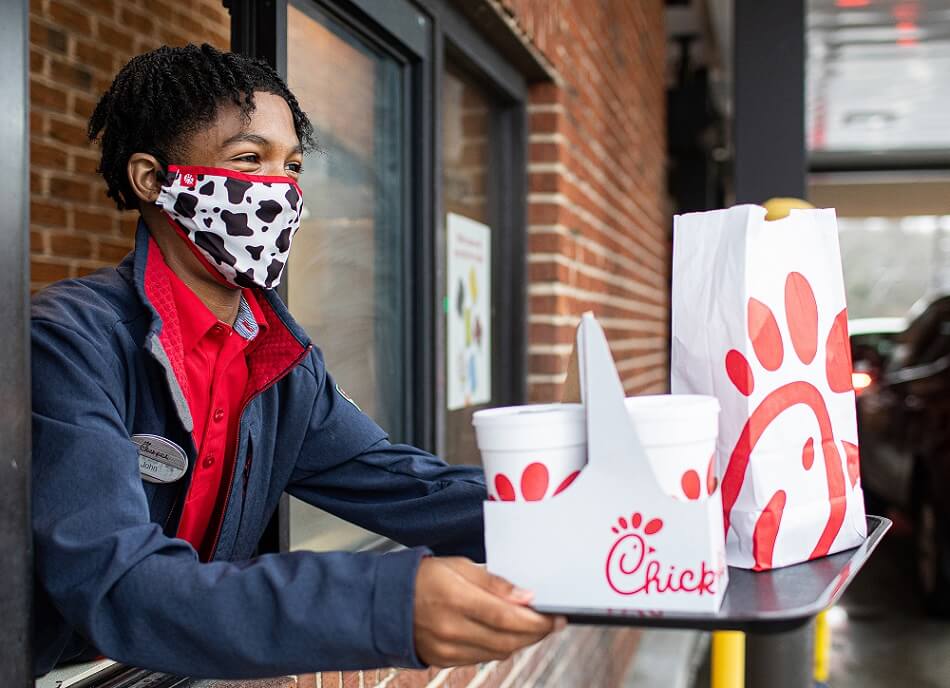 The drive-thru experience is all a game of seconds
Over the past year, the concept of the "drive-thru" has taken on new meaning in our lives. The drive-thru has allowed people to safely celebrate milestones and everyday moments; what used to be in-person celebrations and routines have pivoted to drive-thru, from graduations to birthday parties to shopping.

The drive-thru has been a part of Chick-fil-A restaurants for more than 30 years, and, like the breaded chicken and two pickles in our Chick-fil-A® Chicken Sandwich, it is a crucial ingredient in restaurant operations. And, like the rest of our business, the drive-thru has evolved with new technology and innovation to both expedite and elevate the experience for guests with the speed, safety and hospitality they've come to expect from Chick-fil-A.

According to Artie Sposaro, who leads the Chick-fil-A Drive-Thru Innovation Team, "In order to reach our top speed for getting guests through our drive-thru while keeping our Team Members and customers safe, we believe everything matters. This includes being intentional with every person, every second and every part of the process."
Always improving the process
Though the drive-thru may seem like one continuous experience to customers, it is actually a series of processes and the Chick-fil-A Drive-Thru Innovation Team is always looking to improve every step. This mindset meant local restaurant Operators were able to act quickly at the onset of the 2020 global pandemic, when dining room closures lead to increased demand for carryout and drive-thru.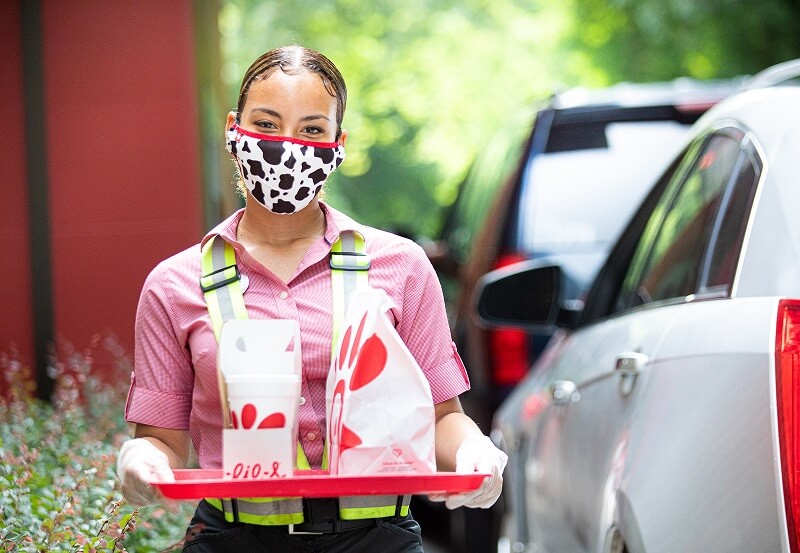 Historically, the Chick-fil-A Drive-Thru Innovation Team has improved drive-thru processes by going as far as building full-scale drive-thru mockups at the Chick-fil-A headquarters in Atlanta. Yes, seriously — with real cars and real customers. Testing with actual customers and vehicles has proved to be a helpful step to getting everything right before innovations roll out to thousands of restaurants.
During the pandemic, the team had to make significant adjustments to continue this work virtually to ensure, as always, new innovations would be beneficial for guests, Team Members and local franchised restaurant Operators.
Adapting to the unexpected
Across the nation, restaurant Operators and their Team Members have doubled down on their dedication to serve customers in the drive-thru and through curbside service as most Chick-fil-A dining rooms remain closed. During what has been a challenging year for all restaurants, restaurant teams have worked tirelessly to share a smile through their masks and deliver a seamless, contactless ordering experience.
"When the pandemic began, we rallied," Sposaro said. "We immediately pulled together a team of innovators to reset most of our service practices outside, given dining rooms were closed. Between the guidance offered by the team at the Chick-fil-A Support Center and our innovative Operators, drive-thrus have expanded and excelled during the pandemic. Through it all, safety for our Team Members and care for our guests were fundamental design principles."
Some of the changes included adding extra drive-thru lanes, expanding order-taking with tablets, and expanding both curbside pickup and delivery options.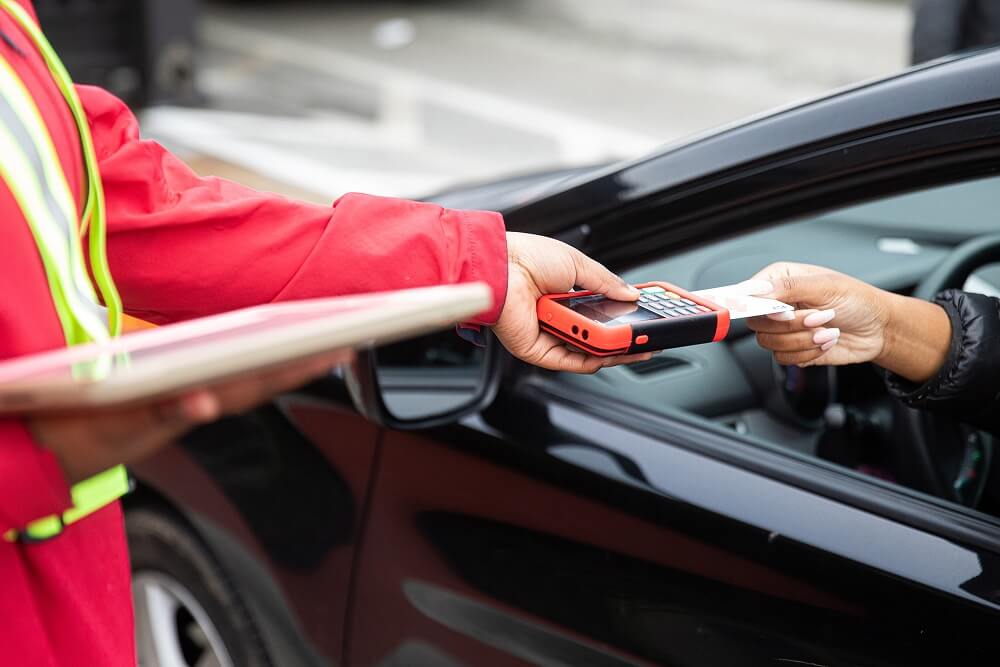 How technology helps us speed up
With most Chick-fil-A restaurants sometimes serving over 100 cars per hour in the drive-thru during peak hours, the Drive-Thru Innovation Team knows that placing orders is an integral part of the drive-thru experience. That's why customers often see Chick-fil-A employees walking the drive-thru line armed with tablets.
The technology allows Team Members to take a customer's order and relay it to the kitchen, allowing cars to move through more quickly than they do at a traditional speaker box drive-thru. Chick-fil-A calls the system "Face-to-Face Ordering".
"It's a great way for us to get really high volumes of orders to the kitchen early and cars through the drive-thru extremely efficiently," says Sposaro. "It's also a way for us to give customers personalized service in a place they may not expect it."
Face-to-Face Ordering, like many drive-thru innovations, was first developed by Chick-fil-A franchise Operators and then refined by the Drive-Thru Innovation Team.
"Long before we had the technology to support it, Team Members would write down customers' orders in the drive-thru and call them in on cell phones," says Sposaro. "The best ideas often come from our restaurant Operators and Team Members."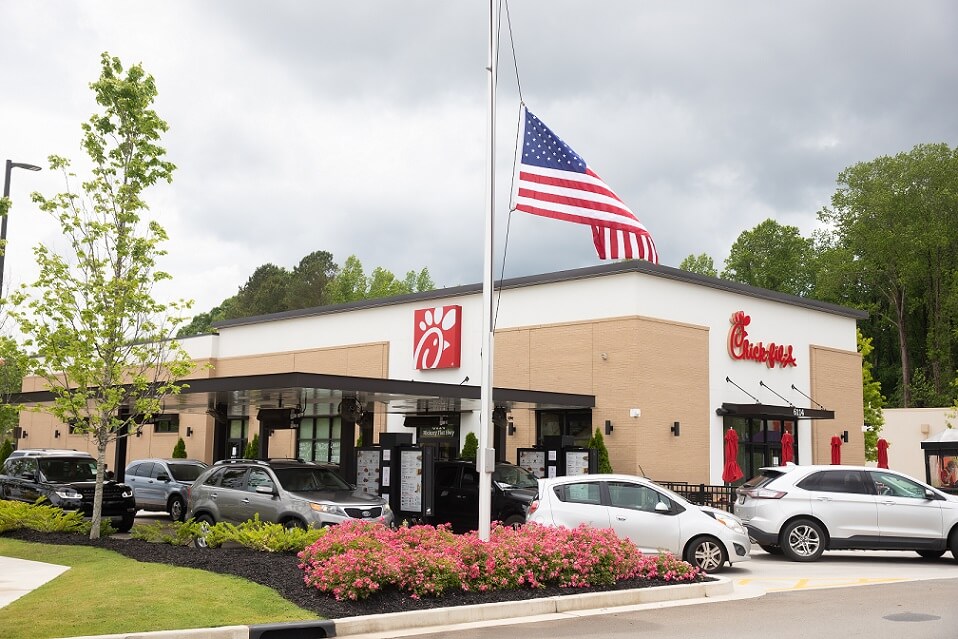 New technology was also needed to help Team Members go beyond the drive-thru window for meal delivery. The Chick-fil-A Drive-Thru Innovation Team developed and deployed what is now called 'outside meal delivery' — an effective way for Team Members to deliver meals to multiple cars at once outside rather than one car at a time at the window. This new process allowed restaurants to balance order-taking and meal delivery at a higher volume of vehicles per hour.
But drive-thru innovation doesn't end with the technology or techniques Team Members use — it even extends to the uniforms they wear. To ensure Team Members working in the drive-thru line are comfortable in any weather, Chick-fil-A has partnered with clothing brands that design military-spec cooling vests and moisture-wicking uniforms for the summer, thermal options for the winter and more. Restaurants have also added canopies with heaters and fans for Team Members.
Additionally, local franchised Operators are taking extra measures to keep Team Members safe during the pandemic, including offering frequent breaks, providing PPE, conducting wellness checks, and setting up hand-washing stations.
How can you order?
Delivery has become widely available nationwide at more than half of Chick-fil-A restaurants nationwide, including contactless delivery offered via delivery partners and at several hundred restaurants by Chick-fil-A Team Members.
Guests can order and pay via the Chick-fil-A website or Chick-fil-A App for an even more convenient drive-thru experience. Guests across the country have the ability to order ahead and pick up their meals through curbside delivery or through the drive-thru.
"We know our drive-thru can occasionally look daunting, but we work to maintain our guests' trust," says Sposaro. "Our job is to make their experience perfect as many times as possible."