This year, Chick-fil-A awarded a total of $19 million in scholarships to help Team Members achieve remarkable futures
This spring, Chick-fil-A invested $19 million in restaurant Team Members' continuing education, awarding college scholarships to 7,492 Team Members in 44 states, Washington D.C., and Canada. Of those, 12 incredible Team Members received a life-changing scholarship of $25,000.

To surprise these 12 Team Members, Chick-fil-A invited them to join what they thought was a virtual retreat on March 17. Little did they know, Chick-fil-A Chairman and CEO Dan Cathy would crash the retreat to share the news that they each were receiving $25,000 to further their education.

Watch the video to see this heart-warming surprise and get to know this year's $25,000 scholarship recipients below.
Amanda Rumley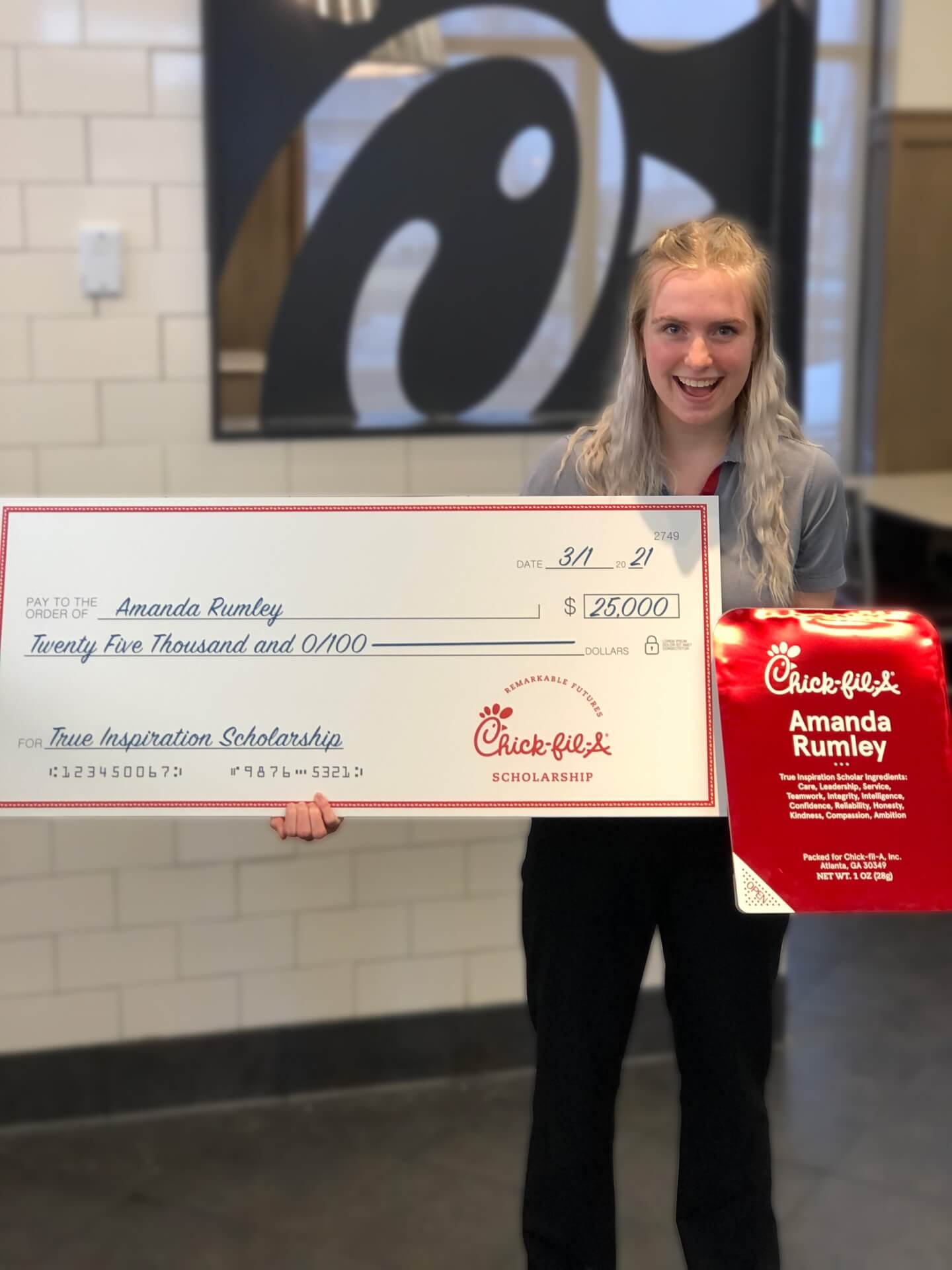 Torn between pursuing education or enter the work force, Amanda chose ultimately to follow her dreams. Now with her scholarship, she can pursue a Bachelor of Science in biology with a minor in chemistry. Amanda hopes to attend medical school and serve the world through medical mission trips to administer care to those in impoverished communities.

During her time at Chick-fil-A Veterans & College in Normal, Illinois, Amanda has led with compassion and sets a great example of hard work for others. She has recruited many fellow Team Members and works each day to encourage them to achieve their dreams.
Anthony Washington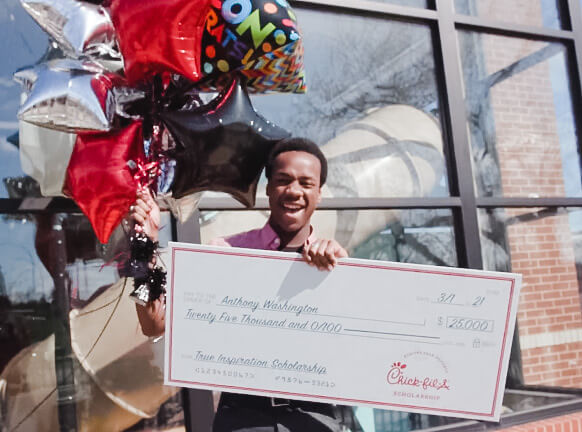 Anthony doesn't intend for his dreams to hit a flat note. Since he was young, he has wanted to pursue a career in music. For years he has helped support his family, and now, as he heads to Cornell University to study music, he will be able to receive the music theory training he's dreamed of. He hopes to receive his Doctorate of Music Education and become a music professor, to instill his passion for music with his future students.

The youngest ever Team Leader at Chick-fil-A I-20 and Little Road in Arlington, Texas, Anthony leads with enthusiasm and determination.
Emiya Diaz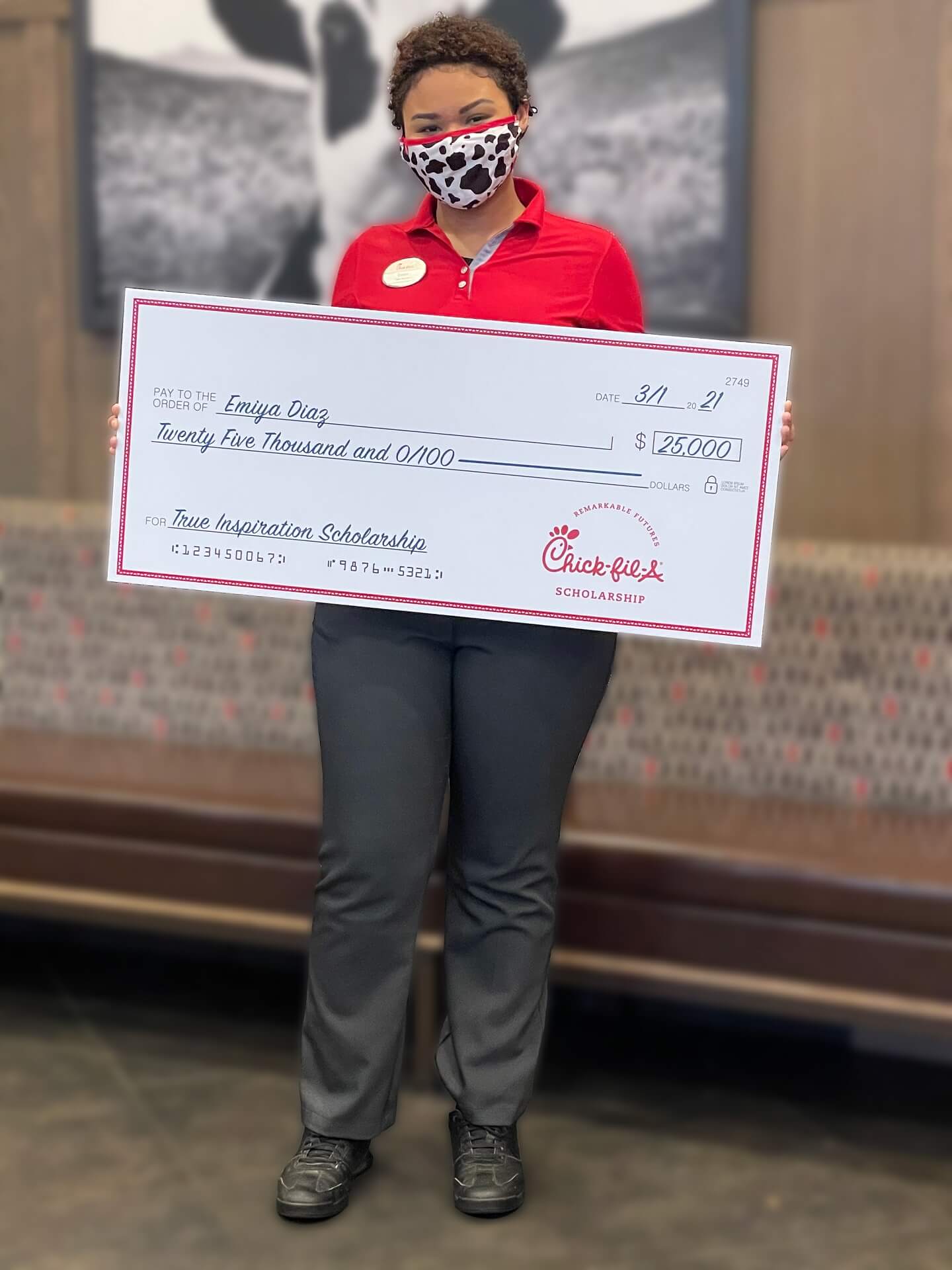 For a woman with dreams of becoming a journalist, Emiya is doing a wonderful job writing her own story. As the oldest child in her family, Emiya has worked tirelessly to set an example of success for her siblings. She's not only the co-founder of her family's nonprofit, but she is also a poet and dedicated writer who has maintained excellent grades throughout high school. Among many career goals, she aims to become a poet and journalist to touch the hearts of people across the country.

Emiya is a member of the evening team at Chick-fil-A Dulles Town Crossing in Sterling, Virginia, and will attend Howard University in Washington, D.C. this fall.
Estefanny Perez-Martinez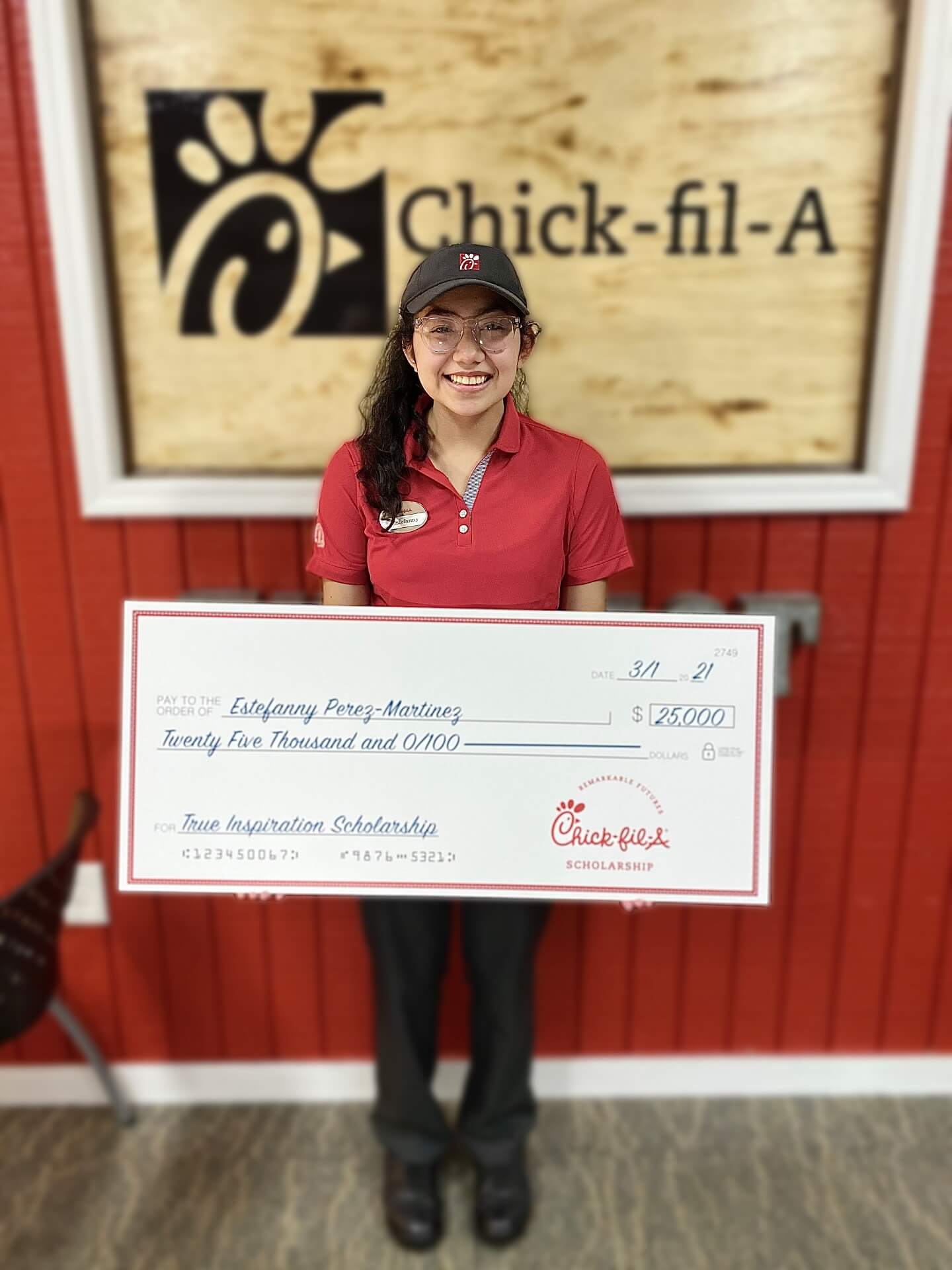 Estefanny has overcome many obstacles, but she's never let that stop her from accomplishing her goals. From a young age, she has dreamed of becoming a judge and has always envisioned a future where she can help others regardless of their background. With her scholarship, Estefanny plans to study accounting and pre-law at Emory this fall.

Today, Estefanny is known for giving 100% at Chick-fil-A Bankhead Highway in Carrollton, Georgia.
Jacob Munton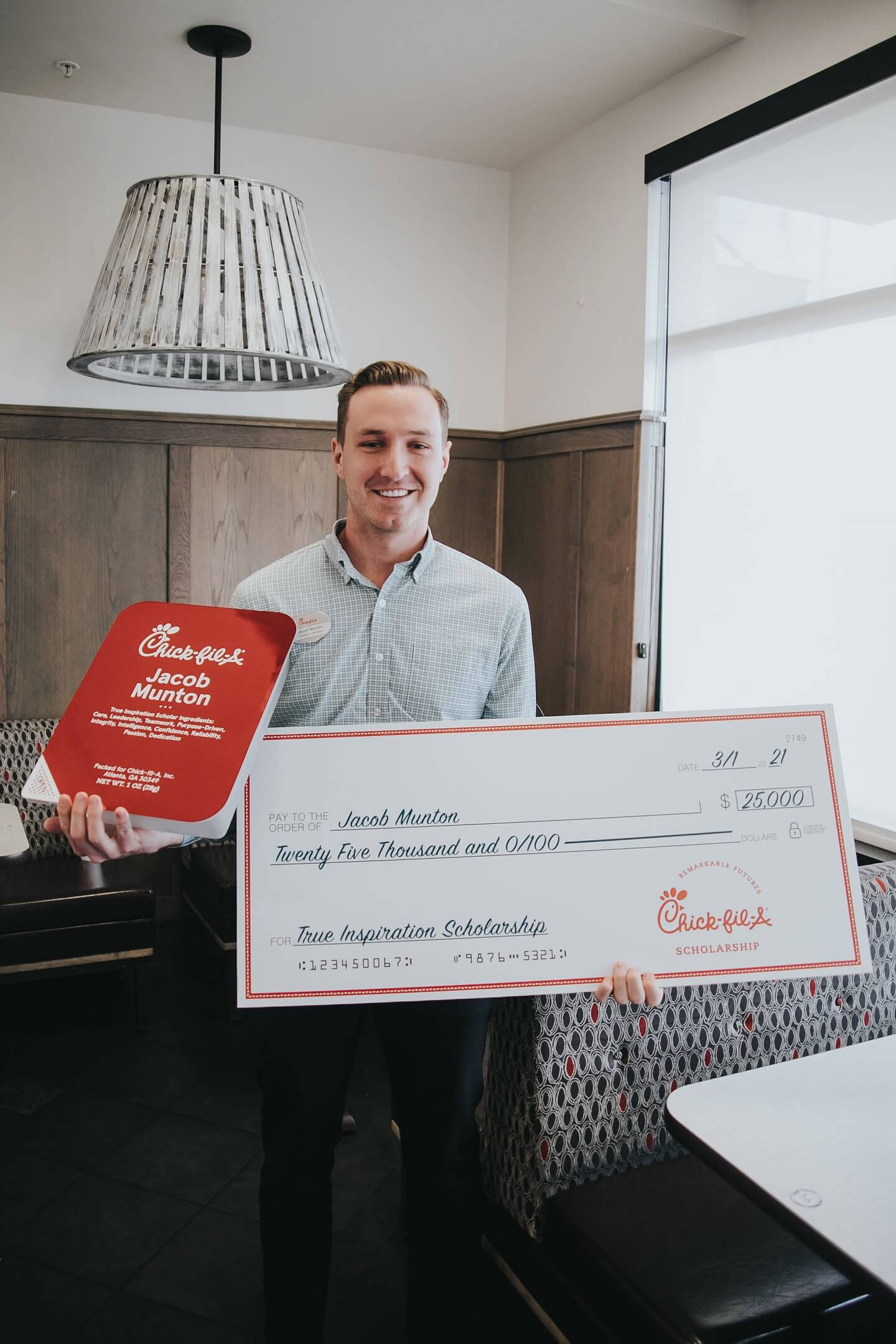 One word that describes Jacob is "leader." As someone whose goal is to uplift and inspire those around him, Jacob makes it a point to establish meaningful and authentic relationships with classmates and coworkers. After overcoming family obstacles in high school, Jacob enrolled at Brigham Young University and married his wife, starting a family of their own. He has a dream of finishing his education with a degree in Human Resource Management with the goal of becoming a Chick-fil-A Operator one day.

Jacob is currently director of training, food safety and quality at Chick-fil-A Spanish Fork in Spanish Fork, Utah, and works each day to ensure that all food safety processes are followed properly.
Jaquise Roy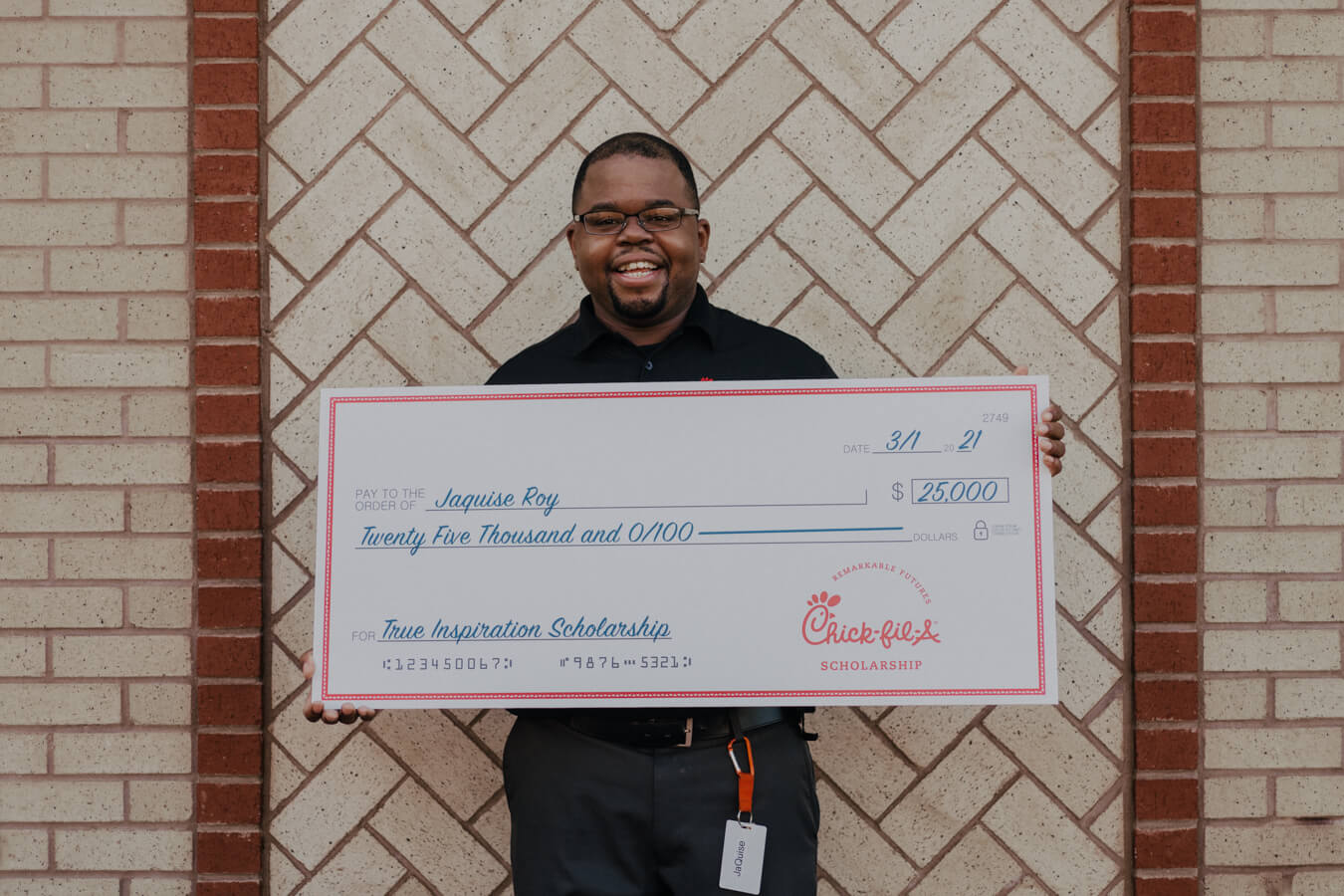 Perseverance and determination describe Jaquise and his work ethic. Jaquise attends Stautzenberger College and is majoring in human resources. He has a passion for positively impacting his community and normalizing second chances in life, all with contagious enthusiasm and a positive attitude.

Jaquise recently transitioned from kitchen manager to serving guests in the drive-thru at Chick-fil-A Airport Highway in Holland, Ohio, to further his development in the company. He will graduate from college in 2022.
Jesus Negrete-Charles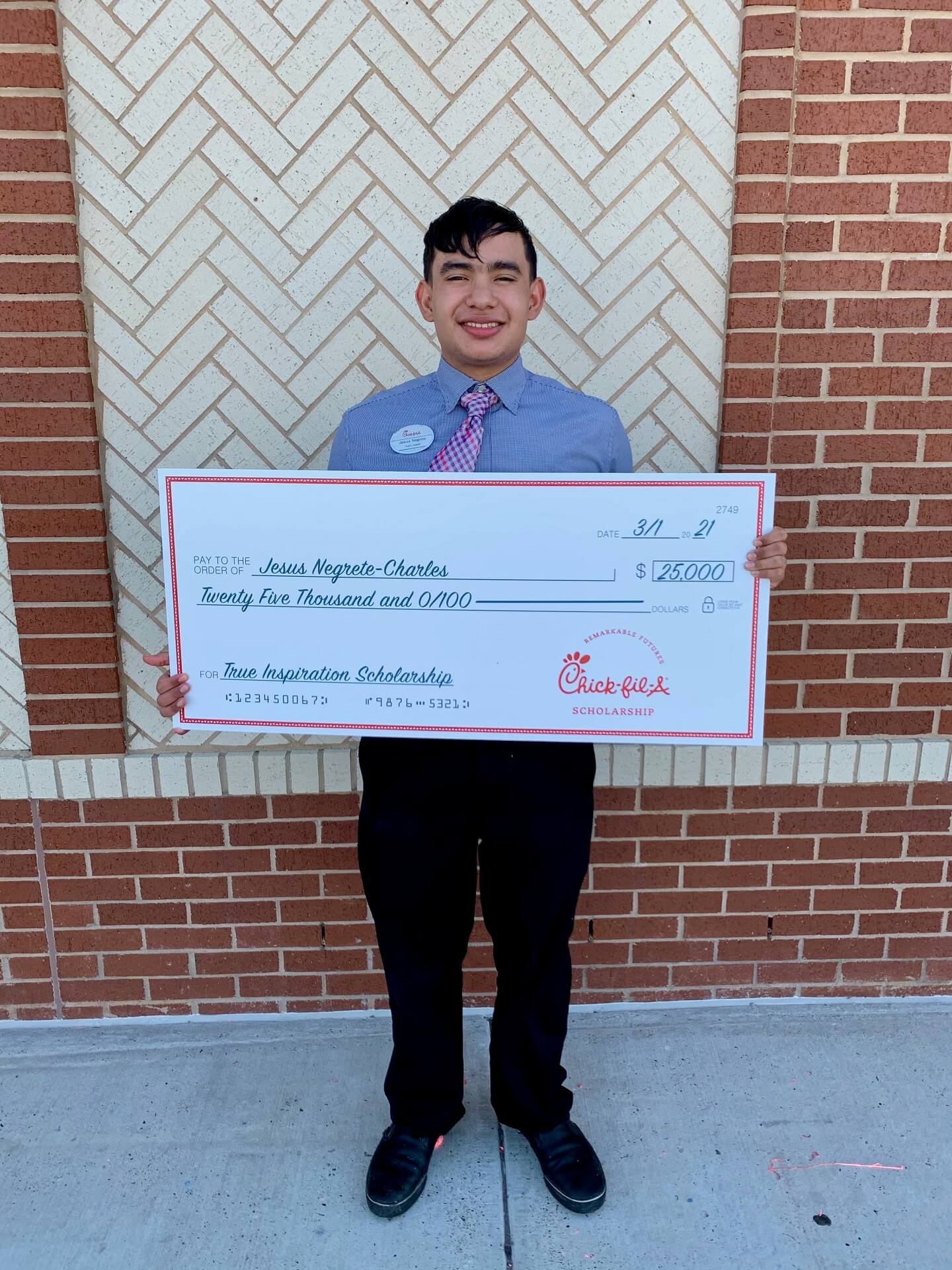 Integrity and servitude are two words to describe Jesus. After overcoming a particularly challenging year due to the pandemic, Jesus has remained steadfast in his dedication to his studies, job and ministry as a worship leader. Each day, he supports his family and serves as a leader in the classroom and amongst his team at the restaurant. He is currently earning his associate degree and will use his scholarship to attend a four-year university in hopes of studying physical therapy.

Fueled by a passion for motivating others to become the best they can be, Jesus wants to be a physical therapist while managing his own gym. He currently serves as a Team Leader at Chick-fil-A Eagle Pass in Eagle Pass, Texas, and is known for his optimism and willingness to serve.
Karina Juarez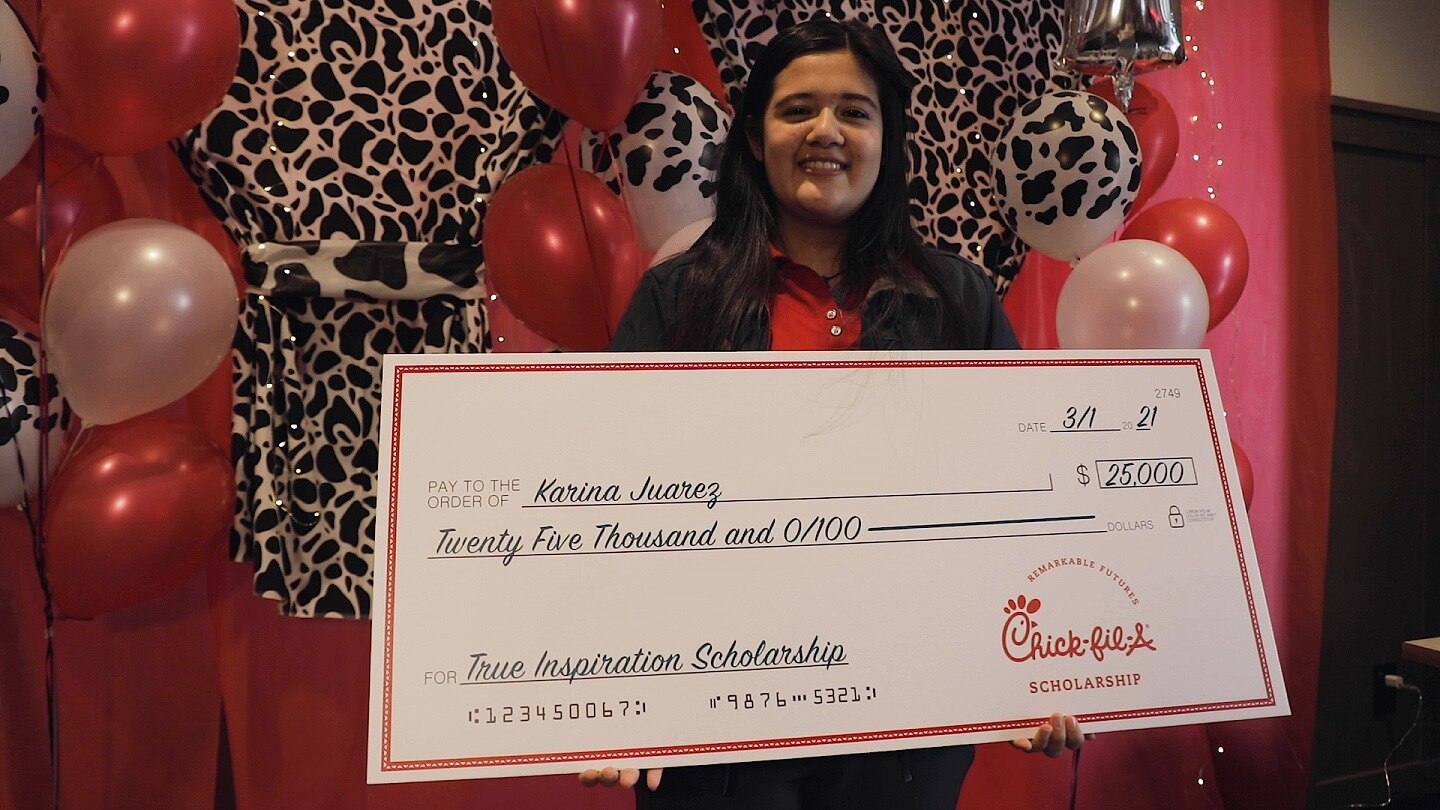 For Karina, the Chick-fil-A way of providing outstanding service to all is carried out both inside and outside the restaurant. She hopes to complete her college education at the University of North Carolina at Greensboro with a Bachelor of Science in nursing. She dreams of taking her skill and passion for helping others to developing countries like Bolivia, helping the less fortunate through low or no cost medical care.

Karina loves to serve not only her fellow Team Members at Chick-fil-A Gate City in Greensboro, North Carolina, but also guests and members of her community. She is described as loving, graceful and reliable – qualities she embodies while caring for those around her.
Mya Jara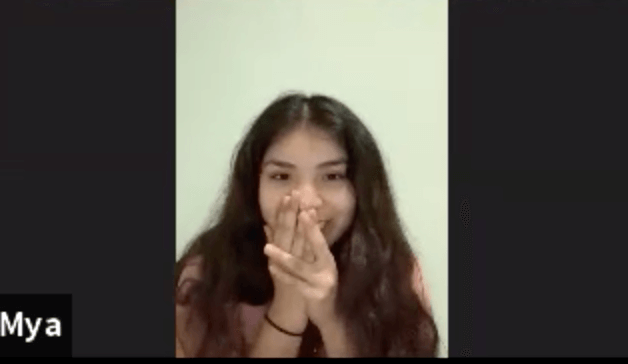 After facing several years of challenges and sacrifices for her family, Mya is ready to spread her wings and take on the world of higher education. Maintaining honor roll status throughout her four years of high school, Mya's dream of attending an out-of-state college is now a reality with her scholarship. Upon high school graduation this spring, Mya plans to pursue a bachelor's degree in social work in hopes of earning her masters and becoming a medical social worker.

Mya's ability to lead and show compassion toward others has made her an outstanding addition to Chick-fil-A Glastonbury in Hartford, Connecticut.
Skylar Lund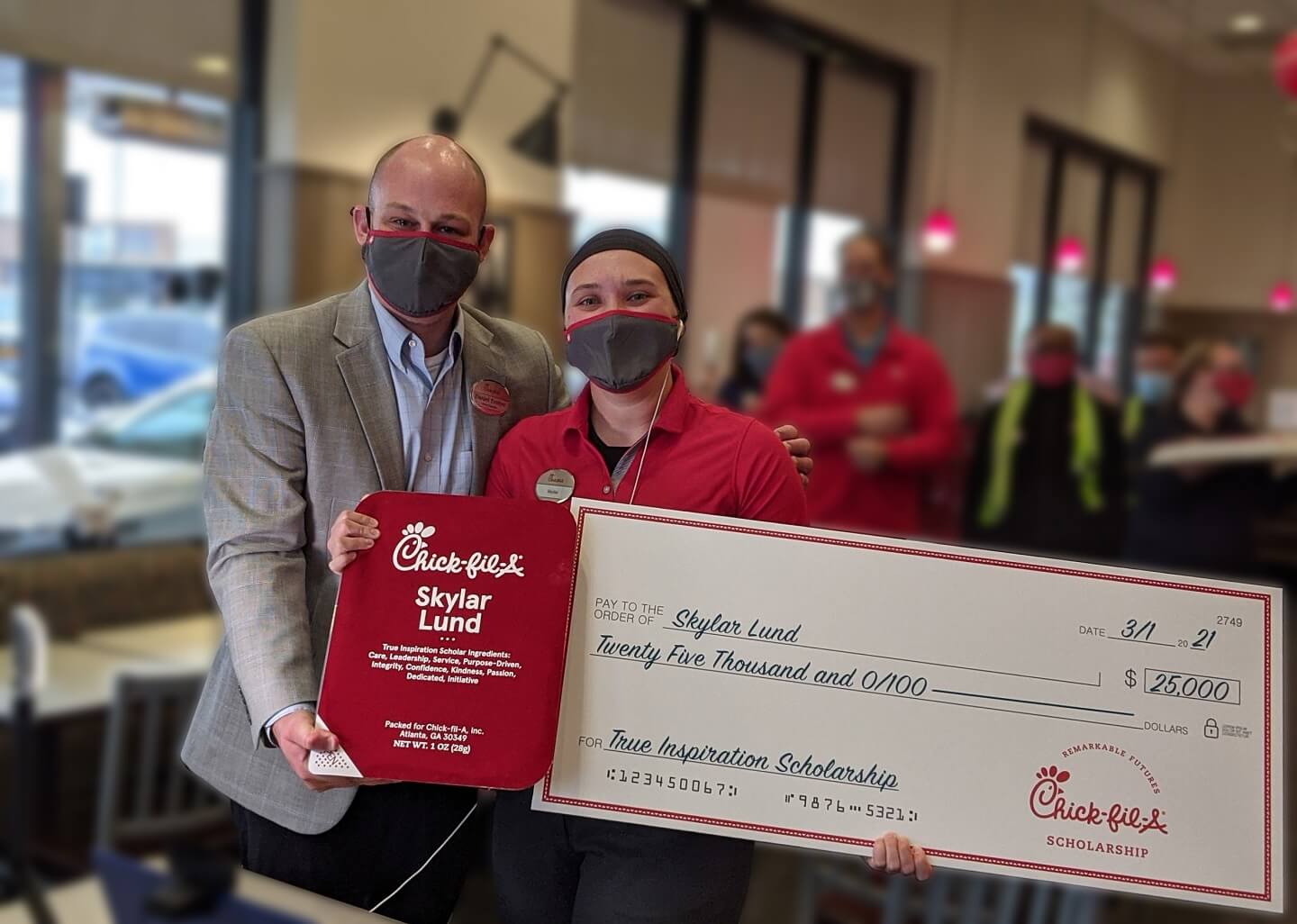 Those who work with Skylar say that she has a heart for connecting with others and making them feel heard. In addition to her role at Chick-fil-A Scottsdale 101 in Phoenix, she's also a full-time student at Johns Hopkins University working towards her master's degree in nursing to become a pediatric oncology nurse. She aspires to contribute to a 100% survival rate for childhood cancer patients.

Skylar is described as one who takes initiative and aims for success. She currently serves as a driver for Team Member Delivery.
Trevor Sconyers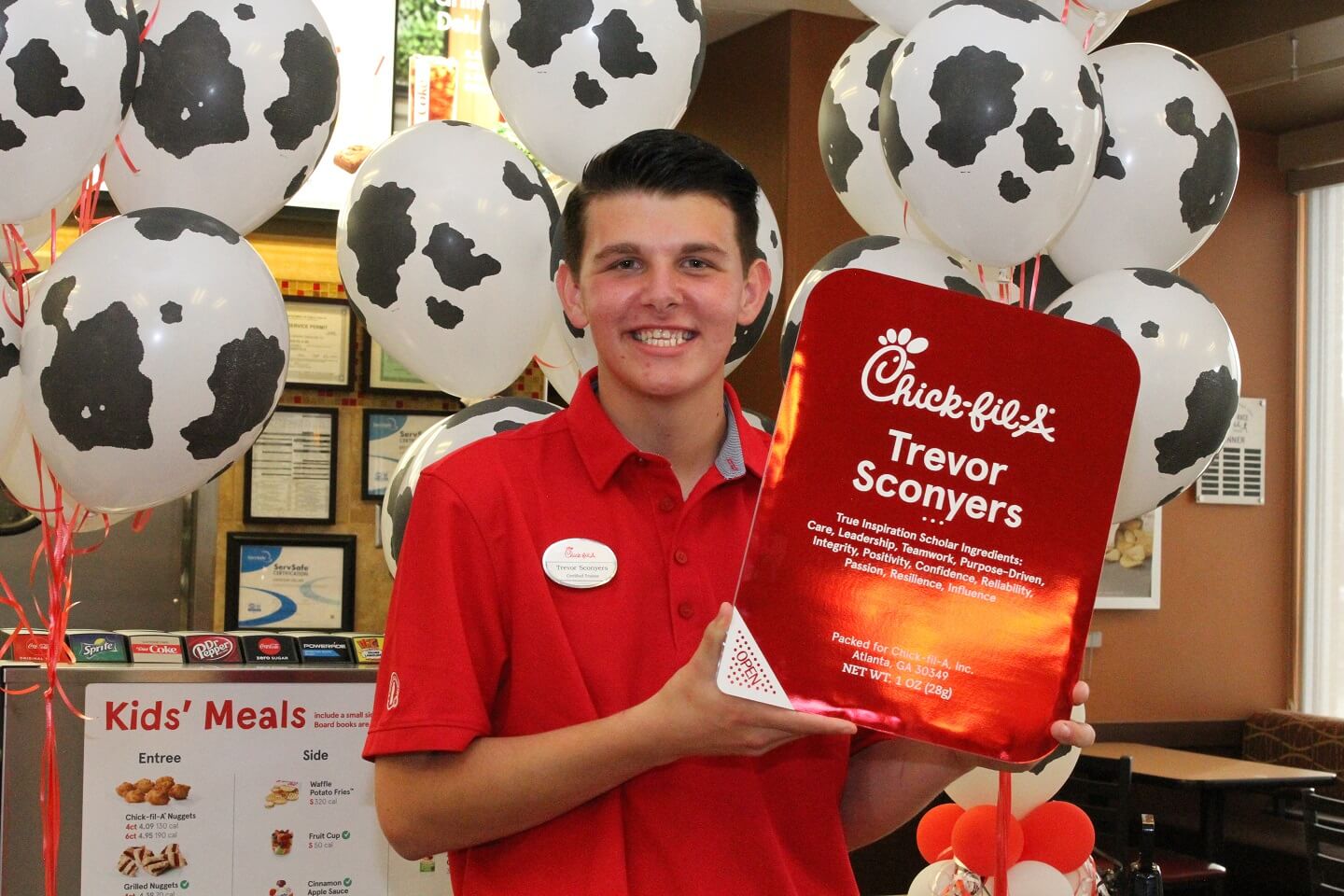 Simply put, the word "impossible" isn't in Trevor's vocabulary. After overcoming adversity in his adolescence, Trevor has made it a daily goal to make a positive impact on those around him. Currently a freshman at Georgia Southern University, Trevor is studying to earn his Bachelor of Business Administration in accounting, along with a minor in finance and nonprofit management. Trevor currently commutes an hour to GSU to help his family and care for his little sister, but thanks to his scholarship, he can now move closer to campus and fully invest in his academic success.

Trevor's positivity has been described as "infectious" by many as he spreads smiles in his role as Trainer at Chick-fil-A Vidalia in Vidalia, Georgia. He has an expected graduation date of 2024 and hopes to become an accountant, obtain his CPA license, and become a tax attorney, in addition to becoming a keynote speaker for youth.
Zachary Redick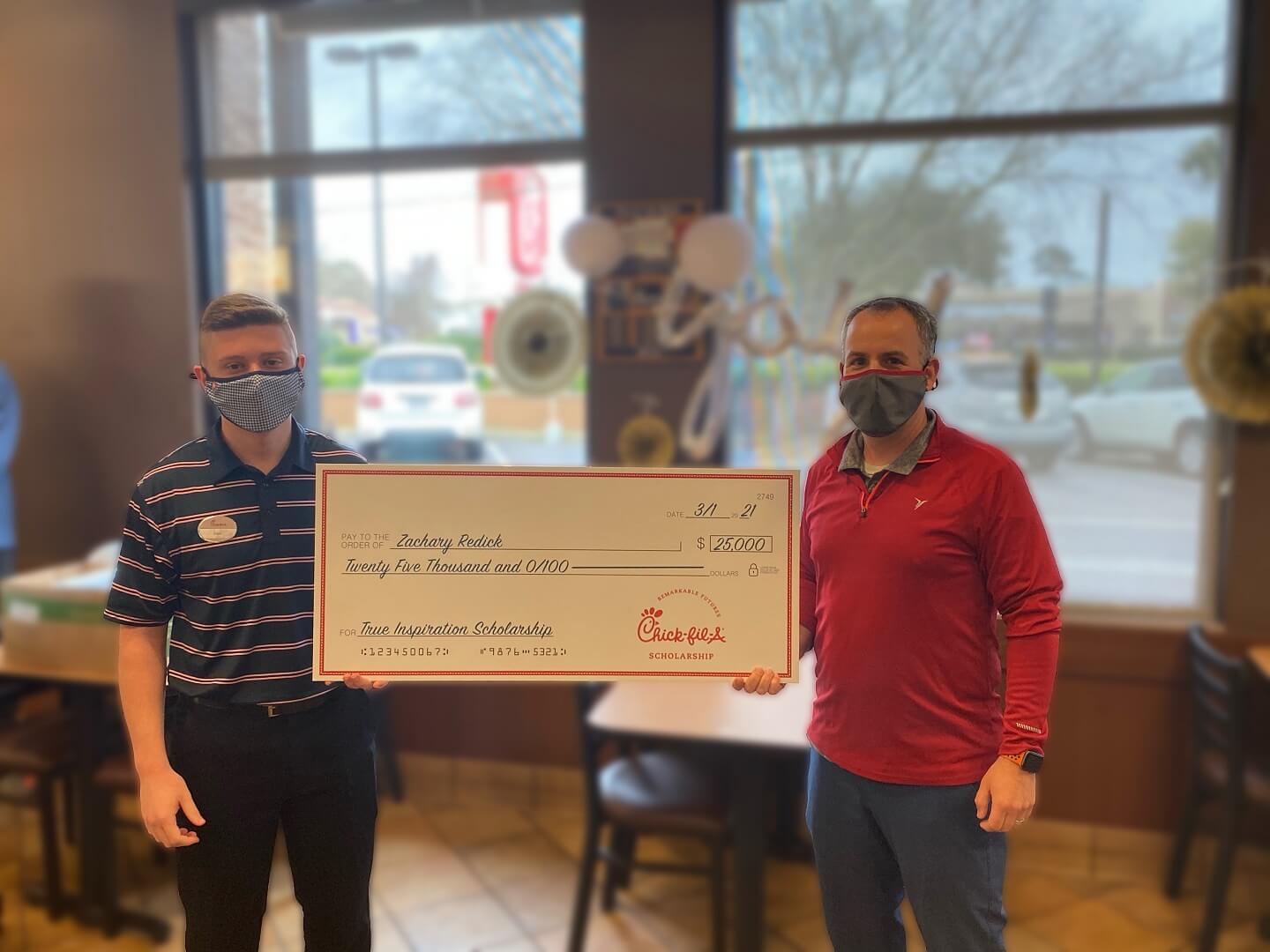 Although Zachary has faced hardships in the last few years, he still has made his education a priority. A current college junior, Zachary is studying to earn a degree in business management and hopes to graduate magna cum laude in the spring of 2022 from Coastal Carolina University. After he graduates, Zachary aims to land an internship and tackle the corporate world with determination.

Zachary's business knowledge and drive have been assets to Chick-fil-A James Island in Charleston, South Carolina. His fellow Team Members have seen him grow exponentially throughout his time at the restaurant.