How a Chick-fil-A® Team Member and young guest bonded over their heart transplant journeys
Brian Middleton was working at Chick-fil-A in Chandler, Arizona in the fall of 2019 when his Operator, Scott Yarbrough, introduced him to a 14-year-old customer who had something very special in common with him.

Brian and Shae Veach had received heart transplants a year apart.

"I'd been following Shae's story since he was a baby…his whole life has been a fight to survive," said Scott, who previously worked with Shae's father for the Chandler Police Department. "Brian is such an awesome guy, and I knew he'd be a positive influence on Shae."

Like a big brother

They met a few weeks after Shae's surgery and clicked right away, trading jokes and laughs between stories about food, cardiac therapy, medication and more.

"Shae had this bounce-back energy about him," recalled Brian, now 34. "I could tell he was smiling, even behind his mask, which impressed me. Because that's not always what you see with people who've just had a heart transplant."

He continued, "I told him I'd gone through literally everything he was going through and stressed that he could ask me anything. As tough as it was for me as an adult, I just couldn't fathom having a heart transplant at such a young age."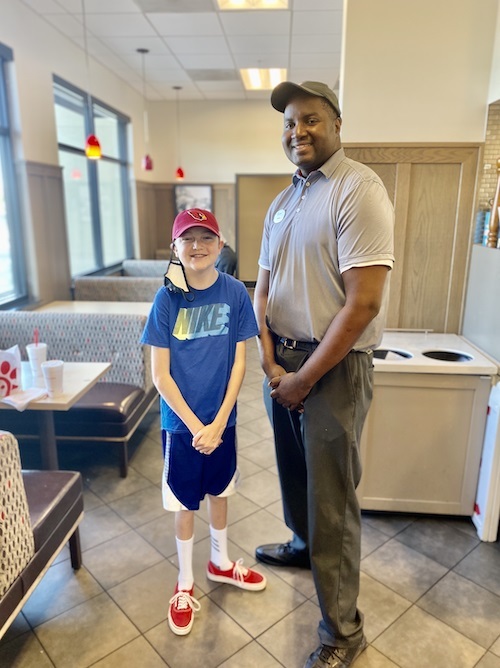 Shae and his parents would swing by Chick-fil-A Chandler after nearly every doctor's appointment, and Brian was always there with a smile and a few words of encouragement.

"Just being able to ask him questions made everything easier and helped me get through it a lot faster," Shae said. "He's been almost like a big brother to me."

Different paths, shared journey

Shae was born with hypoplastic left heart syndrome, a rare defect that prevents the heart's left ventricle from pumping blood sufficiently. He had his first surgery when he was five days old. However, this severe condition never slowed down Shae, whose parents and four older brothers are all athletes. "I've always been active and loved sports," he said. "I never stopped myself just because I had a heart problem."

One week in August 2019, Shae felt tired, weak and dehydrated, with little appetite. "I just thought I was sick, but my mom decided to get me checked out at the hospital," he said. "They gave me a bunch of meds to keep me going for about a week, but sent me home because they thought I was okay."

Four days later, he was readmitted to the ICU in Phoenix, where doctors determined his heart was failing and he needed a transplant. Within a few weeks, he found a match and successfully underwent surgery.

Brian's heart transplant journey started a year earlier, in September 2018. He was living in Jacksonville, Florida, when he suffered congestive heart failure following an undiagnosed illness. "I was playing basketball — go figure — with this heart, up until the day before I went to the hospital," he recalled. "Everybody on the court that day was like LeBron James," Brian recalls. "And if you've ever played at the YMCA or the local park, you know there are no LeBrons! Everybody was blowing past me, and I couldn't get my breath."
Brian's doctors decided to fly him to Arizona where he'd have a better chance at finding a heart quickly. He received a transplant a month to the day after checking into the hospital.
A strong future
Both Brian and Shae are feeling great. "I'm definitely faster, stronger and more athletic," said Shae, 17, who recently joined his high school football team. "It's amazing to feel the difference."
Brian adds, "It's amazing when you get a healthy heart and get back to feeling like your old self or, in cases like ours, much better than ever because you don't know how long you've been feeling less than 100 percent."
When they learned their Chick-fil-A #thelittlethings commercial would debut during the NCAA College Football National Championship telecast on January 10, Shae texted Brian, who's back in Jacksonville working as a sports radio host.
"We have several TVs in the studio, so I teased the guys saying, 'If you see somebody that looks like me but a little lighter and with less hair, that's me'," Brian joked. "When it came on, my phone blew up with messages and calls from people I hadn't talked to in 15 years."
Shae invited a few friends over to his house to watch the game and witness his 30 seconds of fame. "We all gathered around with our phones and freaked out when it came on," he said. "It was awesome."
More than a moment
Brian says that while he'll certainly never forget seeing their story come to life on national TV, what he cherishes most is the opportunity to connect with Shae and his family.
"One of the most important ways to lead is through mentorship," Brian said. "I still remember people who played a big role in my life, even for just a short period of time and helped shape my decision-making and the man I am today. So, for me, being there for somebody who is basically half my age at such a critical time in his life was a great experience."