The $50K Eddie White Servant Leadership Award is largest in the initiative's 50-year history
Chick-fil-A, Inc. celebrated the 50th anniversary of its scholarship giving by awarding a $50,000 scholarship named for the first scholarship recipient at Chick-fil-A. The Eddie White Servant Leadership Award is the largest scholarship ever awarded by the company.
The original scholarship recipient
Eddie White worked at the Dwarf Grill, the precursor to today's Chick-fil-A® restaurants, where he was mentored by Chick-fil-A Founder S. Truett Cathy. In his senior year of high school, Eddie received a partial scholarship to Morris Brown College, but couldn't accept it because of his obligation to help support his family. In response, his coworkers labeled a mayonnaise jar with Eddie's name and solicited community donations to raise the needed funds. This inspired Truett to cover the rest of the tuition balance, leading to the eventual creation of the Remarkable Futures™ Scholarship initiative.
Eddie went on to become a teacher and was named Assistant Superintendent of Clayton County Public Schools, later serving on the Clayton County Board of Education.
"I didn't know it at the time, but my decision to take an after-school job with Mr. Cathy was a pivotal moment in my life," says Eddie, now 87. "He made it possible for my dreams to come true and I'm very humbled to be honored in a way that will help others like me."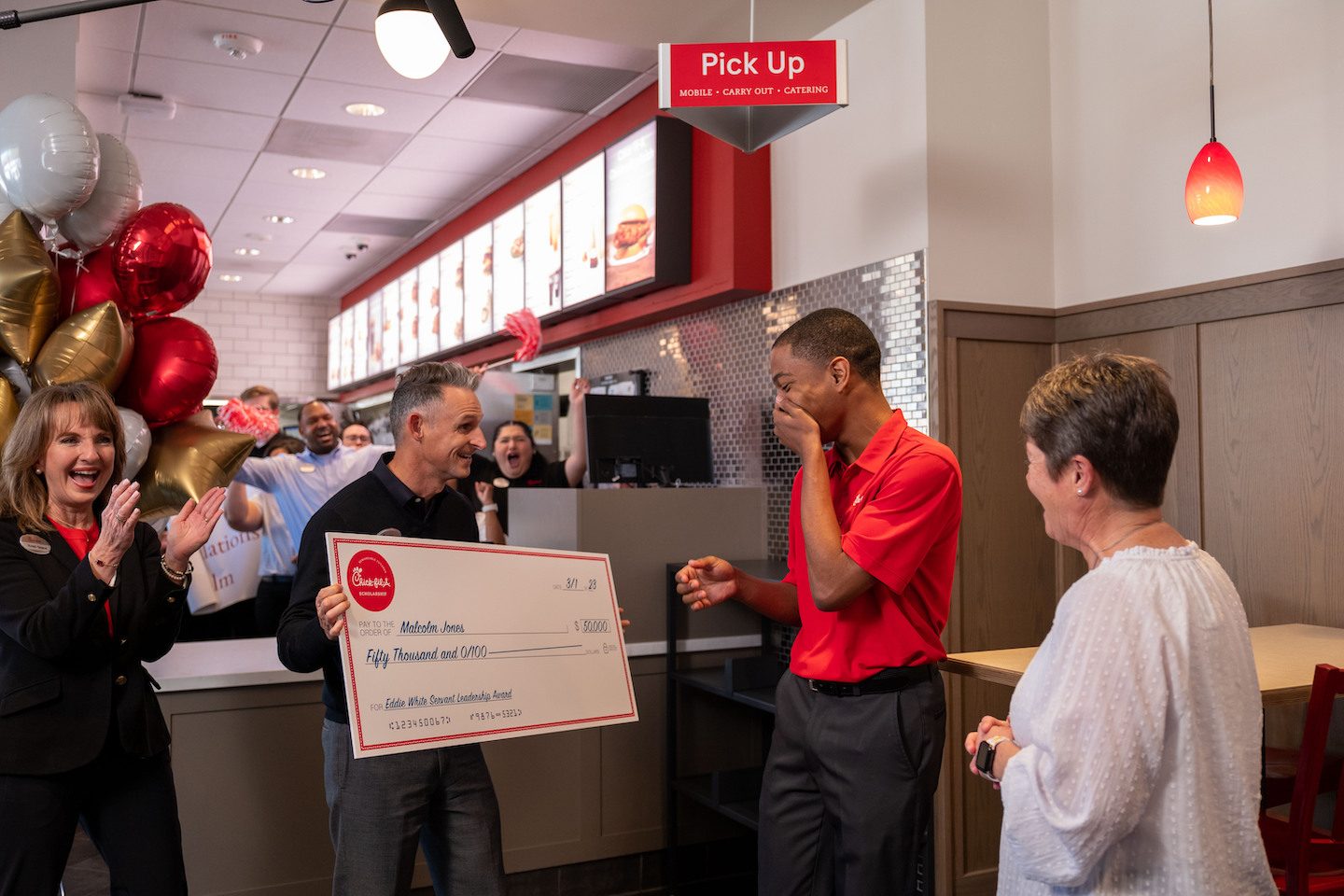 Award recipient shares similarities with Eddie
On March 23, Eddie was present when Chick-fil-A® restaurant Team Member Malcolm J. of Wilson, N.C., a first-generation college student with a similar background, received Eddie's namesake scholarship. Malcolm is a Team Member at Chick-fil-A 95 & 264 in Wilson.
Malcolm plans to attend High Point University to pursue an elementary teaching degree. He's the oldest of 13 children and wants to set an example for his siblings, as well as his future students.
"I am inspired to become a rock star educator, just like my second-grade teacher," Malcolm wrote in his scholarship application. "I dream of a life of service and leaving a legacy that will continue long after I'm gone."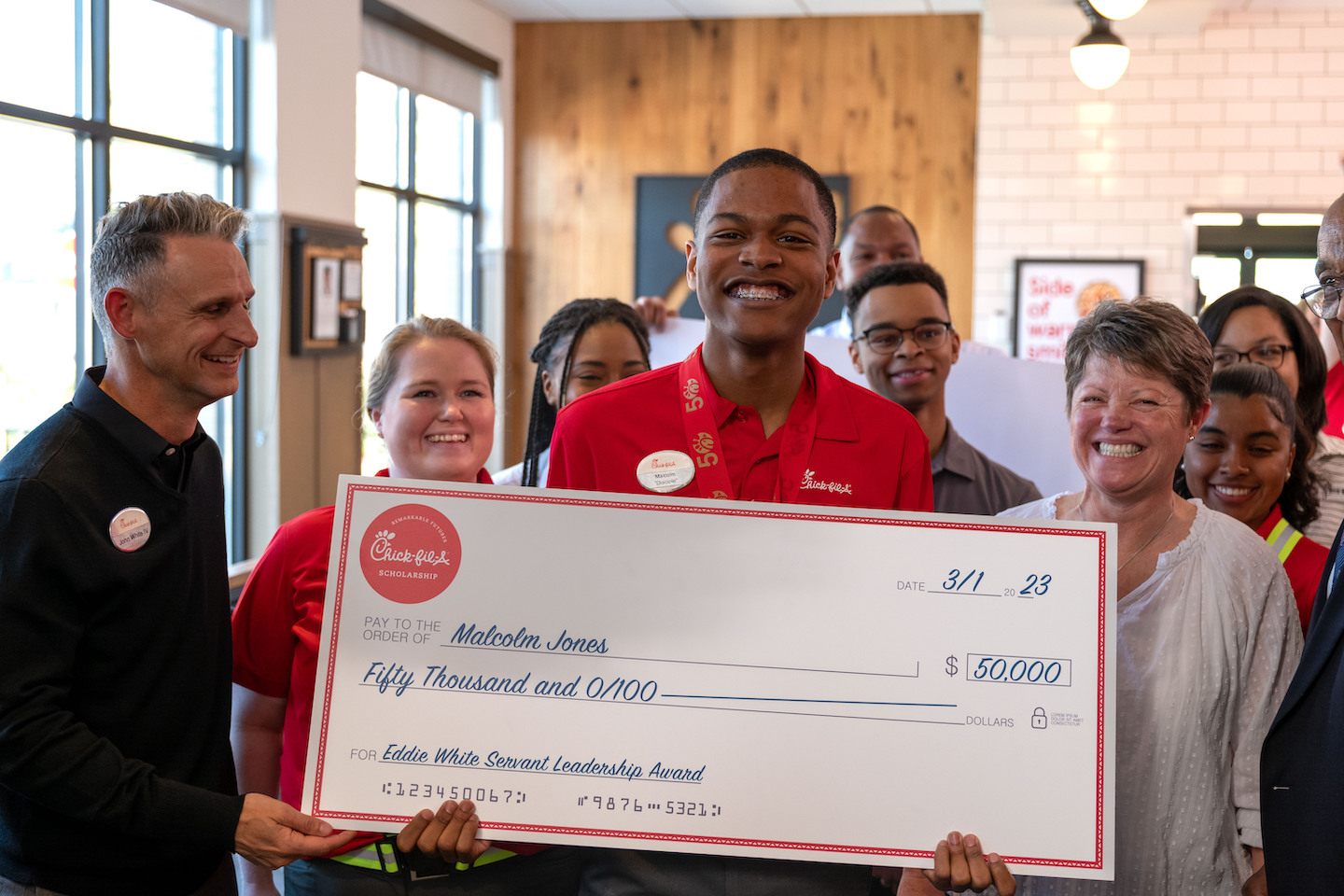 $25 million awarded to Remarkable Futures Scholarship recipients in 2023
In addition to this $50,000 award, 12 Chick-fil-A Team Members were named True Inspiration™ Scholars this year, each receiving $25,000 to further their education. Additionally, more than 13,000 Team Members received Leadership Scholarships of $1,000 or $2,500 each. These recipients, who were nominated by Chick-fil-A restaurant Operators, possess strong leadership skills, demonstrate a commitment to academic achievement and have a desire to make a positive impact on their communities.
Chick-fil-A has a long-standing commitment to education and helping Team Members achieve their academic dreams. Since launching the initiative in 1973, Chick-fil-A has helped more than 93,000 Team Members pursue their career dreams through higher education. Cumulatively, Chick-fil-A has invested $162 million in student scholarships. To learn more, visit our Remarkable Futures Scholarship initiative page.