Now a director at a Chick-fil-A restaurant, this True Inspiration Scholarship winner wants to invest in others
For Devin Lintao, good things didn't always come easily. Growing up in New Jersey as the oldest of five children and the son of a Filipino immigrant, Devin and his family faced significant financial hardships.

In 2015, both of his parents endured life-threatening medical emergencies, leaving them disabled and incapable of working. At one point, the family of seven was forced to live on the road with just $40 in a savings account.
When his high school peers began discussing college plans, Devin accepted his parents' somber, "Not yet," in response to his own desire to go to school and continue his education.

To help support his family, Devin began his first job working as a Team Member at Chick-fil-A Newport Centre in Jersey City, New Jersey. Making the decision to put his own plans on hold was a choice that ultimately led to a better future than he had ever imagined.

"As a Team Member, I quickly realized I was exactly where I needed to be," said Devin. "I was mentored early on and learned that my desire to succeed would dictate whether I unlocked my true potential."

In 2018, a fellow Team Member told Devin about the Chick-fil-A True Inspiration™ Scholarship – a $25,000 scholarship awarded to 12 restaurant Team Members each year as part of the Chick-fil-A Remarkable Futures™ Scholarship initiative.

Hesitant, Devin filled out an application.

"So many people out there need financial support and I had so much hardship to condense into one application," said Devin. "I felt like the odds of me winning were so slim, so I never actually submitted it."

The gift of a lifetime

It wasn't until months later when scholarship recipients were revealed that Devin found out he had won.

"Surprised doesn't even begin to describe what I felt that day," said Devin. "It was humbling, unworldly and an out-of-body experience for me. Even today, I struggle to process everything that happened."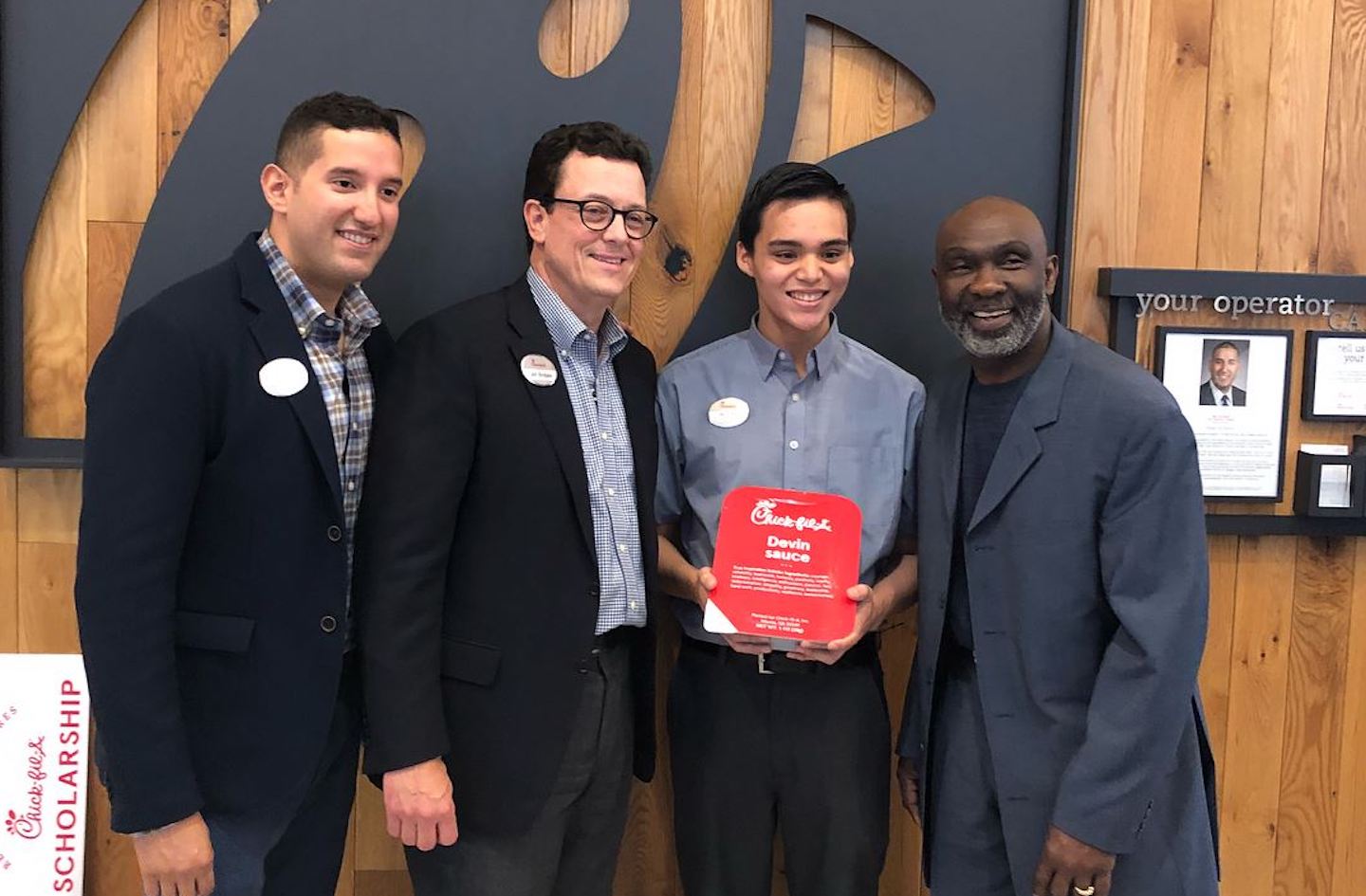 Awestruck and grateful, Devin set out to achieve the dream he never thought possible: attending college. He began his communications studies at Thomas Edison State University and transferred to Southern New Hampshire University so he could continue working at a Chick-fil-A restaurant to support his siblings and wife.

"The money was helpful but understanding that people are on your side and the reassurance that you're doing the right thing is priceless," said Devin. "Knowing that other people saw greatness in me and wanted to invest in me has taken me so much further than money ever could."

After his first taste of higher education, Devin could not resist the call to do something greater. With a passion for sports and organizational health, Devin achieved a master's degree with a focus in sports management and began working as a beat writer for a major league sports team.

"There is a lot of synergy between the most successful sports teams and the teams I got to be a part of at Chick-fil-A," said Devin. "I realized that being able to pursue one shared vision and dive deep into team culture was what I wanted to do."
A full circle moment

Life would lead Devin and his growing family across state lines in a variety of different roles. In the meantime, his younger siblings began attending and graduating from college – a feat that once seemed completely out of reach for the Lintao family.

A few months after he and his wife welcomed their first baby, Devin received a phone call that beckoned him back to a leadership role at a Chick-fil-A location in his home state of New Jersey.

"Being called back to Chick-fil-A helped me recalibrate on my 'why' and truly know what I was meant to do," said Devin. "It's all come full circle in a web of personal growth."

With a goal of one day participating in the Chick-fil-A Leadership Development Program, Devin now serves as a director at Chick-fil-A Ramsey in Ramsey, New Jersey, and has also served as the inaugural chairman of the board for the Remarkable Futures Scholarship initiative alumni group.

A hope and a future

To young people everywhere enduring trials of their own, Devin emphasizes the importance of not letting the difficulty of the journey overshadow the lives, even outside of your own, being changed in the process.

"Don't lose hope," said Devin. "You are here for a purpose. Press on and know that you were created to live a remarkable life."

Over the past 50 years, Chick-fil-A, Inc. has helped more than 93,000 Team Members like Devin achieve their remarkable futures through more than $162 million in scholarships.