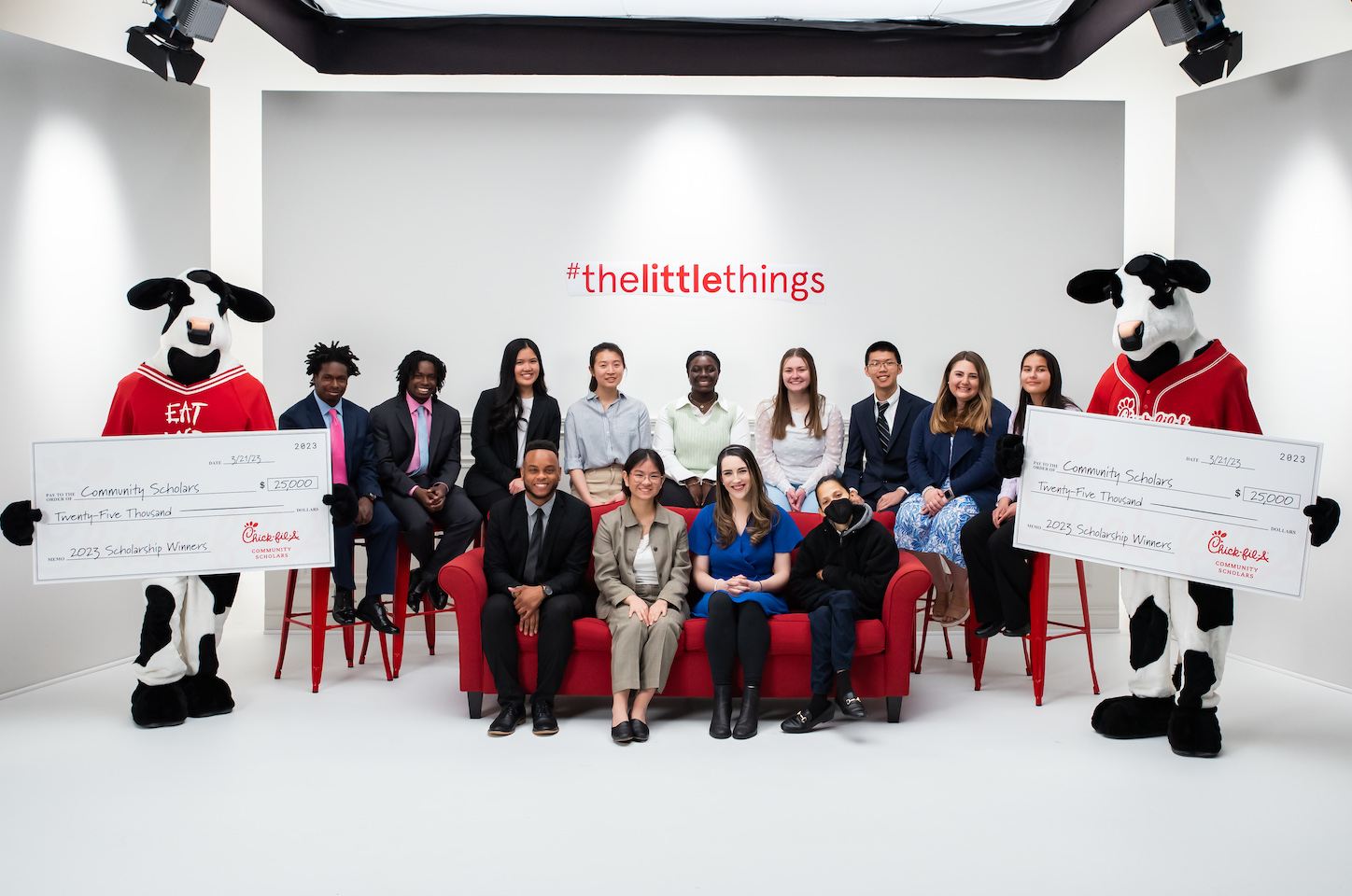 Chick-fil-A Community Scholars program builds on 50-year legacy of supporting education
From helping disadvantaged youth to combatting food insecurity, extraordinary teenagers throughout the country are making a difference in their communities. With the hope of furthering their education, these students have dreams of utilizing their passions to continue to impact those around them. Through the Chick-fil-A Community Scholars program , we are recognizing these outstanding leaders who share Chick-fil-A's dedication to caring for others and serving their communities.

For more than 50 years, Chick-fil-A, Inc. has helped students achieve their remarkable futures through scholarships awarded to Team Members at local restaurants. Now, through the Chick-fil-A Community Scholars program, Chick-fil-A has expanded its support beyond the Restaurants to award scholarships to students throughout the communities we serve.

For the first time, Chick-fil-A awarded $325,000 in scholarships to 13 Chick-fil-A Community Scholars, in addition to awarding more than 13,000 Team Member scholarships in 2023.

The Chick-fil-A Community Scholars program awards funds for tuition, fees, books and education-related expenses incurred at any accredited college, university or vocational/technical school. In addition to the scholarship, each recipient is invited to participate in a year-long program focused on mentorship and leadership development.

Thirteen students from 10 different states received the life-changing news during a visit to the Chick-fil-A Support Center. They thought their trip to Atlanta was for a final round of interviews for the scholarship, but little did they know that a very special surprise – and a $25,000 check – was waiting for each of them.
Read on to learn more about four members of this year's inaugural class.

Angelina Xu, Basking Ridge, New Jersey
Since she turned 16, Angelina has been working to support her family financially. On top of juggling school, college applications and part-time work, she has applied to more than 200 scholarships over the past year. Now a sophomore studying computer science at Massachusetts Institute of Technology, she dreams of establishing her own scholarship foundation one day to support deserving students who are also struggling financially.

Ethan and Nathan Morlu, Woodbridge, Virginia
These twin brothers are studying mechanical engineering at the Georgia Institute of Technology in Atlanta. They both have more accolades than we could possibly list, but here are just a few to note: both were regional winners at a local Brain Bee neuroscience competition and took home honors in design competitions for Hip Hop Architecture. Ethan wants to become an engineer to help improve the lives of the elderly and those with disabilities. Nathan wants to use his engineering degree to help solve relevant problems in today's world.

Winifred Ofori-Manu, Chicago, Illinois
An incoming freshman at Brown University, Winifred plans on studying computer science to develop technological advancements in West Africa. Her inspiration comes from a personal hurdle: her family in Ghana is often hard to reach because of poor internet access. She has served as the co-president at her local chapter of Girls Who Code, as well as the mentorship chair at her school's Women's Alliance.

For more information about the Chick-fil-A Community Scholars program, including eligibility information and key application dates, visit our Chick-fil-A Community Scholars page.