From donating surplus food to leveraging a solar-powered microgrid, here are some ways Chick-fil-A Restaurants engage in sustainability efforts
At Chick-fil-A, we are committed to caring for our planet. From reducing food waste and what we send to landfills to piloting renewable energy and engaging in oil reclamation, we're continuously innovating to find ways to help reduce our environmental impact and act as good stewards of the planet we share.

Here are five examples of how Operators and Team Members engage in sustainability efforts at Chick-fil-A® restaurants:
1. Donating surplus food through the Chick-fil-A Shared Table® program. More than 1,500 Chick-fil-A restaurants participate in the Chick-fil-A Shared Table, program, a program in which Chick-fil-A Operators fight food insecurity in their local communities by donating surplus food from their restaurants to local soup kitchens, shelters and nonprofits. These donations provide meals for those in need while also diverting food waste from landfills.


2. Composting inedible food scraps. Another way some Chick-fil-A restaurants show care for the planet is by engaging in composting programs, which divert food waste from landfills that otherwise would contribute to the generation of harmful methane. These efforts support the Chick-fil-A, Inc. corporate social responsibility goal to divert more than 25 million pounds of restaurant food waste from landfills by 2025.


3. Recycling used cooking oil. Through a partnership with DAR PRO Solutions, a Darling Ingredients brand, over 1,200 Chick-fil-A restaurants leverage innovative oil collection equipment that allows DAR PRO to collect and recycle used cooking oil from our Restaurants and use it as part of renewable diesel fuel. This cleaner-burning biofuel can reduce greenhouse gas emissions by up to 80%, compared to traditional fossil fuels1.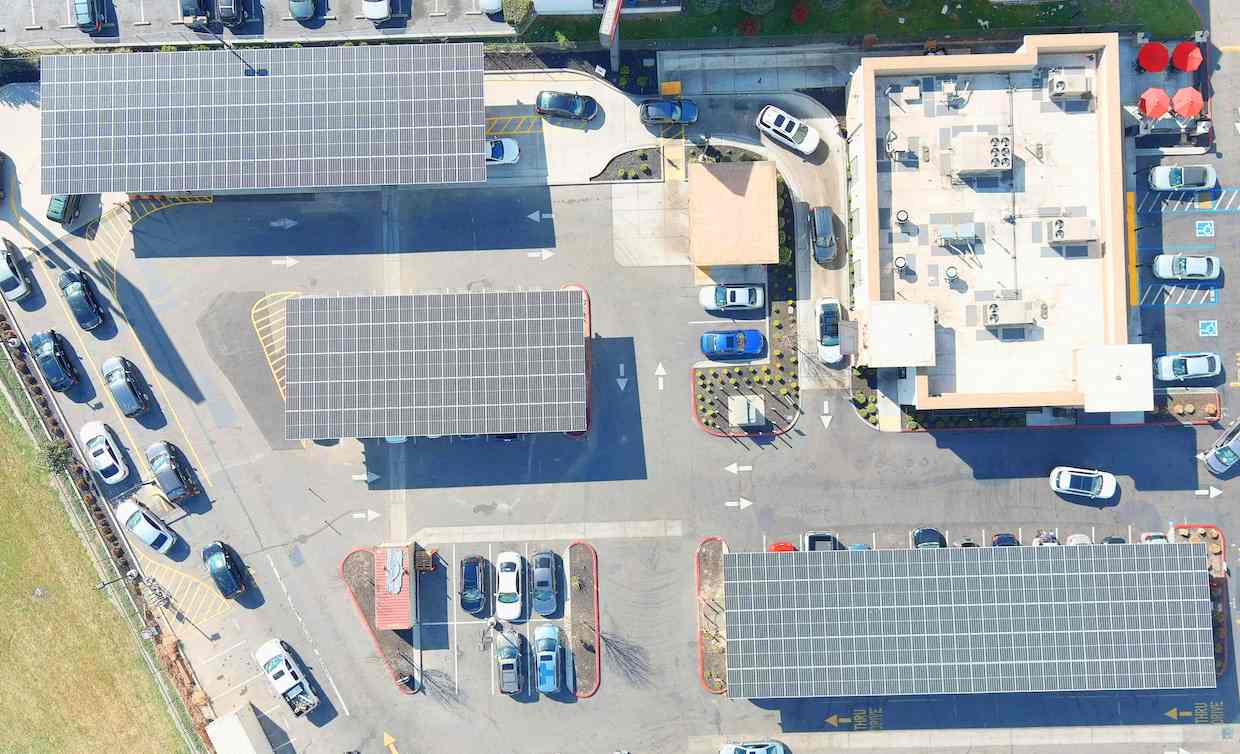 4. Piloting solar-powered microgrid technology. At a location in California, Chick-fil-A is changing the future of restaurant operations by being the first U.S. quick-service restaurant brand to pilot a solar-powered microgrid system, which can reduce energy from the power grid and ultimately help prevent power-related disruptions, lower energy costs and reduce greenhouse gas emissions.
5. Increasing our use of recycled plastic, or post-consumer recycled resin (PCR). Throughout more than 2,800 Chick-fil-A restaurants, PCR is used in many places – from the pallets that deliver ingredients and supplies to restaurant trash bags. Even the red polo shirts and blue-and-white striped shirts that restaurant Team Members wear are made from recycled plastic bottles. Each red polo contains 19 plastic bottles and the blue polos contain nine.
At Chick-fil-A, we believe in a holistic approach to caring for our planet which engages Operators, Team Members, Staff, suppliers and others throughout our sustainability journey. To learn more about this and other CSR efforts, visit our Corporate Social Responsibility page.