New Chick-fil-A App features offer busy customers a more convenient mobile pickup experience that's timed just right
Every minute of your day is valuable, whether you're running late from work to your kid's sporting event or you're short on time in between a jam-packed schedule. In those moments, you want a fresh meal made fast and just how you like it.

Since 2016, we have been continuously enhancing the Chick-fil-A® App to make ordering your favorites easy and convenient. This spring we're rolling out new app features to help give busy customers some time back.

Mobile orders prepared ahead and timed just right

If you've placed your curbside or carryout order ahead using the Chick-fil-A App and location services are enabled, the app will be able to tell when you're close to the restaurant so we can start preparing your order. Also known as geofencing, this technology allows the kitchen extra time to prepare your meal and reduces your wait time.

Not only that, but the app will also show an estimate of how long your order will take if it's placed for carryout, curbside, or dine-in. And get this: even though it's an estimate, it's pretty accurate. Wait times are predicted based on a variety of factors like order complexity and size, and proprietary restaurant analytics.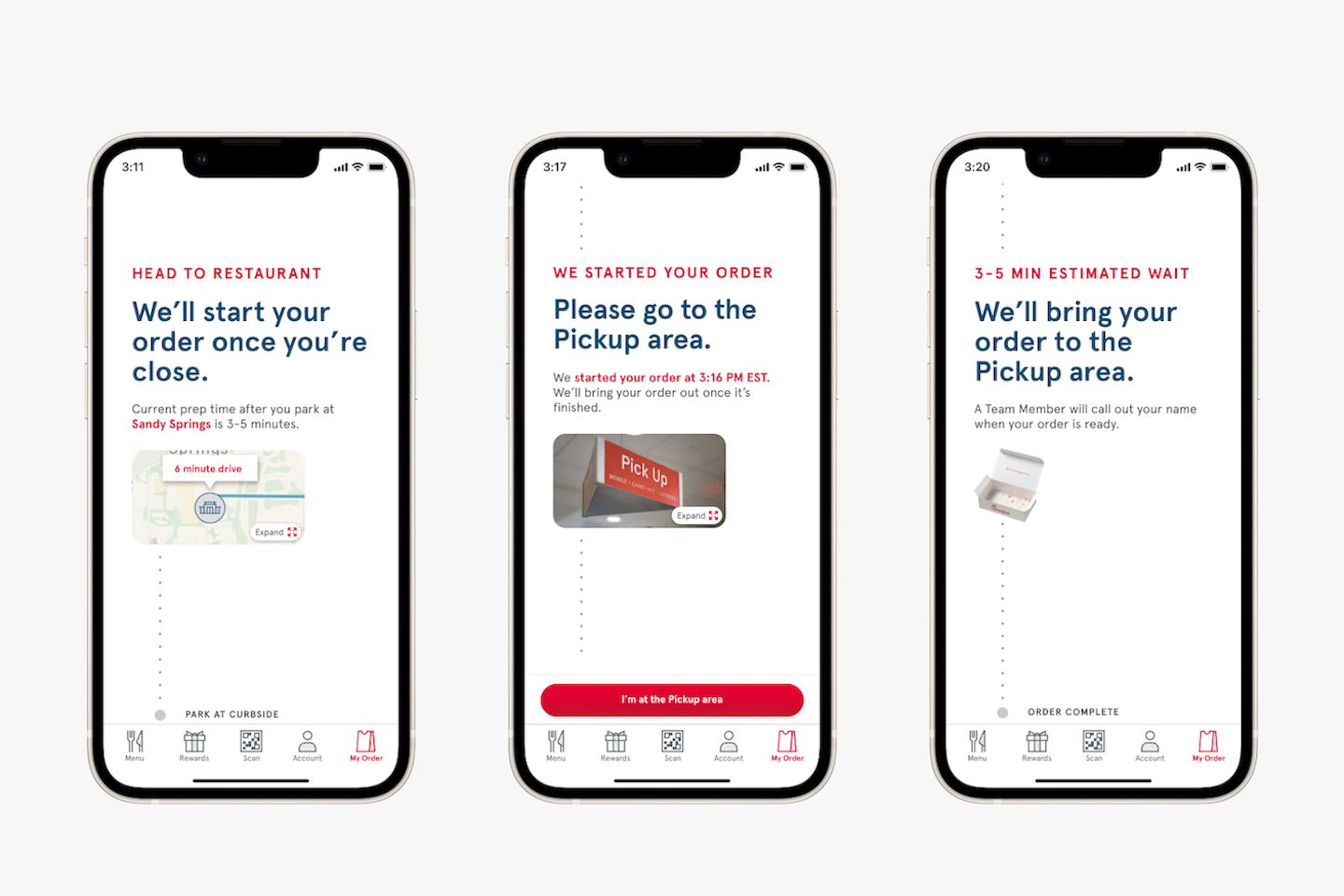 "By timing a customer's arrival with their order, we can ensure they're getting a meal that is both fresh and served quickly," says Morgan Anderer, senior project lead on the Customer Digital Experience team at Chick-fil-A. "We don't believe our customers should have to compromise, and these new features truly balance what our restaurants do best: exceptional quality and efficient service."

Testing how to improve your wait time

Over the past year, Chick-fil-A successfully tested geofencing technology and estimated wait times at 100 restaurants across the country, working closely with franchise Operators and Team Members to see if the technology improved restaurant operations. On average, customers reduced their wait time between one and two minutes and estimated wait times were accurate more than 90% of the time.

How to "turn on" new features

Both features are rolling out at restaurants chainwide through early summer. To experience them at a restaurant near you when it becomes available, simply enable location services for the Chick-fil-A App on your mobile device.

Regardless of how you choose to order, it is our pleasure to ensure your favorite meal is fresh and ready when you are.