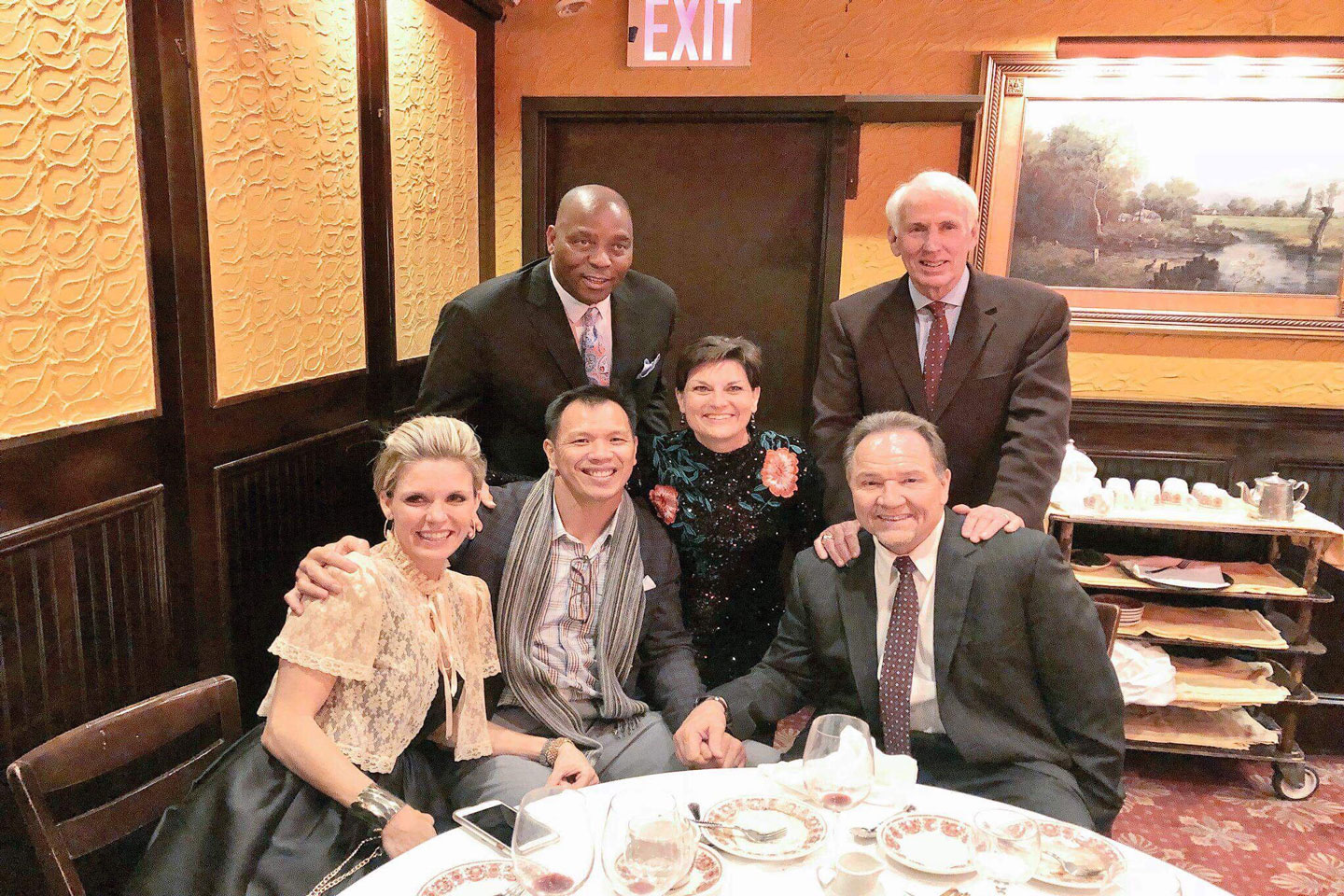 Chick-fil-A Restaurant Operator Dat Nguyen Elected to College Football Hall of Fame
Late last year, Dat Nguyen received an honor that no other Chick-fil-A Operator holds: He was elected to the College Football Hall of Fame.
"It's a humbling experience and a humbling award," Nguyen said. On December 5, he attended the National Football Foundation's (NFF) Annual Awards in New York City, where his achievements were celebrated along with the other Class of 2017 inductees.
A Record-Setting Career
From 1995 to 1998, Nguyen played linebacker for the Texas A&M Aggies. Despite many scouts saying he was undersized for the position, Nguyen went on to set several schools records that stand to this day, including:
30 double-digit tackle games
4 consecutive seasons as the team leader in tackles
He followed that up with a seven-year pro career with the Dallas Cowboys. In addition to becoming the first Vietnamese-American to play in the NFL, Nguyen led the Cowboys in tackles for three seasons and was named Second-Team All Pro in 2003.
He was never one to look back at a missed tackle or mistake, instead choosing to always look forward to the next play.
"The best thing about pro football was that everybody's so good. You're playing with some of the world's best athletes and best players at the position," Nguyen said. "If you break it down, there are only 32 starting middle linebackers in the world each year, and I couldn't believe I was one of them for the Cowboys."
From the Gridiron to the Kitchen
After five years as an assistant coach for the Aggies and Cowboys, and a short stint on sports talk radio, Nguyen decided to apply to be a Chick-fil-A Operator. Despite his previous life in the pressure cooker of college and pro sports, one of his most anxious moments was during his application process when he found out he had made the first round of cuts.
"I was at the Houston Texans training facility, and since I had been turned down once, I called my wife and said, 'Becky, I don't think I can open the email." I couldn't find the courage to click on that email. I had to forward it to my wife to open it for me," he said.
Nguyen took over as Operator of Chick-fil-A at West 7th Montgomery Plaza in Fort Worth, Tex., in 2016, carrying several of the principles he learned from football into his restaurant.
He evaluates his team members like a coach, identifying their strengths and weaknesses and putting them in positions where they can succeed. He leans on his managers – he calls them captains – to keep his team running smoothly.
"[Former Cowboys Head Coach] Bill Parcells taught me everyone is different. Everyone had a different switch," he says. "And you have to find that switch. Find what motivates them."
Approaching Everything with Humility
Nguyen speaks humbly of his accomplishments, including his induction into the Hall of Fame – an honor bestowed on only 0.02 percent of college football players.
His most memorable experience of the NFF Annual Awards Dinner was that his family was with him. "That was most enjoyable," Nguyen said. "We brought my three girls – who are 14, 12 and 6 – and sitting there, watching them enjoying the moment was great. I wanted them to realize that Dad's not the biggest guy or fastest guy – but if you dream and do the right thing, when opportunities arise, you seize the moment and you take it by faith."
Nguyen took the rare moment to look back at his upbringing and his career, and he's filled with gratitude to the people who helped him get to where he's at.
"It didn't really hit me until the night I learned I was being inducted in the Hall of Fame," Nguyen said. "I think about all the other recipients, and I think back to my career and how far I've come, not just athletically but when my parents left Vietnam and came to America. I thought about how many people impacted my life and how many people helped me get here, and I'm thankful to get to represent all of them."