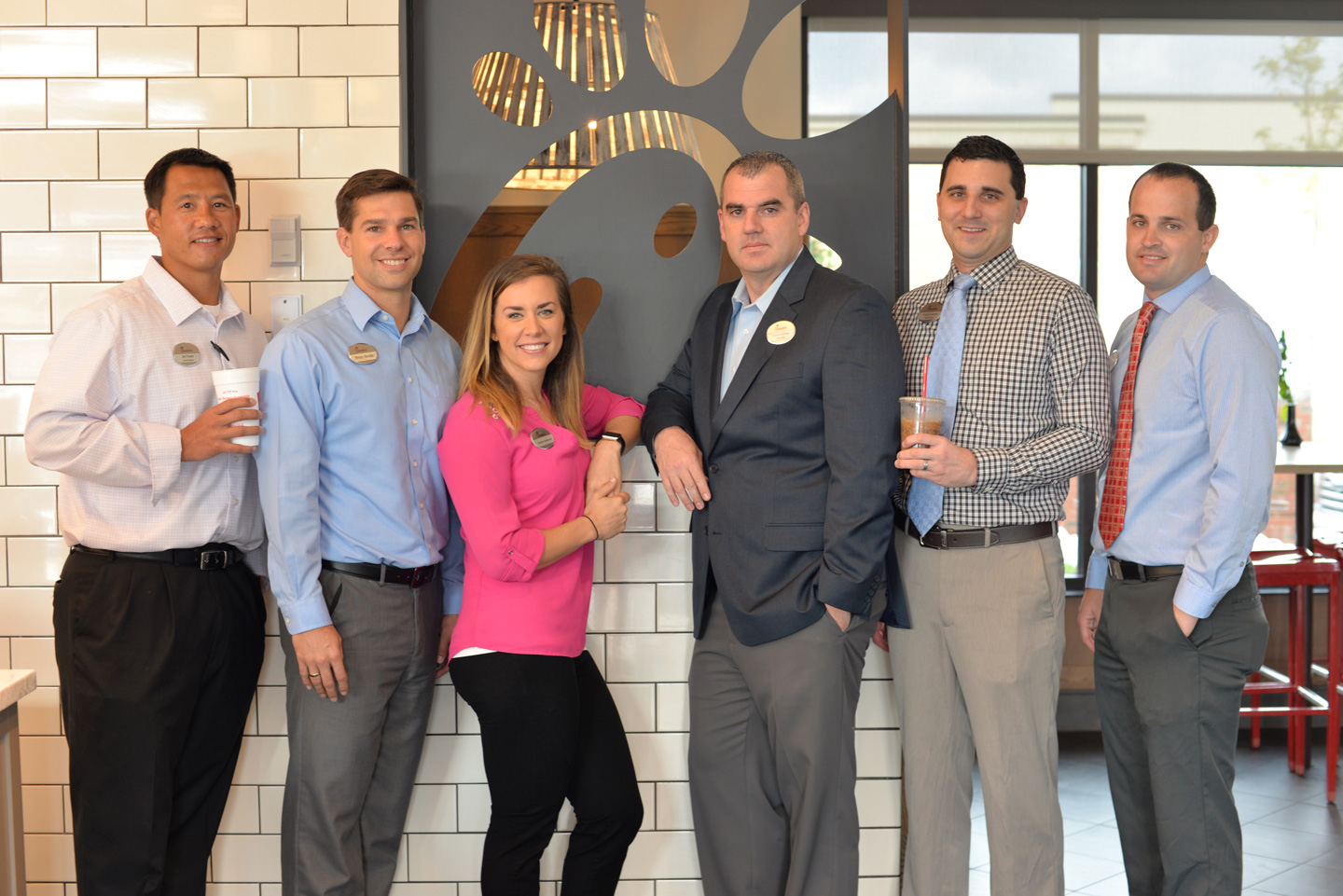 Six previous Team Members detail how they became a Chick-fil-A Operator
Each of us walks our own path in life, one that takes us to new careers, new homes and new experiences. But for six individuals in one city, there's a similar journey that brought them all to the same place.

The process to become a Chick-fil-A Operator is no small feat. Trust us. Selected Operators come from all different backgrounds, industries and parts of the country. But in Milwaukee, there is a tie that binds each of the local restaurant Operators: They all got their start working as a team member at Chick-fil-A. Operators Jim Frasier, Chris Guthrie, Brian Goode, Danica Anderson, David Schiedt and Chris Loweth worked in restaurants from High Point, N.C., to Chicago, Ill., before having the opportunity to run their own location in Milwaukee.

They learned the business inside and out while working in the restaurants – each can tell you about working long hours and weekends. But they'll also tell you about service, leadership and creating a path for other team members to follow in their future.

Here, in their own words, the Milwaukee Operators share their Chick-fil-A journeys.

Chris Guthrie
Greendale
"I started at Chick-fil-A in High Point, N.C., working with Operator Gene Rhodes, at the age of 15. Working a lot of Friday and Saturday nights wasn't always the easiest, but it was all worth it. Learning and growing in each new role developed me and encouraged me to keep pushing forward. I really enjoy helping my team develop their skills and talents now. Hopefully, some day one of them will be in the same position I am.


Danica Anderson
Drexel Town Square
"I relocated to Chicago shortly after graduating from Florida State University and often found myself driving over an hour to the closest Chick-fil-A to get a taste of home. When the first Chick-fil-A restaurant opened in downtown Chicago, I was able to meet the Operator, Lauren Silich, and we quickly connected over a shared passion for introducing the Chick-fil-A brand to so many Chicagoans who had never heard of us.

One of the things I love most about owning my own Chick-fil-A restaurant is the opportunity to identify and support young leaders as they grow and chase their own dreams — attending college, pursuing meaningful careers, and even some who have ambitions of owning their own Chick-fil-A one day."


David Schiedt
West Allis Center
"For me it all started in Atlanta at our Howell Mill Road restaurant after being offered a job by Operator John Diamond. On my first day, I started on the breading table and worked for three months learning every role from the kitchen to the front of house and even on prep and catering.

After the lengthy application process and interviews, I was excited to be selected as an Operator of the Chick-fil-A at West Allis Center in West Allis, Wisconsin after almost five years of working with Chick-fil-A. It was a long journey full of challenges, growth, late nights, early mornings and even plenty of dishes, but I would not trade a second of it for the knowledge and preparation that it gave me to be the leader I am today."



Chris Loweth
Bluemound
"When I started at a small Chick-fil-A inside of a mall food court, I never thought it would be a long-term career. At the time, I needed more hours and took the shifts that no one else wanted. Eventually, I earned the trust of my leaders and became a leader myself.

Chick-fil-A means more to me than just a job. It has given me the opportunity to use my gifts in a way that benefit others. I love being able to lead people to serve other people. The best part of Chick-fil-A has been the growth and relationships along the way. I have learned more about myself and leadership than ever before. It's amazing how a job became a career and my coworkers became family. I am honored to be a part of an amazing business surrounded by exceptional people."


Brian Goode
Racine
"After spending 10 years in education as a teacher, coach and administrator, I was inspired by the servant leadership model embraced by Chick-fil-A to leave the school system and begin my journey with Chick-fil-A. Under the guidance of Operator Mike Holmes, I began working as a team member in January 2013 at the Kedron Village restaurant in Peachtree City, Ga. Working side by side with other team members and learning every position in the restaurant shaped my vision and leadership style for my own store in Racine, Wis."


Jim Frasier
124 and Capitol
"Prior to 2011, I was self-employed and decided to join the Chick-fil-A team in Raleigh, N.C. with Operator Chris Latta because I just felt like Chick-fil-A had something different. I really did not know the Chick-fil-A deal or opportunity beforehand, but as I stayed employed the desire to become an Operator got stronger and stronger.

Being in Wisconsin adds an entirely different benefit as an Operator that started out as a team member. We are able to open the doors of opportunity - that most people did not know existed - to many future Operators in the great state of Wisconsin."

If you're in the area, please come by and say hello: Throughout the entire year of 2017, Milwaukee Chick-fil-A restaurants are offering Free Breakfast Tuesdays for guests who visit any of the six Milwaukee restaurants during breakfast hours.