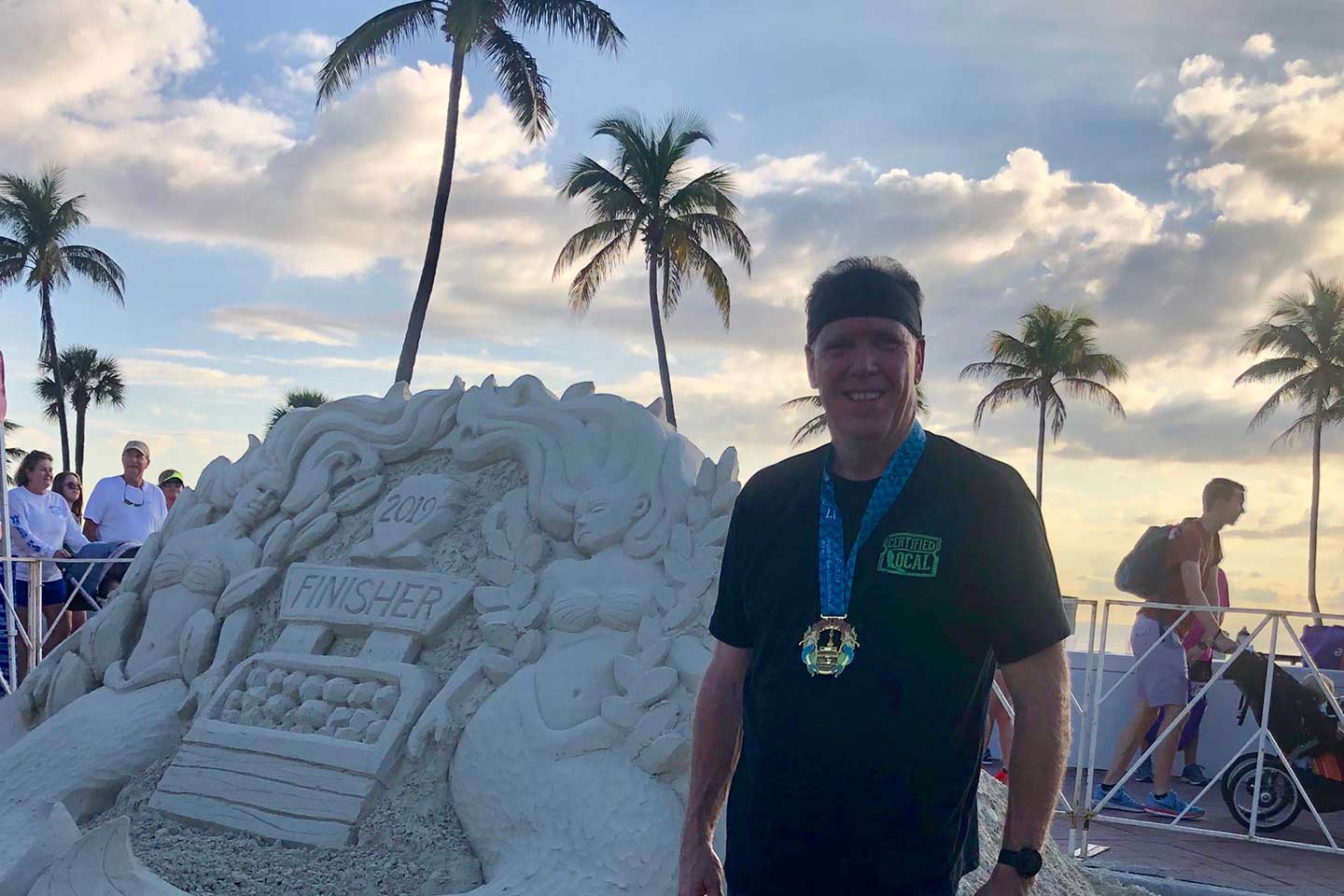 Chick-fil-A Team Member helps save customer's life during cardiac arrest
By all accounts for everyone involved, March 12 had all the makings of a seemingly normal day.
For Ed Kosiec, the morning had begun with a nine-mile run followed by some yoga, as he was training for his fourth marathon. He and his wife, Holly, are both real estate agents who work from home, and she had a few items to tend to that day.
Across town, Sarah VanRoekel, a senior at a local high school, had picked up some extra afternoon shifts at Chick-fil-A Boynton Beach Blvd. in Boynton Beach, Florida. For the busy 18-year-old, there isn't much down time between her job and dual enrollment at a nearby college, not to mention her club volleyball team.
A busy morning had pushed lunch for Ed and Holly until later in the afternoon, and he said he was craving Chick-fil-A. They arrived at 2:30 p.m. -- just 30 minutes after VanRoekel had begun her previously unscheduled shift -- and settled in for a late lunch. At this point, everything that had seemed to be normal, ceased to be.
Ed doesn't remember much about the actual incident, just a sudden rush of intense dizziness that prompted him to mention to his wife that he felt he needed some fresh air.
"He went to push me aside, and he just fell over," said Holly.
Ed was experiencing sudden cardiac arrest. Different from a heart attack, it affects the electrical wiring of the heart, disrupting the rhythm of a beating heart. It can strike without warning, and victims regularly have no prior, cautionary symptoms. A staggering 95 percent of people who experience sudden cardiac arrest will die because the necessary treatment won't be available.
VanRoekel emerged from the back of the restaurant, adjusting her hair into a ponytail as she approached the scene of people gathered around Ed. For a restaurant full of fearful Team Members and customers, she conveyed a calming presence that permeated the rest of the room.
Certified in CPR at age 14, VanRoekel assessed the situation and began to work. Cassie Kimbrell, the restaurant's manager, had taken a customer's phone and was relaying updates to the EMTs who were racing to the scene, while VanRoekel steadily worked to save Ed's life.
"I honestly wasn't scared or anything. In fact, I had never been that calm in my entire life, and I never felt more prepared for anything," said VanRoekel. "I knew how to do this, and if I did this, everything was going to be just fine."
Her efforts kept his pulse coming back, and VanRoekel and Kimbrell were encouraging Ed to breathe each time his heartbeat came back. Given the dynamics of sudden cardiac arrest, the pulse would return and then fade away. However, the efforts of VanRoekel ensured Ed was alive by the time the EMTs arrived, upon which they used an Automated External Defibrillator (AED) to provide an electrical charge to his heart that ultimately stabilized his pulse.
"We're in a restaurant where things are naturally busy and people are moving, and she's always handled things like a champion," said Kimbrell. "I think she was just naturally built for a situation like the one with Ed, and when she came out from the back, it was just second nature to her."
Thanks to the efforts of VanRoekel, Kimbrell and the EMTs, Ed's long-term prognosis is a good one.
As Ed spent the next few days recovering, Holly made sure to stop by the restaurant to express her gratitude to the two women who ensured her husband had not yet run his final marathon.
"That's when I started crying, and that's when I started to really process it," said VanRoekel. "[Kimbrell] and I just hugged Holly, and we cried and laughed."
In hindsight, that seemingly normal day was anything but.
VanRoekel noted how she felt as if everything that happened that day ultimately led to saving Ed's life. It included her picking up an extra shift on a day she was supposed to be off, as well as Holly agreeing to go out to lunch rather than stay in. VanRoekel believes that even a minor thing like Ed sitting on the inside rather than the outside of the booth likely saved him from falling and injuring his head during the incident.
As Ed embarks on his recovery, he said he's humbled by the efforts of VanRoekel, Kimbrell and everyone else who played a part in saving his life.
"I've been contemplating what I need to say to them, and it's something that should be so simple and easy, but also so heartfelt," said Ed. "Are words even necessary? What kind of price do you put on a life, and how do you ever fully acknowledge what these young women did to save my life?
"I just want to thank them and tell them that I love them. They've given me a gift that I won't take for granted."