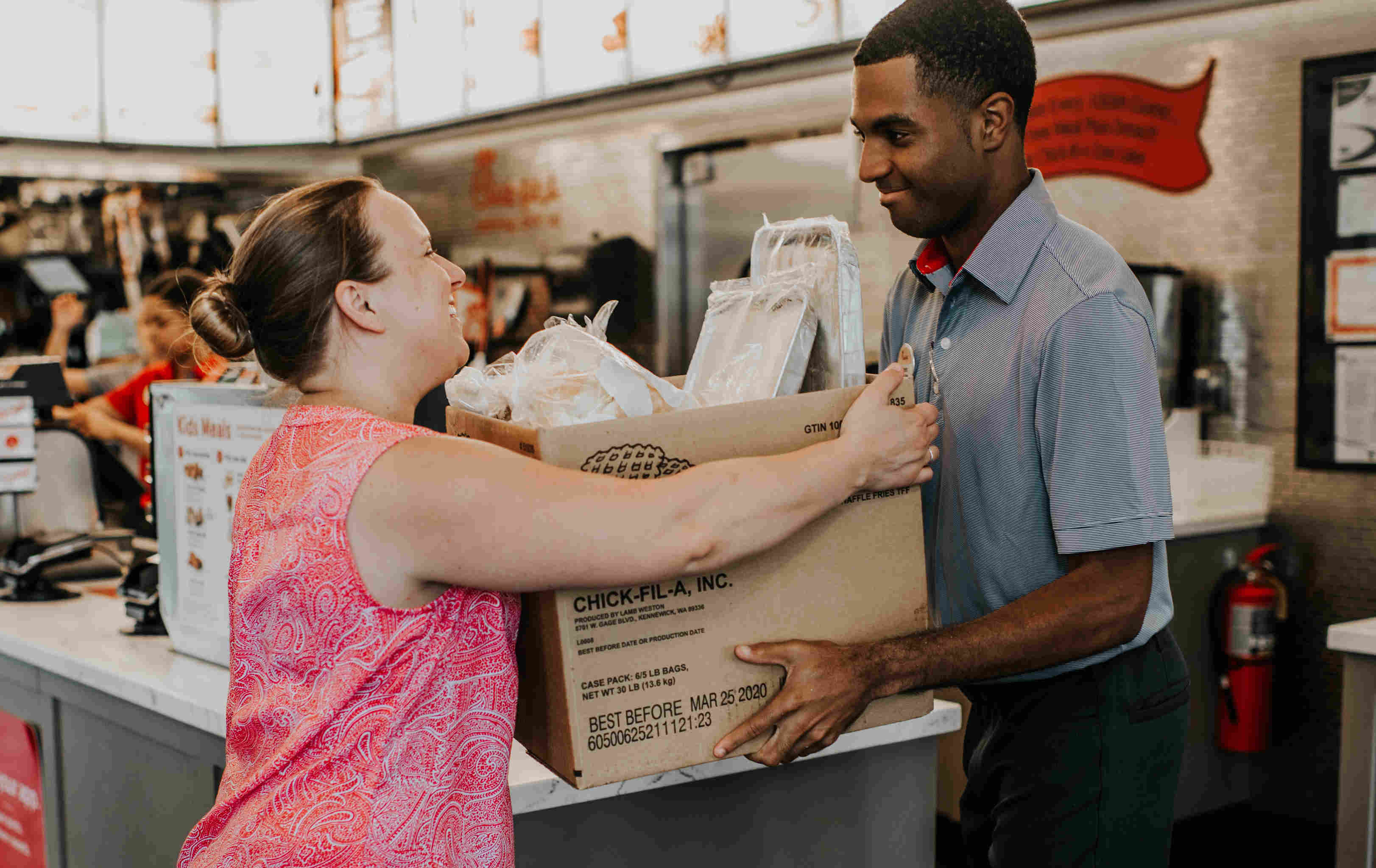 The program has empowered restaurants to donate more than 10 million meals to local community partners
A decade after the program's inception, Chick-fil-A celebrated a milestone this month when it reached 10 million meals donated to fight food insecurity through its Chick-fil-A Shared Table™ program. Since 2012, the Chick-fil-A Shared Table program has allowed restaurant Operators to safely donate surplus food to those in need in their communities. What initially began with just one franchise location in Knoxville, Tennessee, has grown to include more than 1,200 locations in 47 states and Washington, D.C.



Check out the top 10 markets that partnered with local nonprofits to deliver the goods toward this milestone achievement.

10. Salt Lake City

With 77% participation, Salt Lake City Operators have provided over 208,000 meals through their partnership with Catholic Charities' St. Vincent de Paul Food Kitchen. The nonprofit cooks and delivers meals to several local shelters, using food donated through Chick-fil-A Shared Table program. Becky Pickle, an Operator with two locations in the market, asks each Team Member to learn how to package, weigh, freeze and document donated ingredients when they are hired.

"We have a digital database that connects to St. Vincent de Paul, so they know which food items will be coming their way each week," she says. "It's been a great talent development exercise to engage young Team Members."

9. Houston

Houston restaurants have donated nearly 220,000 meals, with more than 50 of their locations involved in the program. Mike Magdaleno, Operator for Chick-fil-A Market at Springwoods Village, joined the program in 2017. He partners with Spring Assistant Ministries, whose focus is feeding the elderly. Food donations generated through Magdaleno's restaurants provide meals for Hearts with Hope Foundation and First Fruits Christian Center in the Spring area.

"These organizations have limited resources and already feel a growing amount of pressure to feed those in their care," he says. "This partnership is a way to help alleviate the strain they feel."

8. Knoxville

Not surprising, the city where it all started sees 94% of restaurants participate in the program, resulting in almost 228,000 meals donated to the hungry.

7. Denver

Denver supported those in need with close to 230,000 meals provided by 76% of the market. Jonathan Lovette, Operator of Chick-fil-A at 52nd and Wadsworth in Arvada, says his team is thrilled to take part in the Chick-fil-A Shared Table program as it offers a turnkey way for them to repurpose unused food items to help The Denver Dream Center.

"My team feels good knowing that instead of going in the trash this healthy food is helping others out. Chick-fil-A Shared Table gives us a meaningful way to avoid waste."

6. Baltimore

The "Monument City" has shown a monumental effort with 74% of its restaurants providing 268,000 meals in the city.

5. Atlanta

The Atlanta market, where Chick-fil-A is headquartered, was exceptionally generous, donating nearly 304,000 meals to local nonprofits through the Chick-fil-A Shared Table program.

4. Los Angeles

More than half of the Chick-fil-A restaurants in the greater Los Angeles area made a difference in their local communities by donating nearly 322,000 meals.

3. Washington, D.C.

The nation's capital has contributed 360,000 meals with most of its restaurants participating in the Chick-fil-A Shared Table program.

2. Philadelphia

Living up to its nickname as "The City of Brotherly Love," Philadelphia restaurants contributed the second highest number of meals, with 71% of its restaurants providing nearly 417,000 meals to neighbors experiencing hunger.

1. Dallas

Proving once again that everything is bigger in Texas, Dallas restaurants contributed 429,000 meals through food donations from 53 participating restaurants.
Food Donation Connection, the global organization that facilitates the logistics of connecting restaurants with partners, has told Lingerfelt that Chick-fil-A has an impressive number of Operators engaged in food recovery. "You might say Chick-fil-A Shared Table program is an extension of our second-mile service commitment — Chick-fil-A wants to create a culture of care, both inside and outside of our restaurants."

For more information on the Chick-fil-A Shared Table program, click here.